Set the stage for holiday fun! Lights, camera and action get a holiday twist with this party idea! Grab some popcorn and go from "scrooged" to "it's a wonderful life" with favorite festive flicks! A holiday movie party is a simple way for the magic of the season to take center stage. Shine the holiday lights on Hollywood by giving movie munchies a seasonal flair. Flip through our party ideas to get inspiration rolling!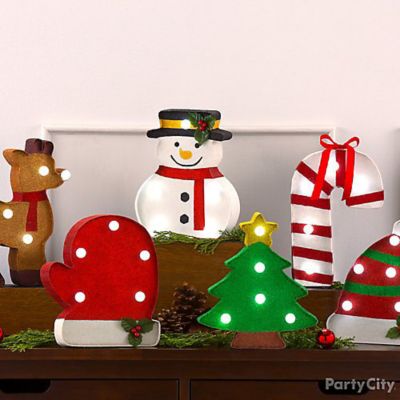 Idea 1: Add some character to your movie party decorations!
Lighted marquee signs put the spotlight on the stars of holiday movies! Reindeers and snowmen are among the figures that add holiday character to your movie viewing party. Arrange lighted marquee signs among the spread of treats and goodies to create a festive focal point fitting for a very merry bash.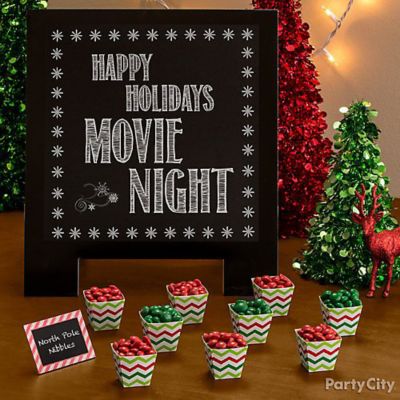 Idea 2: Reel in the holiday fun with munch-sized snacks!
Chocolate nibbles like chocolate drops or jelly beans are an easy treat for a holiday gathering. Putting them in mini containers makes it easy for your guests to take and munch! Plus, they also make for tasty pieces to use in a holiday movie bingo game.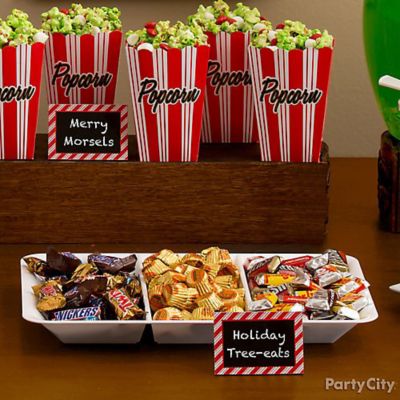 Idea 3: Create a mini snack bar out of classic chocolate candy bars!
You have popcorn and drinks for your holiday movie party, but what about other classic concession stand snacks? Munching on one or two candy bars goes hand in hand with watching favorite flicks. Carry over that experience to your movie party by putting bite-sized candy bars in a divided serveware platter. It's a simple way that makes the candies ready for the movie-munching taking!