Grab-and-go treats are sweet, salty and Hello Kitty-licious!
Kids need treats they can grab and go. This salty-sweet pretzel treat is just what they want! Icing and sugar crystals give pretzel rods a sparkly coat. Prop them up in a bucket of candy and watch them disappear!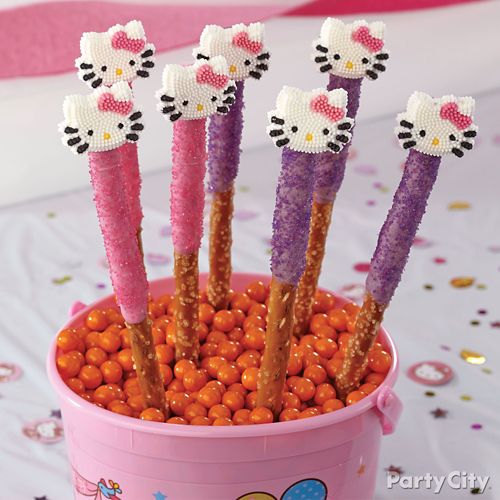 How-To
Ingredients:
Bright Pink Candy Melts® Candy (12 oz. makes 20 to 24 treats)
Lavender Candy Melts Candy (12 oz. makes 20 to 24 treats)
Pretzel rods
Bright Sugar Crystal 4-Mix Sprinkles
Hello Kitty Icing Decorations
Supplies:
Microwave-safe bowl
Parchment or waxed paper
12 in. Disposable Decorating Bags
Cookie sheet
Food-safe scissors
1) Dip pretzels
Melt bright pink and lavender Candy Melts candy in microwave-safe bowl according to package directions. Dip pretzels in melted candy. Gently tap against edge of bowl to smooth and remove excess candy. Immediately sprinkle with sugar. Place on parchment paper-covered cookie sheet. Chill until firm, about 10 to 15 minutes.
2) Decorate pretzels
Transfer remaining melted candy to disposable decorating bag. Cut small point off of decorating bag. Use a dot of melted candy to attach icing decoration. Chill until firm, about 3 to 5 minutes.