Simply spine-tingling haunted house decorating tips! Set the scene for scares with a few posing porch guests. Shroud your front yard in skeletons, ghosts, ghouls and other freshly dug decorations for maximum curb appeal (and disturb appeal)! A skeleton chap kicking back on the porch with a scattering of hanging reapers, a creepy cauldron o'bones, skeletal cats and glowing orange lights will create the perfect (grave) site for a haunted house. Halloween decorating ideas using skeletons can be funny or frightening. Get creative with easy ideas for a Halloween haunted house they'll scream for!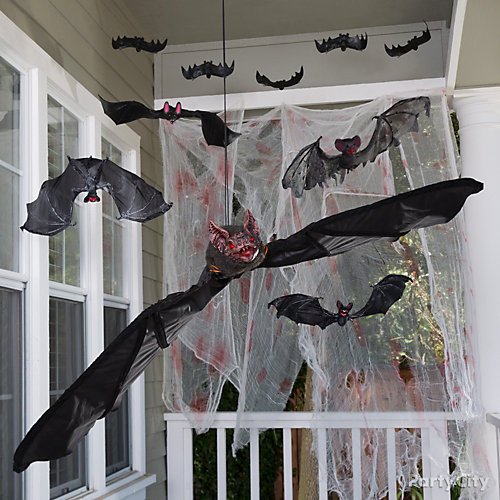 Idea 1: Decorations take flight with a flock of bats!
Give visitors a fright with winged nightmares awoken from their slumber. A giant vampire bat looks ready to sink his fangs into the next sorry soul to walk by, especially when he's surrounded by a cloud of flying horrors in all sizes. Hang tattered gauze curtains to create a cave-like atmosphere, then string the bats at alternating heights for a truly terrifying sight!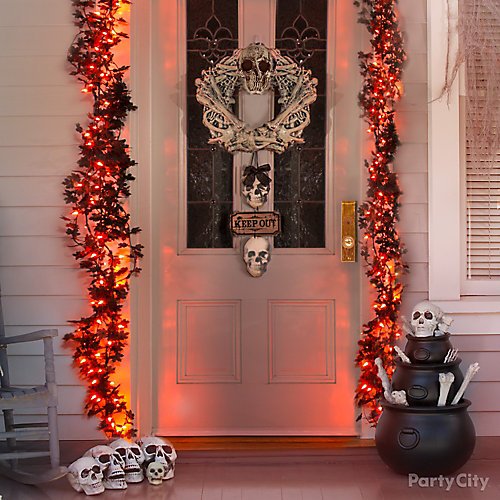 Idea 2: Door decor to die for!
Once darkness has fallen, thrill them to the bone with a lit-up display of macabre skulls. Orange lights in a garland of black leaves will cast their eerie light upon the decaying bones of a skull wreath and a skeleton cauldron. Pile a collection of skulls by the door as a fearsome welcome to all who enter.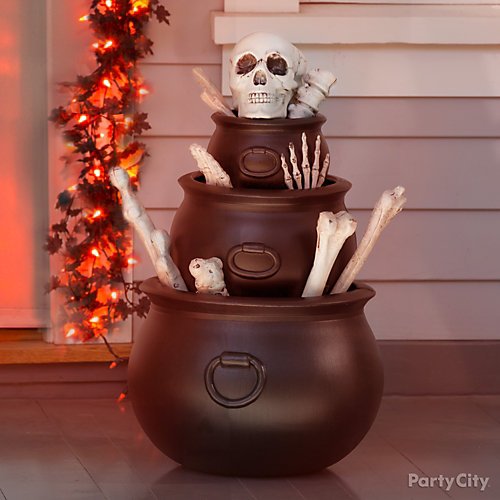 Idea 3: What's brewing in this stack of bones?
A cauldron of curiosities placed by the door may make them think twice before entering! Create a cauldron crypt with a pile of plastic pots going from largest to smallest. Stick in some fresh finds from the graveyard with skeleton parts in each cauldron. Top it off with a skull on top to grin at guests as they walk in – happy haunting!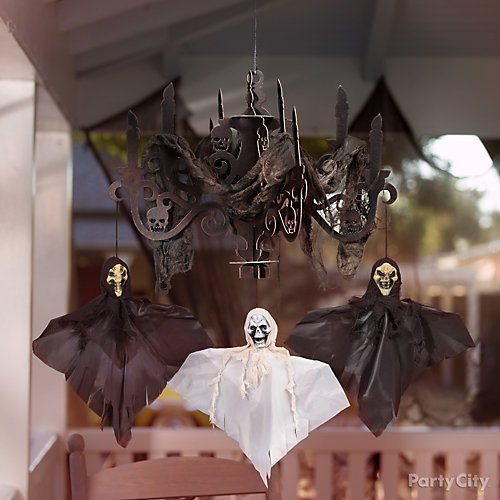 Idea 4: A fearful chandelier for your porch (or crypt)!
This easy decorating idea is a scream indoors or out. Trick-or-treaters will howl with fright when they see these spooky specters hanging from a skull chandelier.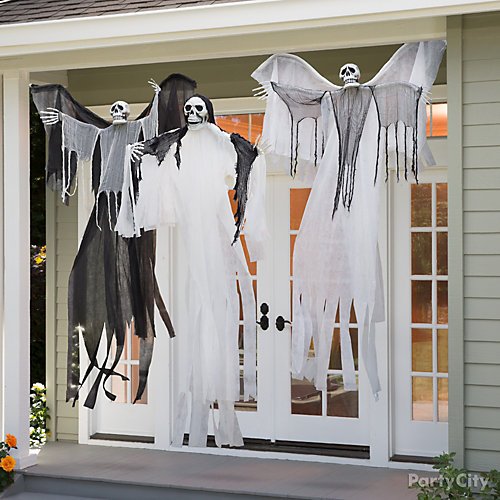 Idea 5: Summon spirits to your porch!
Create a spine-chilling scene with some well-placed reapers. The more, the scarier, so arrange a trio of terrors in menacing poses. Place them by a door so friends and trick-or-treaters will have to walk by these hanging nightmares to enter!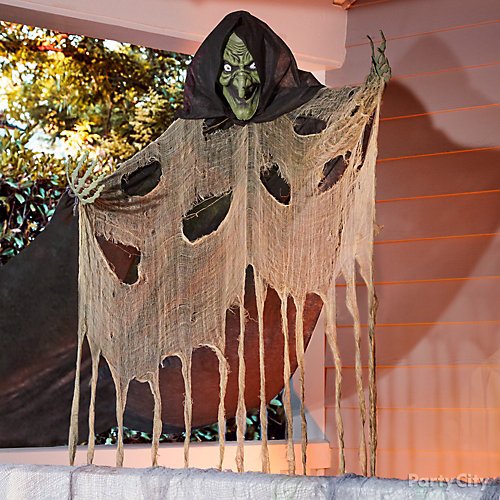 Idea 6: Who's brave enough to walk by this witch?
Enter if you dare! A wart-covered witch will gleefully welcome victims and house guests from her perch on the porch. No broom needed as her gauzy body and poseable arms can be arranged in any menacing manner you wish to make trick-or-treaters shiver.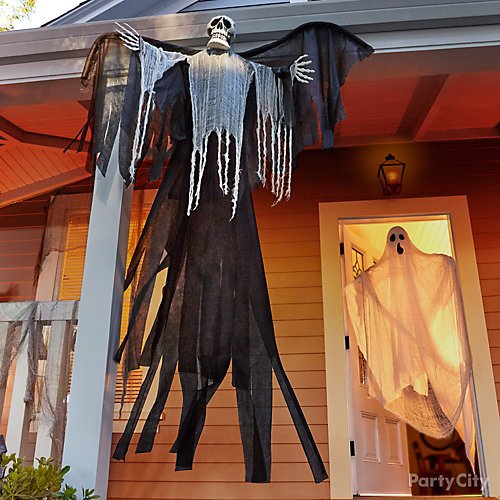 Idea 7: Assign a couple ghoul greeters to welcome victims!
Prepare them for a night of fright with hanging crypt keepers. Shivers will race down the spines of friends and passers-by when they see these couple of creepers waiting for them by the door.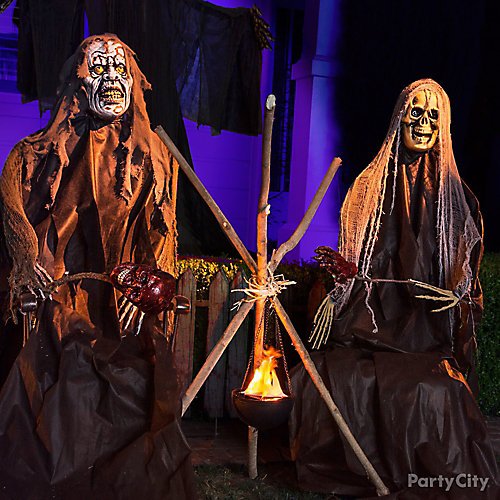 Idea 8: Show up to a blood-bath barbecue!
Create scary scenes with a story using deluxe Halloween props and accessories. This zombie and reaper love munching on fleshy BBQ bones! Create a fire pit with a couple long branches tied together above an electric flame that looks hotter than Hades. Arrange your putrid pair with bloody-looking hand and skull kabobs, then listen for the squeals of terror and delight from passers-by!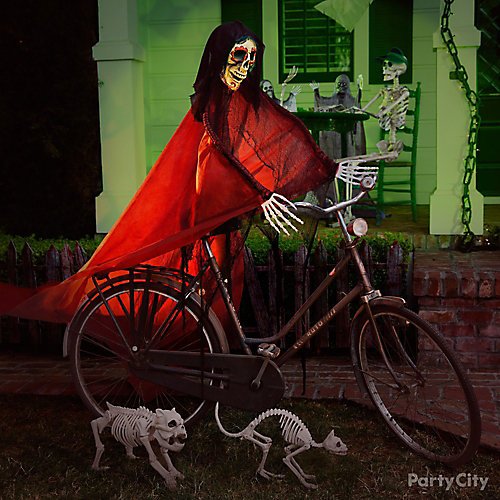 Idea 9: Take a midnight ride with a bony babe!
This eerie bicyclist is out for an after-dark bicycle ride with her skeletal pets in tow! Arrange a hanging skeleton prop with an everyday item like a bicycle for a hilariously haunting scene. A bony hellhound and fraidy cat posed in a chase will stir up giggles from everyone who sets their eyes on this freaky (and funny) scene. Don't forget the bloody picket fence for a spookily domestic look!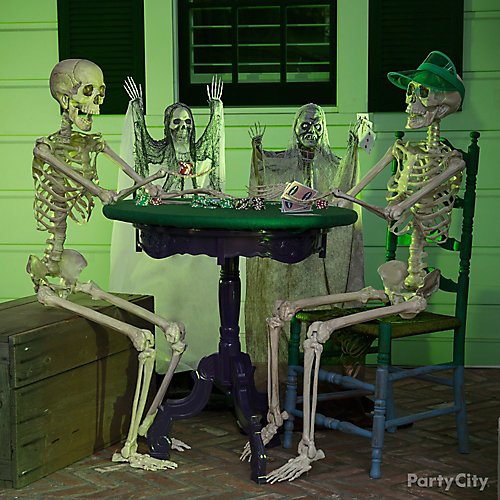 Idea 10: They're playing five card draw, graveyard rules!
There's no bones about it, these guys have serious poker faces! Grab a table and cover it with casino green, then set up the skeletons and ghosts so they can shuffle up and deal! At least you know they're not hiding any aces up their sleeves!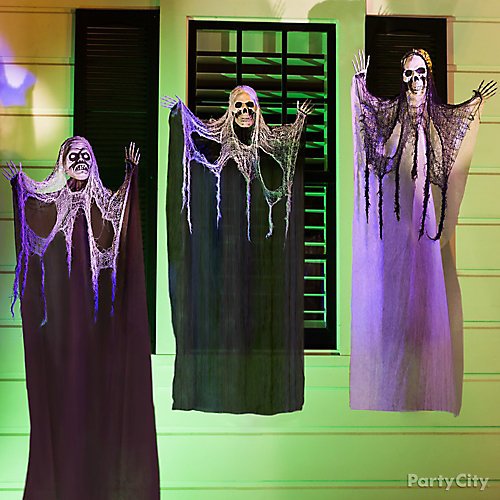 Idea 11: Three ghouls are better than one!
Enhance the ex-FEAR-ience with this trio of hanging ghouls! Trick-or-treaters will howl with fright when they see these spooky specters hanging from the roof. Create a spine-chilling scene with some well-placed decorations like witches, reapers and clowns - all their favorite nightmares!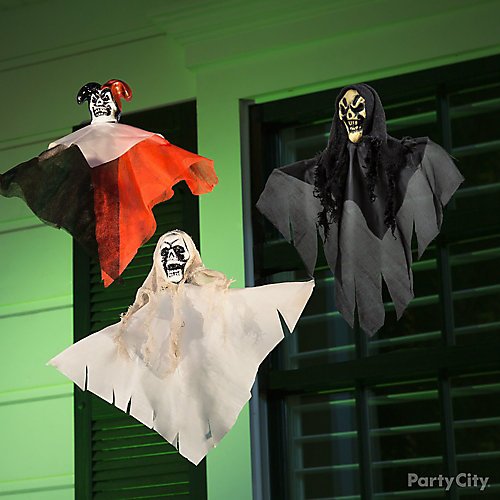 Idea 12: These jokers don't understand the gravity of the situation!
They tried defying the graveyard, and it worked! Use fishing wire to hang skeletal reapers from the porch ceiling and stagger the lengths of the wire to make it look like each one is hovering at a different height - and laughing at onlookers. Clusters like these work well as accent props near the larger vignettes to flesh out the decorations!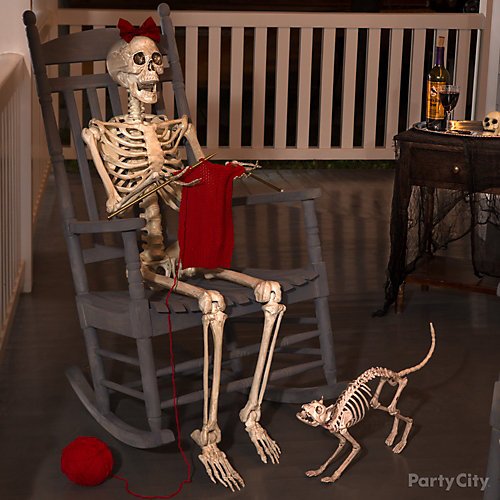 Idea 13: What nightmares is Grandma knitting?
They'll want a closer look at this ghoulish granny! Tickle the funny bones of those walking by with a skeletal senior knitting away. Place a bow atop a life-size skeleton and arrange her with a couple of knitting needles and a ball of yarn for her kitty to play with. This freaky scene will make them wonder if this cat lady cadaver is knitting her feline friend a sweater – sew funny!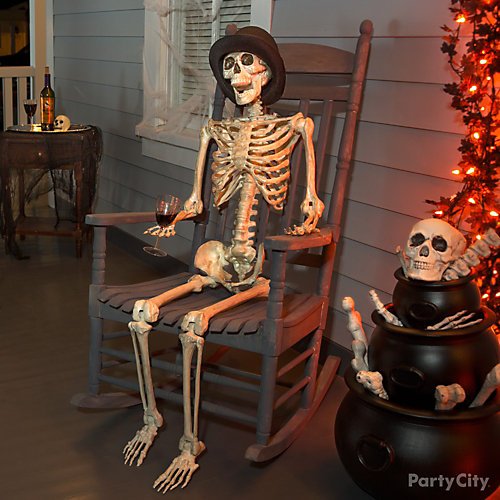 Idea 14: Share a nightcap with these old bones!
Create a humerus scene with a sharp-dressed skeleton in a bowler hat with a glass of murky merlot (or is it blood?). Arrange him in a leisurely rocking chair or porch bench and he'll look ready to start a conversation with anyone who strolls by.