Learn how to make Halloween treats that are one part spooky, two parts fun! Whip up easy and delicious treats that will spook and delight everyone at the classroom Halloween party. Get Ideas for candy corn crispy treats, monster root beer floats and more clever Halloween treats for school. Find your favorite recipes below, then serve them up on Halloween tableware!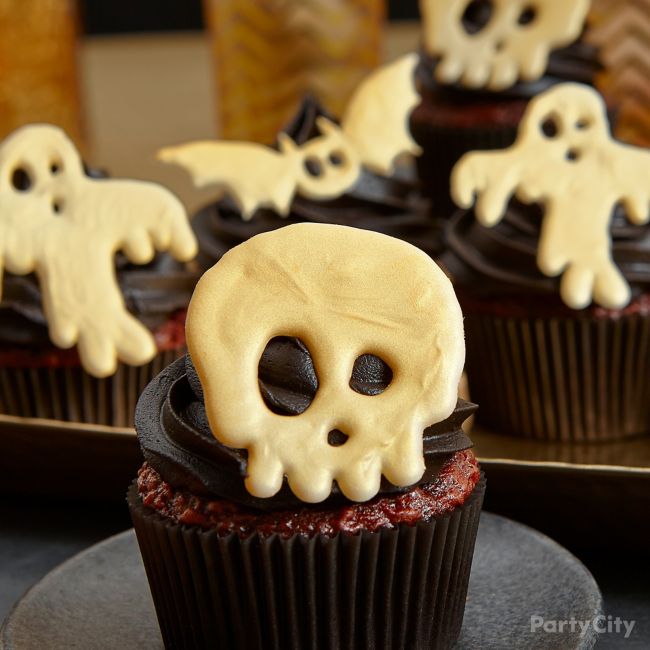 Idea 1: Candy Creeper Cupcakes
Top chocolate cupcakes iced in midnight black with Candy Melts creatures sprayed with Gold Color Mist Food Color Spray. Quick, easy and creepy!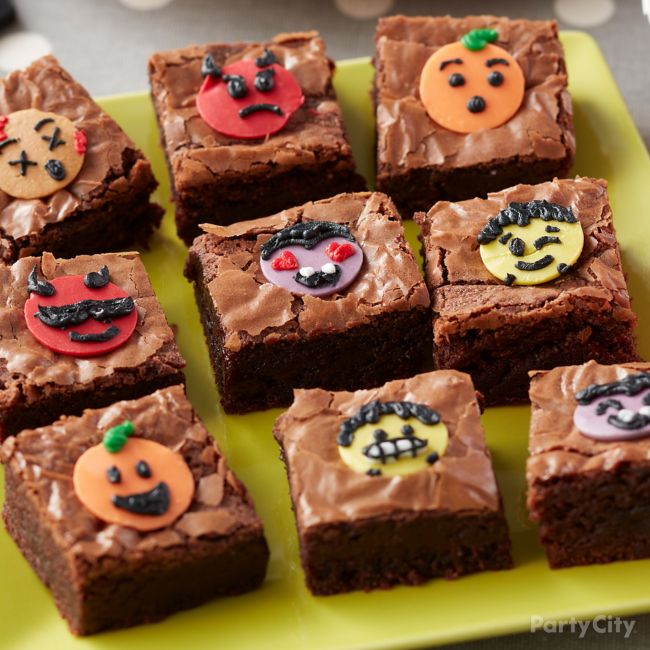 Idea 2: Halloween Emoji Brownies
Make Halloween just a little sweeter with these Halloween Emoji Brownies. Featuring cute pumpkins, monsters, devils and more, these Halloween brownies are fun treats to make for a party or bring into the office. Use various colors of Candy Melts candy to make the monster faces, then decorate them with icing to make your very own monster and pumpkin-faced emojis!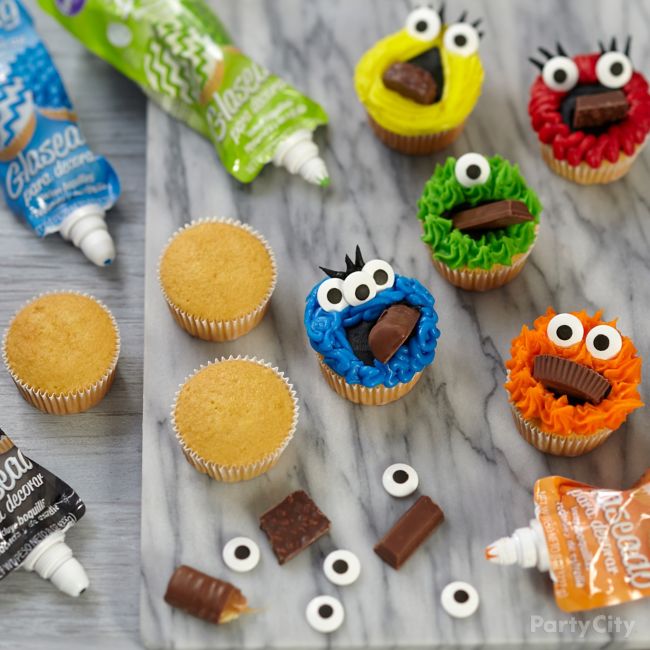 Idea 3: Monster Mouthful Cupcakes
Mischief-makers find it hard to scream on Halloween when you stuff their faces with treats! The cupcake creatures are colorfully decorated with Wilton Icing Pouches and topped with Large Candy Eyeballs. To get the steps in detail, see our Wilton Halloween Treat Recipes.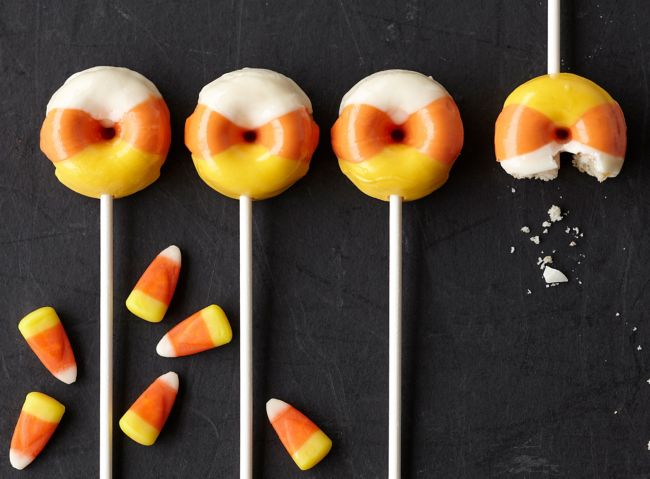 Idea 4: Halloween Candy Corn Mini Donuts
Fall colors are showing up on treats as well as trees! Mini donuts on a stick take candy corn as inspiration for a Halloween goodie everyone will love. Bake them in the mini donut pan, then decorate them using colorful Candy Melts candy. First dip them in orange Candy Melts and let dry, then add white and yellow using candy decorating bags. Chill until firm. Dip treat stick into melted candy, insert into bottom of doughnut, then chill.
Idea 5: Spider Web Cupcakes
These vivid candy spider webs are piped freehand using Wilton Vibrant Green Candy Melts candy. Use them to top cupcakes or add to the sides of a buttercream-iced cake. Either dessert is perfect for your Halloween party!
Make sure you check out the full recipes for these Halloween class treats from our friends at Wilton!
Idea 6: Wicked-Cute Halloween Cake Pops
Mummies and eyeballs and jack-o'-lanterns, oh my! To make this spookily scrumptious sampler of cake pops, dip your cooled batch of pops in Halloween-hued white, orange, and lime green Candy Melts. Drizzle buttercream icing "wraps" onto the green mummies and use black sparkle gel for the eyes. For the jack-o'-lantern faces, use edible markers on the orange cake pops, with little dots of green gel for the stem. Use red, black and green sparkle gels to make bloodshot eyeballs. Display in a container of orange Sixlets®.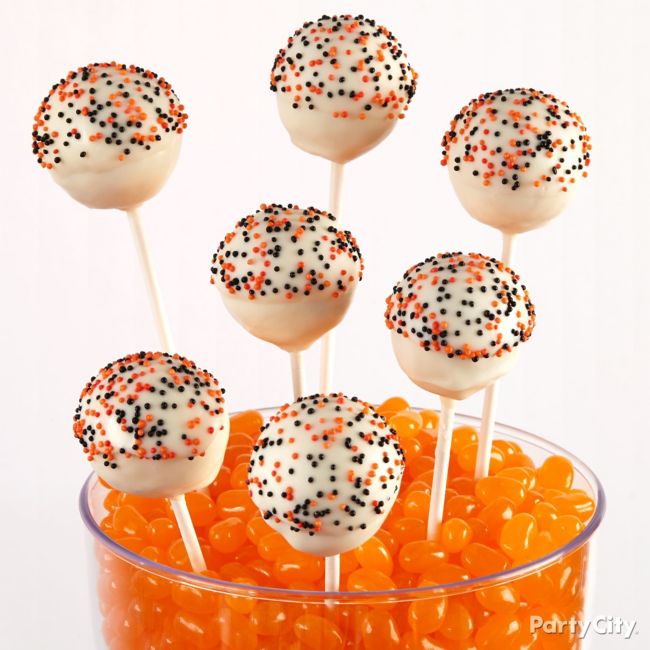 Idea 7: Easy Halloween Cake Pops
Give those store-bought doughnut holes a dip in Candy Melts® candy, and add color and fun with Halloween sprinkles. We create a boo-ful "bouquet" by standing them up in a container of orange jelly beans!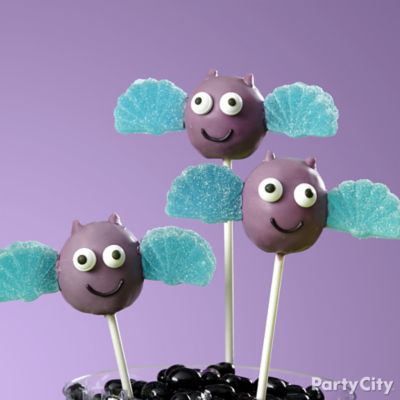 Idea 8: Sink Your Fangs Into Bat Pops
Your favorite trick-or-treaters will go batty over these eerie-n-cheery cake pops! They're super easy to make, using doughnut holes and Candy Melts® candy.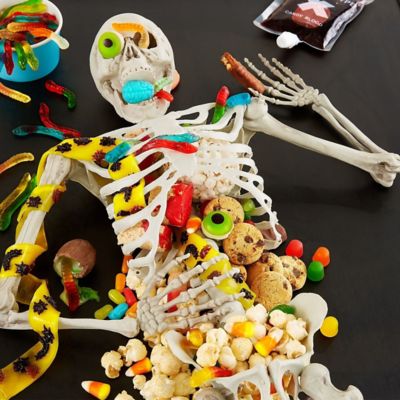 Idea 9: Candy Buffet Skeleton
Candy takes center stage on the spookiest night of the year, so here's how to make it frightfully fun: on your party food table, lay out a skeleton prop containing a smorgasbord of sweets ready for the taking. For a playful bone-chilling effect, adorn it with creepy confectioneries: think gummy candies in the shape of worms, bugs, eyeballs and brains.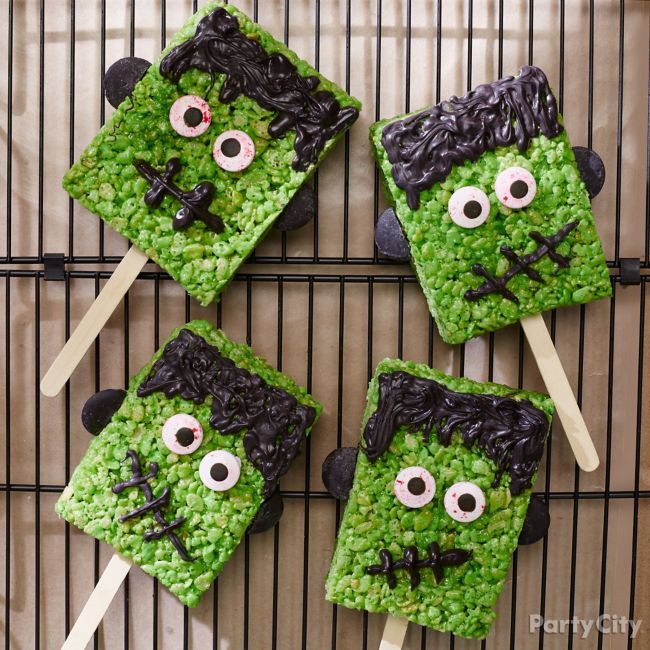 Idea 10: Frankenstein's Monster Crispy Treats
Bring these monster munchies to life in your kitchen lab! After your little trick-or-treaters return from trolling the neighborhood for candy, send them to your kitchen to concoct a sweet creation of their own! These monster munchies are easy to bring to life using your favorite crispy rice treat recipe infused with a shock of Halloween decorating. Read ourMonster Munchies How-To (AKA our "lab notes") on how to make these monster munchies for your kids Halloween dinner party.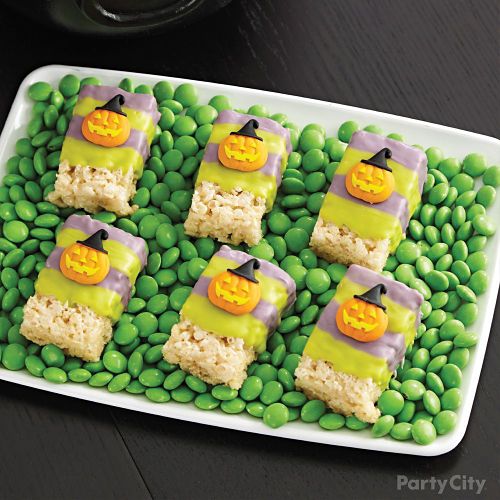 Idea 11: Easy Halloween Crispy Rice Treats
These frightfully adorable snack bars are eerie, easy and delicious! Decorate a batch of crispy rice squares in green and purple candy stripes with jack-o'-lantern icing decorations for the perfect Halloween treat. Get all the steps with our Jack o'Lantern Crispy Rice Bars tutorial!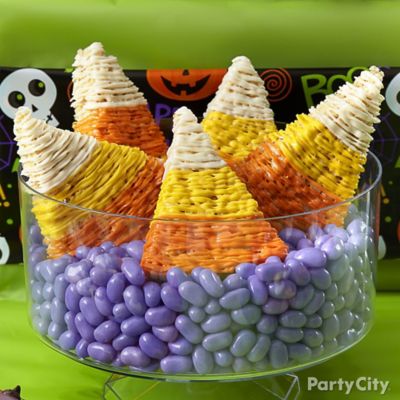 Idea 12: Candy Corn Crispy Treats
These corny treats are a Halloween fave! Conjure up a sweet treat to sink your fangs into! Get your boos and ghouls to help decorate these candy-corn-shaped crispy rice treats using white, orange and yellow Candy Melts® candy. Read our Candy Corn Crispy Treats how-to for details!
Idea 13: Jack o' Lantern Candy Cake
Ghouls and boys will love carving into a cheery pumpkin cake! Give the jack-o'-lantern dimension with icing stripes and candy eyes, nose, mouth and stem. Use Sixlets, Starburst, or other candy to decorate .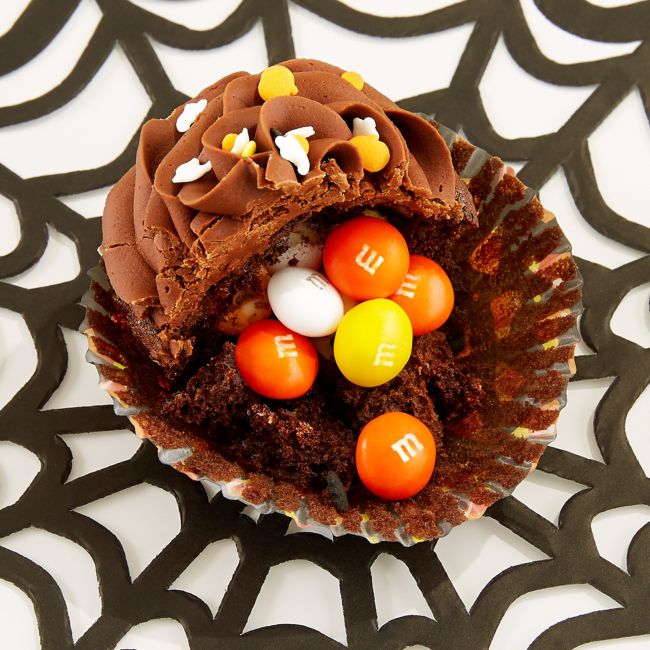 Idea 14: Halloween Surprise Cupcakes
Your little boo crew will be in for a delight after biting into these surprise cupcakes. Also called pinata cupcakes, surprise cupcakes contain a delightfully unexpected filling like candies or Halloween sprinkles. Here's another surprise—they're so easy to create: after the cupcakes cool down from baking, use a small spoon to scoop out a hole in the center. Fill the opening with candy corn M&M's or other small candies and cover it with the carved-out cupcake piece and a layer of icing.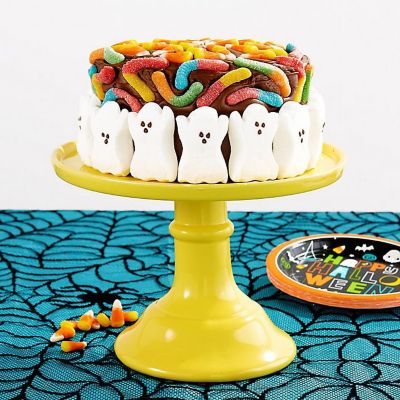 Idea 15: Spooky Cute Cake
How spooky-cute is this cake? As a decor and a dessert, cake can step up the spook in a deliciously delightful way. That's what this Halloween cake idea does best. The chocolate frosting and a simple arrangement of seasonal sweets—candy corn, gummy worms and ghost-shaped marshmallows—make this Halloween cake idea a sweet win.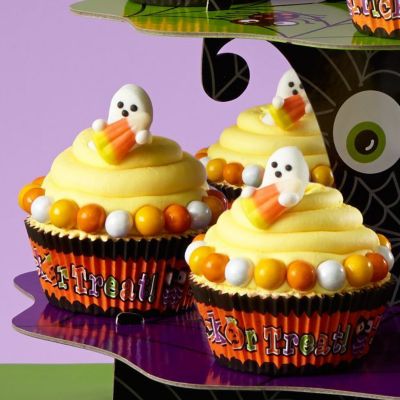 Idea 16: Easy Ghost Cupcakes
It's spooky how fast you can put together a kids' Halloween party, complete with decorated cupcakes! Just add a simple icing swirl to your baked cupcakes, then add candy accents and place on a colorful treat stand. Get instructions and shop what you'll need with our Friendly Ghost Cupcakes How-to.
Idea 17: Easy & Adorable Spider Cupcakes
Turn spooky spiders into tasty treats! Spray your frosted cupcakes with purple and green food color mist, then use gumballs and Sixlets® to make spider bodies on top. Licorice strings or thin rolls of black fondant make excellent spider legs, with black sparkle gel for eyes – yum! Creating these sweet spiders makes a fun party activity for the boys and ghouls!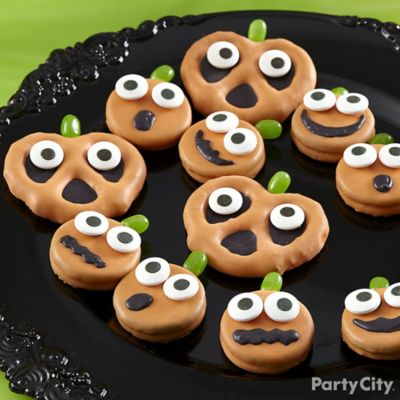 Idea 18: Pumpkin Face Dipped Pretzels
Make these faces this Halloween and you'll see smiles all around! They're easy as can be — just give your favorite sandwich cookies or pretzel twists a dip in orange Candy Melts® candy, then add the candy details.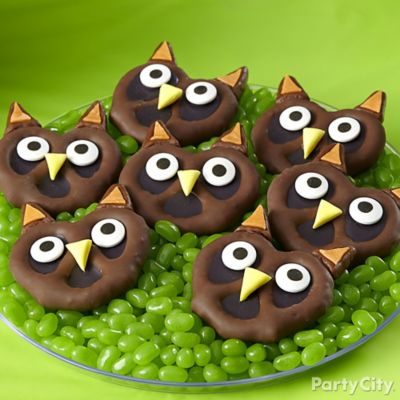 Idea 19: Spooky Owl Dipped Pretzels
Whoo-whoo wants a bite? Halloween is a real hoot when you bring these easy treats to the party! Just give pretzel twists a dip in melted Candy Melts® candy, and then add fun features using Tootsie Roll® Midgees® candy, Starburst® Fruit Chews candy, Laffy Taffy® candy and Wilton Candy Eyeballs.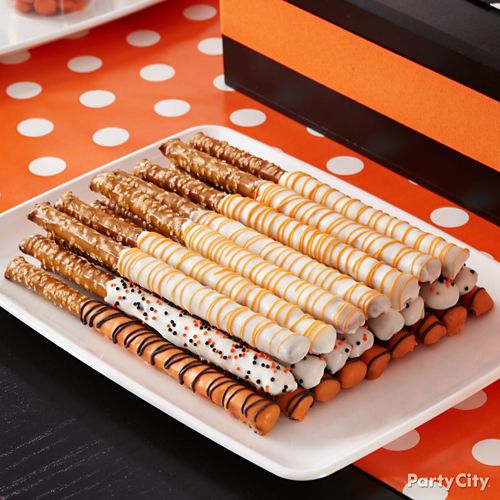 Idea 20: Chocolate Halloween Pretzel Rods
Cut through the fog on Halloween night with these glowingly good candy-dipped pretzels! That extra splash of color is easy to create using Candy Melts® candy and colorful sprinkles.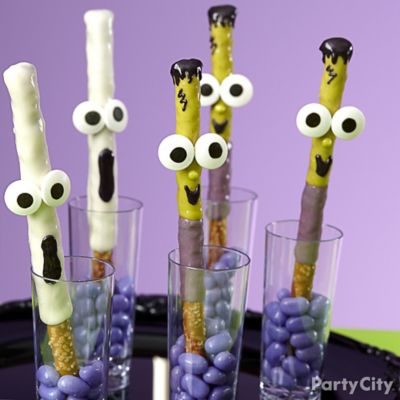 Idea 21: Frankenstein's Monster and Ghost Pretzel Rods
It's amazing the fun you can scare up with pretzels, Candy Melts® candy and Wilton Candy Eyeballs! Watch the kids' eyes go wide when they see these treats this Halloween.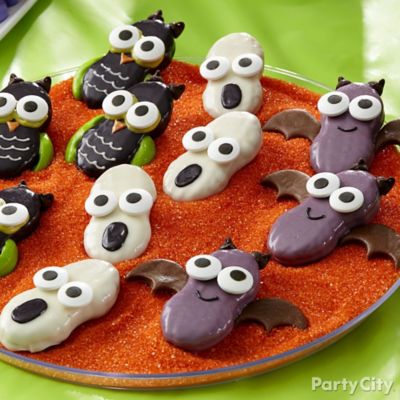 Idea 22: Bat, Ghost and Owl Snacks
Make your little monsters squeal with delight over a tray of happy Halloween treats! Their favorite peanut butter sandwich cookies are dipped in melted Candy Melts® candy, with fun candy details like Tootsie Roll® bat wings! Make sure to check with the teacher about food allergies: some classrooms don't allow peanut butter snacks.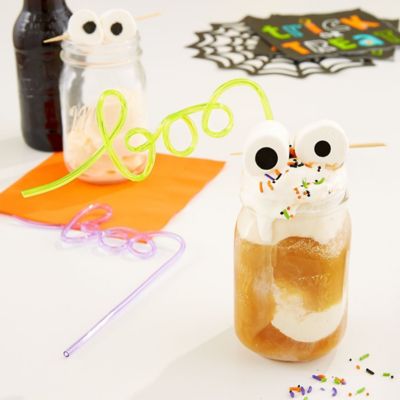 Idea 23: Monster-Eyed Root Beer Float
Quench the thirst of little monsters with a monster-eyed root beer float. We gave the classic dessert beverage a new look fitting for the Halloween season. After combining root beer soda with a scoop of ice cream in a Mason jar, add a dollop of whipped cream topped off with sprinkles and "monster eyes": two large marshmallows held together with a toothpick and pupils drawn with a black food marker. By now it's ready to get slurped up, but what's really going to make this drink scary cute is pairing it with a straw that spells out the word "boo."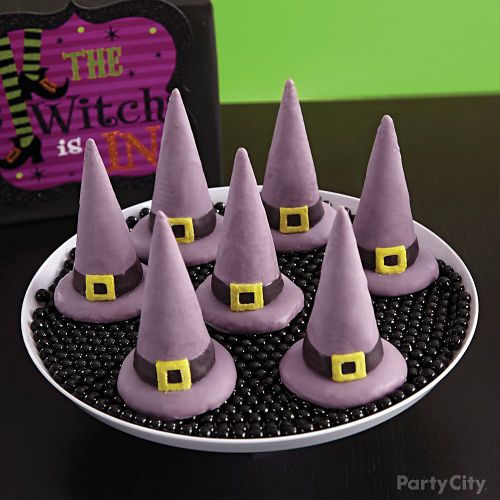 Idea 24: Sugar Cone Witch Hats
Whip up adorably spooky no-bake witch's hats! Sugar cookies and ice cream cones dipped in a cauldron of Candy Melts® make these cute concoctions the perfect treat for little monsters and witches.
Idea 25: Swamp juice for your ghouls!
Create this swampy concoction by mixing equal parts pineapple juice, limeade and green vitamin water, and stir in lime-flavored gelatin to make it thicker. For a more intense green color, use a couple drops of both green and yellow food coloring. Cut small slits in gummy worms so they can sit on the rims of the cups as a garnish. Too delicious to bog you down! See more Kids' Halloween Drink Ideas.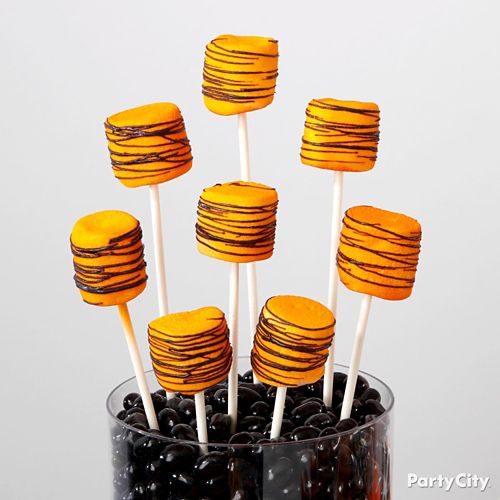 Idea 26: Halloween Marshmallow Pops
Give marshmallows a makeover for Halloween! First, give them a coat of color with Orange Color Mist® food color spray. Then drizzle them with a web of Wilton Candy Melts® candy and stand them up in a container of black candy for a treat that will make your guests go batty! Read the Halloween Marshmallow Pops how-to for detailed instructions.