Treating friends and family with a yummy treat has never been easier. Whether you like to bake or simply make and take Pinterest-worthy snacks, everything can be found at Party City. Creating edible Halloween surprises can take on any theme or flavor and some of the old favorites can be customized with sprinkles, colored sugars or candy decorations.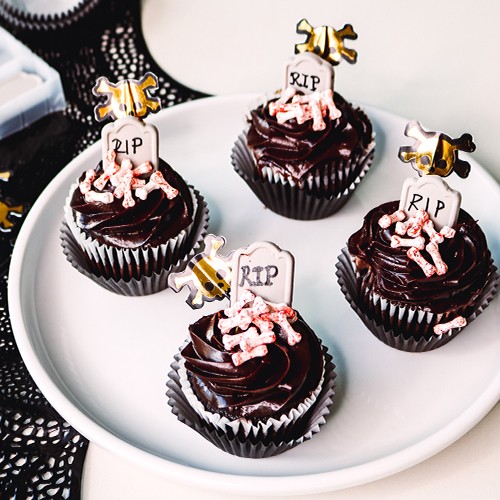 Idea 1: Spooky Cupcakes
If you want spooky cupcakes, the Halloween Skull & Bones decorating kit has everything you need. To save time, you can use box mixes to bake your favorite cupcakes or even buy them at your local grocery store. You may also add food coloring to make the cake mix orange or red, depending on your creativity. You can customize each tombstone in just seconds with the included marker. Finally, add the "bones" and skull topper after you frost each cupcake.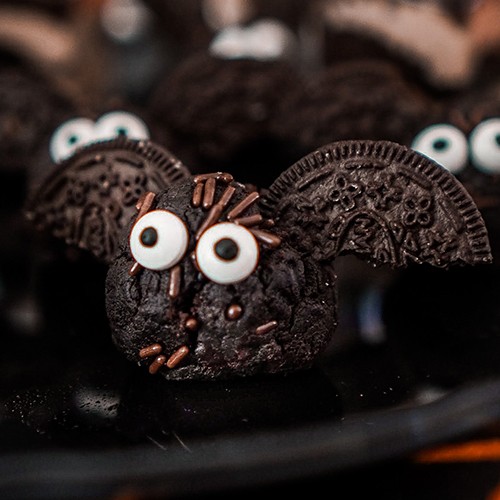 Idea 2: Cake Bite Bats
For your bats, the first thing you'll need to do is bake your cake as instructed and let it cool. Next, break your cake apart into a large bowl and add in about 3 tbsp. of your chocolate hummus (or frosting). Using your hands, combine the two together until a soft mixture forms that allows you to create a small ball in your hand. To bring your bats to life, roll the ball into your chocolate sprinkles tub and stick in a half-broken chocolate cookie for its wings. Last, use your black gel as a paste to stick on your edible candy eyes.
Food Items Needed:
1 Box of Chocolate Cake Mix
1 Tub of Chocolate Desert Hummus (you could also use frosting)
1 Tub of Chocolate Yogurt
1 Pack of Chocolate Sandwich Cookies
1 Pack of Rectangular Cookies
1 Small pack of Gummy Worms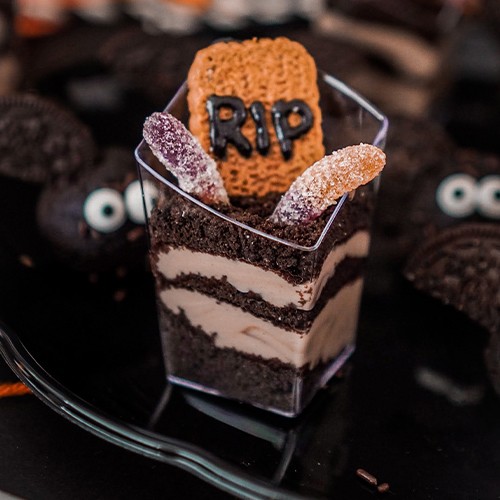 Idea 3: Mini Graveyard Parfaits
Dirt and worms never tasted so good! To create your Mini Graveyard Parfaits, start by adding a few of your chocolate cookies (remove the frosting) into a food processor and blend. Repeat this process until the cookies resemble dirt. If you don't have a food processor, you can also achieve this by adding a few cookies into a large plastic storage bag and crushing repeatedly with a large object. Once you have your "dirt", grab one of your mini parfait cups and begin layering your chocolate yogurt. For ours, we created five layers by alternating the two ingredients. For your tombstone, grab one of your rectangular cookies and break it in half. Next, use your black gel to easily write the letters "RIP". To finish, add a few gummy worms to your dirt and your graveyard is complete!
Food Items Needed:
1 Tub of Chocolate Yogurt
1 Pack of Chocolate Sandwich Cookies
1 Pack of Rectangular Cookies
1 Small pack of Gummy Worms
Idea 4: Bone Cupcakes
Trick or treat yo' self with these Bone topped cupcakes! Easy to make with our skull and bones cupcake decorating kit. The hardest part will be keeping hands (both little and big) off of them!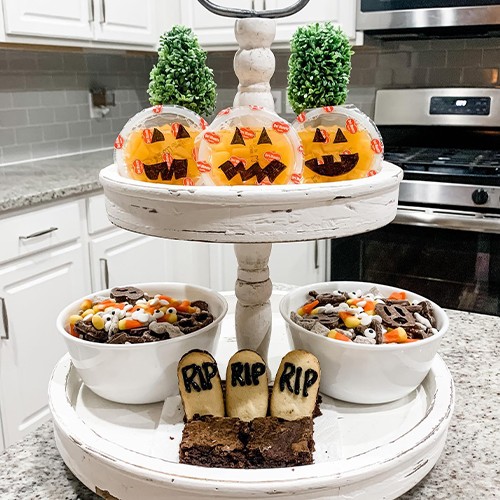 Idea 5: Halloween Mixed Treat
Rest in Peace diet… our sweet tooth has risen. Provide your hungry goblins with a few different options. We like how this tray combines both fruits and desserts. Enhance your traditional brownies with Milano cookies and write with icing your favorite "tombstone" sayings on them. Make your own sweet trail mix by mixing chocolate covered pretzels, eyeballs and candy corn - that sweet and salty mix!
Idea 6: Mummy Cookies
And the award for Mummy of the Year goes too… this one! These look almost too cute to eat. Top simple sugar cookies with white icing and edible eyeballs.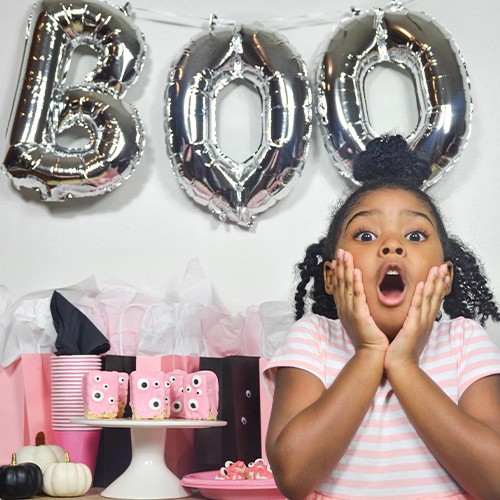 Idea 7: Pink Monster Rice Krispie Treats
Sink your fangs into these pink monster rice krispies! Dip store bought or homemade rice krispies into melted pink or white chocolate. Lastly, add eyeballs to up the spook level!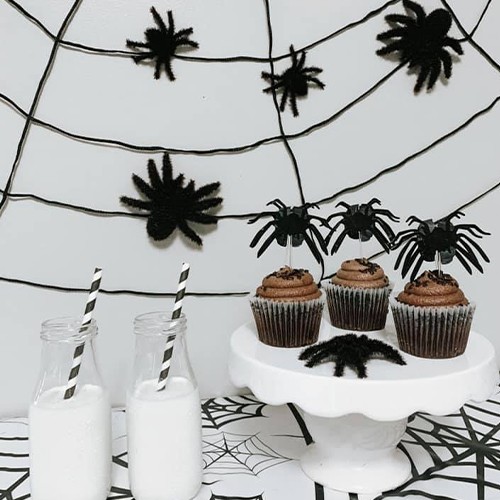 Idea 8: Spider Cupcakes
Add a spin on your classic chocolate cupcake recipe by topping them off with our spider cupcake picks. Always serve with a glass… or two of milk and enjoy!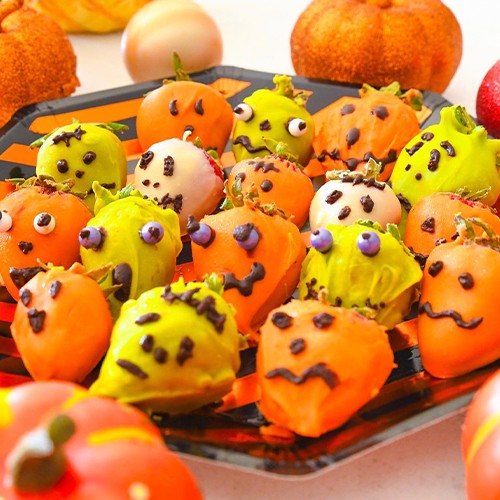 Idea 9: Spooky Chocolate Covered strawberries
It's love at first bite! Chocolate covered strawberries aren't just reserved for Valentine's Day or Anniversaries. We like to put some spooky faces on our strawberries and set them out for when the ghouls come over!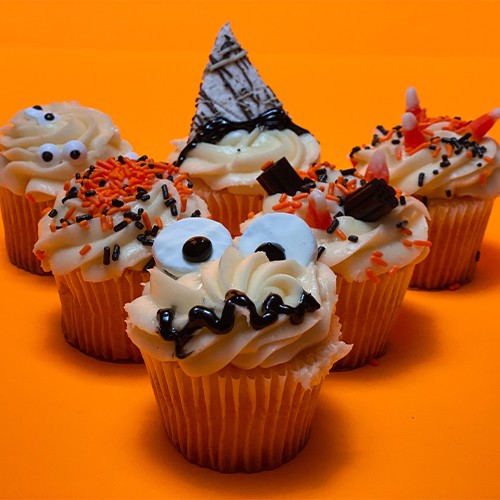 Idea 10: Spooky Cupcakes
Everyone loves cupcakes and they will really love yours when you customized them with sprinkles and sugars. Pick colored baking cups that match your party's theme and display them on decorative cupcake stand that screams, "come and get them!"
Products Used:
Wilton Black Sugar Sprinkles
Black Baking Cups 75ct
Wilton Black Icing Tube
Wilton Orange Color Mist
Black Cupcake Stand
Idea 11: Halloween Bundt Cake
Your secret is safe with us. A store bought cake can quickly become your creation by adding Halloween sprinkles or colored sugars. Presentation is everything and when you walk in with your Halloween dessert on a matching cake stand, you will look the hostess with the most-est.
Products Used:
Medium CLEAR Plastic Cake Stand
Wilton Orange Color Mist
Wilton Orange Sugar Sprinkles
Wilton Black Sugar Sprinkles
Wilton Creamy White Candy Melts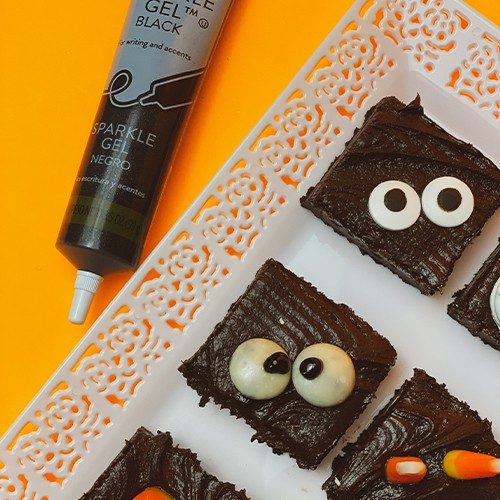 Idea 12: Eyeball Brownies
What's better than brownies? Brownies that are creepy, haunting or not-so-scary Halloween decorated! Colored icing with eyeball decorations or zombie hand frosting will make it easy for you to create a spook-tacular brownie buffet.
Products Used:
Wilton Black Sugar Sprinkles
Wilton Candy Eyeball Icing Decorations
Wilton Halloween Icing Decorations
Wilton Zombie Hand Icing Decorations
Wilton Flat Candy Eyeballs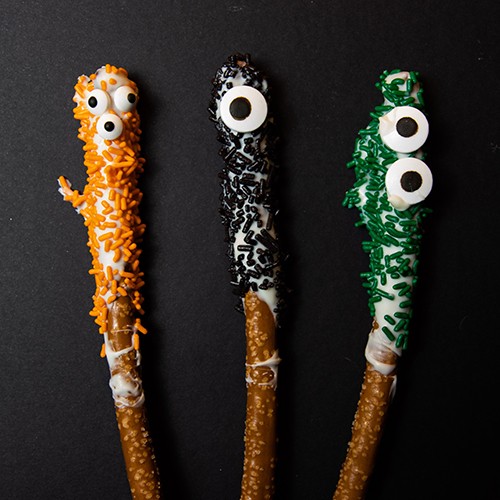 Idea 13: Pretzel Monsters
So you don't like baking but you want to look like a clever cook? Turn stick pretzels into a mob of monsters that kids and adults will love snacking on at Halloween parties. Dip pretzels into colored candy melts and sprinkle with seasonal sprinkles or colored sugar. Decorate with candy eyes and let dry. Wrap in plastic treat bags to make individually wrapped party favors.
Products Used:
Small Clear Plastic Treat Bags 50ct
Wilton Flat Candy Eyeballs
Wilton Creamy White Candy Melts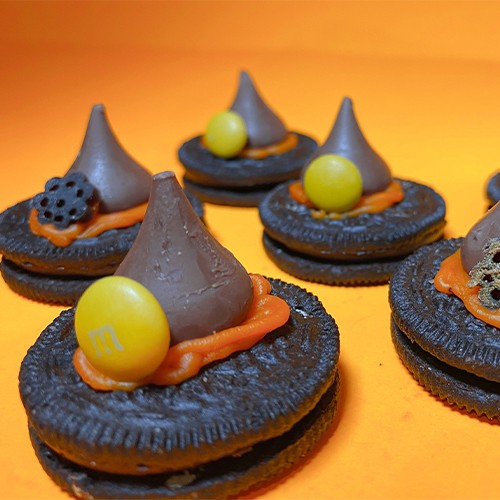 Idea 14: Witch's Hat Cookies
Quick and easy- that's how we describe these fast to make Witch's Hat Cookies. Adhere a candy kiss to a chocolate sandwich cookie with orange icing. Add a gold candy for the buckle of the witch's hat and let dry. Serve a dozen or more on a color coordinated plastic platter.
Products Used:
Wilton Orange Icing Color
White Crème Cookies 'n' Creme Hershey's Kisses 70ct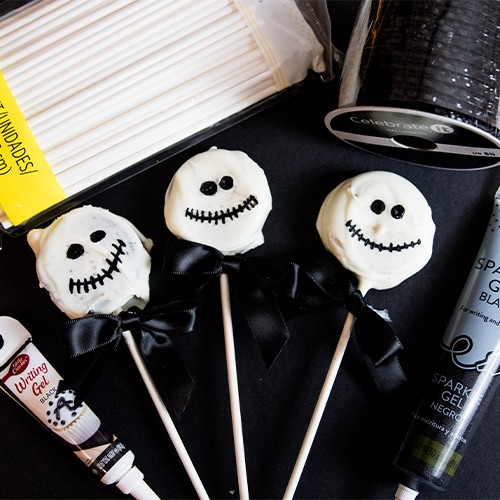 Idea 15: Ghost Pops
Ghosts on a stick will are a fun way to get everyone in the Halloween spirit. They make an easy party favor or non-traditional dessert. Place a sandwich cookie on a lollipop stick. Melt white candy melts and dunk cookies on the stick so that they are fully covered. Let dry in the refrigerator and then decorate using black icing or candy monster eyes. Display on a lollipop stand or wrap in plastic treat bags and use as party favors.
Products Used:
Wilton Creamy White Candy Melts
White Lollipop Sticks 35ct
Small Clear Plastic Treat Bags 50ct
White Lollipop Stand
Black Curling Ribbon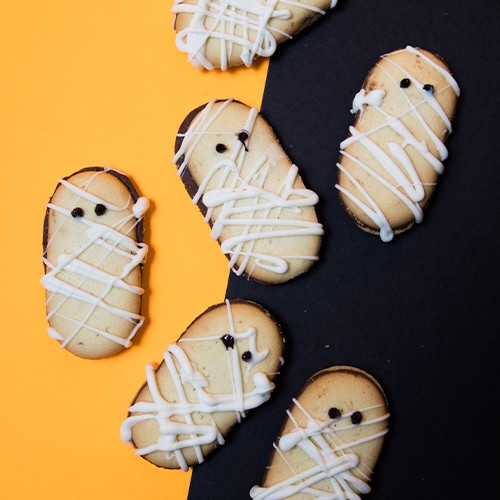 Idea 16: Edible Mummies
Lay your favorite flavor of Milanos on a cookie sheet. Melt white candy melts in a microwave and drizzle across cookies in a criss cross pattern. Using black icing, give each mummy two eyes. Cool in refrigerator. Wrap in plastic treat bags to use as party favors or display on a colored plastic platters.
Products Used:
Small Clear Plastic Treat Bags 50ct
Wilton Creamy White Candy Melts
Wilton Black Sparkle Gel