Gelatin bunnies + jelly beans = yum!
Let out some spring energy with gelatin bunnies – they're moving as much as the little ones! With your favorite gelatin flavor and some careful cutting, they're a cinch to make (our Gelatin Easter Bunny Bites How-To has the details). And once made just fill up cordial glasses with pink jelly beans and top them off with these delights. They're almost too cute to eat – almost!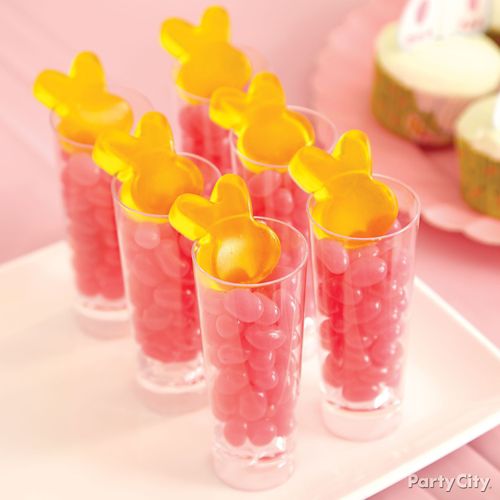 How-To
Ingredients:
1 package (3 oz. size) yellow gelatin (makes 24 treats)
1 envelope unflavored gelatin
Supplies:
Measuring cup
Large bowl
Cookie sheet
Spoon
1) Make gelatin
Stir 1 cup boiling water into dry gelatin mix in a large bowl until completely dissolved. Add 1 cup cold water to mixture.
2) Shape bunnies
Fill a shallow dish with gelatin and chill for at least three hours. Once fully chilled, freehand your bunnies or use a small bunny cutter.