Ideas worthy of a touchdown celebration. Get in the game with ideas for a casual and trendy football party! Everyone loves meeting up to watch their favorite teams battle it out, but good food and awesome decor elevates a regular get-together to an event your friends and fam will remember all season long. So game on! We've got all the tips and tricks you'll need to throw a fun and easy football party, from first down to touchdown.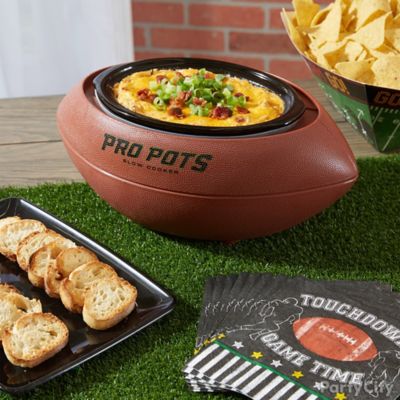 Idea 1: Cook it slow, keep it hot!
This football-shaped slow cooker has a 1.5-qt. capacity, so it holds the perfect amount of dip for a pre-game appetizer! Serve up your favorite cheesy spread mixed with cooked bacon and leave it to simmer on low, and top it with chopped green onion and bacon bits. Offer toasted crostini and tortilla chips so your guests can choose what to crunch.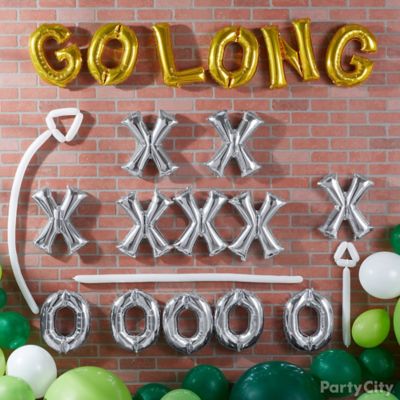 Idea 2: Take a page from our playbook
Get creative with balloons to push your football decorating over the goal line! Tape air-filled X and O balloons to mark out your play on a wall, then create arrows using long white twisting balloons. Spell out "GO LONG" with gold letter balloons, then add balloons in green and white for a hint of field.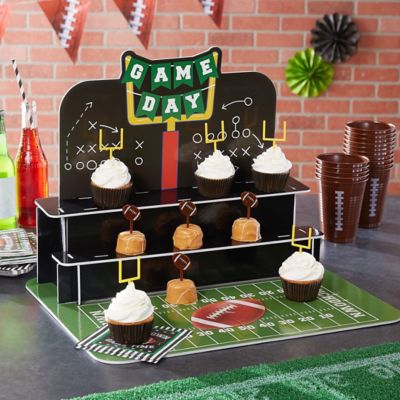 Idea 3: Victory is sweet
Party planning is all about balance. Spend time working on the details you really want at your party, and choose time-savers when you can. Our favorite way to save time is to turn store-bought cupcakes into a game day dessert display using a football treat stand kit. Slide football picks or flags into each cupcake and show them off on an on-theme cupcake tower. This one's an easy win!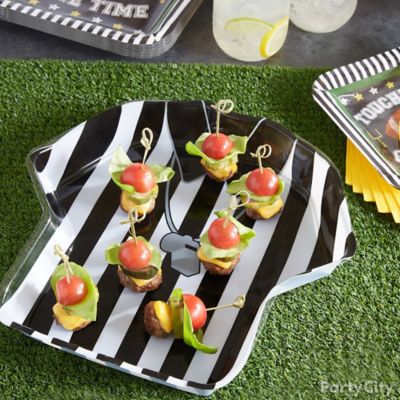 Idea 4: Kick off the party with kabobs
These slider-inspired mini kabobs are the perfect appetizer for a game day party. Use bamboo party picks as skewers and layer up your fave burger components! We used half a cherry tomato, a bit of lettuce, a slice of pickle, and a bite-sized version of our go-to cheeseburger recipe.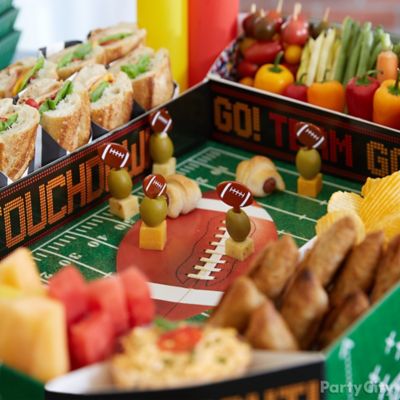 Idea 5: Serve a stadium's worth of snacks!
Score some points with the crowd by serving up a stadium tray stuffed full of fan favorites! Fill each side with whatever gets the fans cheering: there's room to have hearty options like sandwiches and pierogi, and mix in unexpected, interesting fruits and veggies like mini peppers, jicama strips, green beans, watermelon spears and grape kabobs. Use the corners for dips and condiments, and set up a little cheese play in the middle. Go team cheddar!
Idea 6: Go! Fight! Decorate!
Need an easy centerpiece that will please the crowd? Slip pom pom handles and photo booth props into megaphones, and make sure to use your team's colors. These cheer gear centerpieces will be right where the crowd needs them when it's time to root for their favorite team!