The fun of trick-or-treating doesn't have to include just knocking on doors anymore. Families and communities are getting creative in hosting new ways to trick-or-treat. Here's some easy ideas that allow your friends and families to dress up, parade in costumes, and exchange treats. Shop all Halloween Trick or Treat Supplies and get everything you need for the little monsters.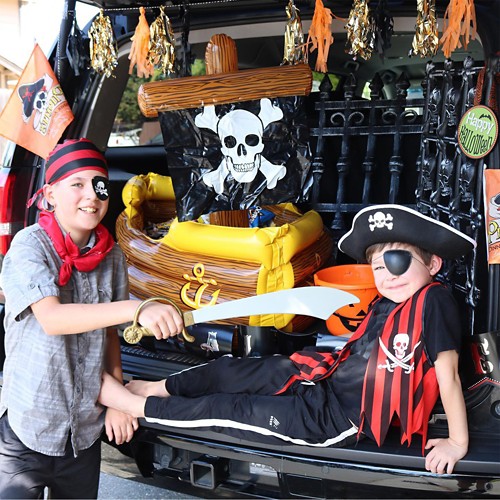 Idea 1: Trunk or Treat
This is a fun idea that can be hosted in church parking lot, neighborhood driveways or just about any open space where cars can park. Pick a theme, open the hatch or trunk and get decorating. You can even select decorations that match your family's costumes. Got a band of pirates in your crew? Turn your trunk into a deserted island and allow kids to reach inside to get their candy or toy treasures. Let it go and turn the trunk into a Frozen paradise that will certainly attract trick or treaters by the dozen.
Shop all Trunk or Treat Party Supplies.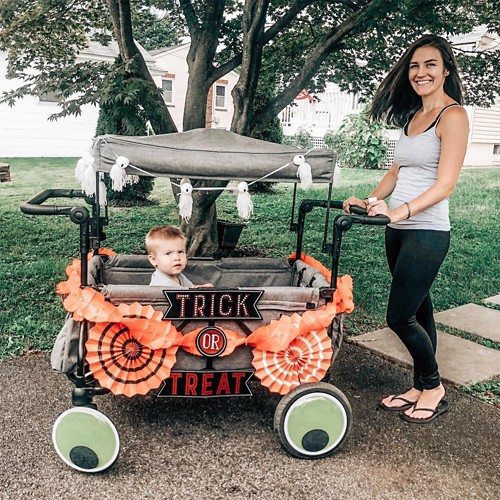 Idea 2: Halloween Wagon Parade
This idea gets the fun of trick or treating before Halloween night. Pull out a wagon and decorate it like a parade float. Pick a theme and decorate the sides and pull handle. Don't forget the hub caps too! Take it up a notch by matching your costume to your wagon. Transform your wagon into spaceship to match your astronaut costume or turn your wagon into a circus tent to carry your little tiger. Ask your neighbors to distribute candy along the sidewalk for easy treat distribution for everyone.
Idea 3: Halloween Fashion Show
Turn your sidewalk into a catwalk of costumes by creating a Halloween fashion show in your neighborhood. Kids can strike a pose for treats as they parade past houses. Sidewalks provide a naturally social distancing runway that's easy for costume models to pull wagons too!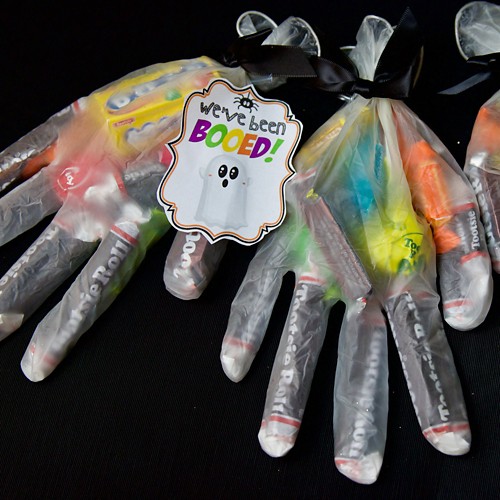 Idea 4: Neighborhood Trick or Treat Door Drops
Turn trick or treating on its head and do it in reserve. Encourage neighbors to drop off their candy in plastic pumpkins that your child leaves on the front door step of your house. Families with kids can put a yard sign in their lawn that says, "Trick or Treat. Please Leave Candy Here!" To show off their costumes, kids can sit among the yard decorations to greet treaters.
Idea 5: Drive-by Trick or Treating
The trend of celebrating holidays with car parades comes to Halloween. Drive-by Halloween parades can be hosted two different ways. Invite costumed kids to be ready in their yards at a set time on Halloween afternoon and decorated cars can toss candy into the yard as they slowly pass by or costumed kids can ride in decorated vehicles and receive candy through the window as they parade through their neighborhood. Either way getting the car decorations right is a must. Pick a theme for your vehicle and have an afternoon of fun getting ready for the big event.
Idea 6: Boo-ing!
There's nothing scary about this BOO! It's a fun way to share treats or trick the neighbors. Boo friends by leaving treats or decorated baskets on the front door steps of neighbors. Sneak over to a neighbor's at night and decorate their lawn for the ultimate Boo-ing experience! Don't forget to leave a note: "You've been BOOed!"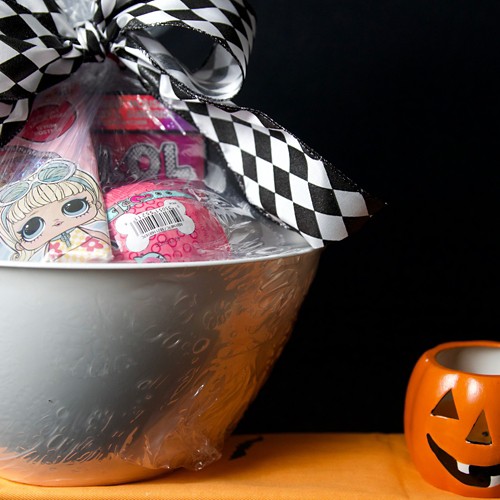 Idea 7: Halloween Baskets
There's nothing like getting all your Halloween treats in just one basket! It's fun and easy to share candy, toys and surprises with children of all ages with a delivery of a Halloween basket. Personalize the basket with themes like their favorite sports team, doll collection, or movie. Don't forget the shrink wrap and bow to tie it all together.