Refreshing ideas for a poolside display of cool drinks & yummy treats! Simply splashing party ideas! When the sun is sizzling, there's nothing better than a pool party to escape the summer heat. Invite everyone over for a day poolside and set up a cool buffet of refreshing drinks and beach-themed treats. Browse the ideas below for fun summer party ideas like sun tea, sea star sandwiches, sandal cookies and more. Dive on in!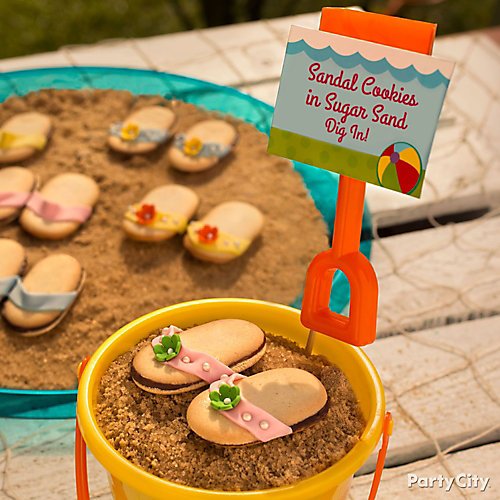 Idea 1: Serve sandal cookies on a bed of sweet sand!
Get your summer on! Munch on cute flip flop cookies that are a breeze to make. Take your favorite oval-shaped cookie and cut strips of fondant to make the straps then decorate as you please. Lay the finished cookies on a bed of brown sugar "sand". We used a sand pail to maximize the beachy effect! Finish it off with a custom sign to let guests know they're in for a treat!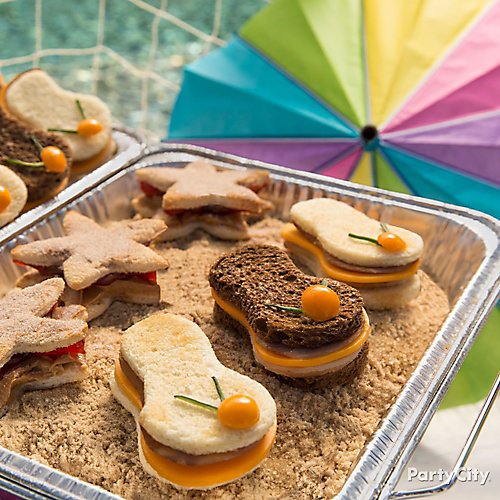 Idea 2: Sandal and sea star sandwiches
Can't get enough edible flip flops? Cut bite-sized sandal sandwiches out of toasted white bread, rye bread, ham, pepperoni and cheddar cheese. Place a yellow tomato and two green bits of chives to make sandal straps. Pair them with sea star peanut butter and jelly sandwiches and place the whole bunch on a beach of brown sugar. Cute and delicious!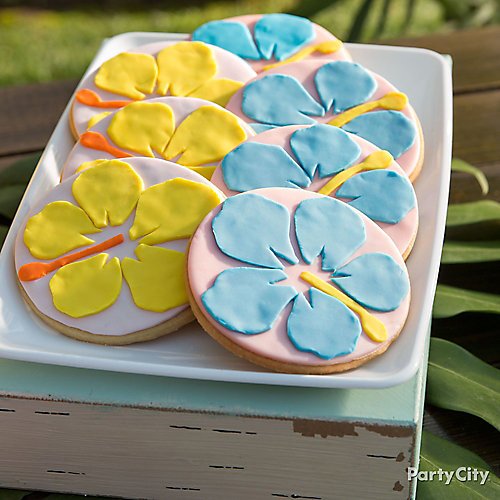 Idea 3: Lei out luau cookies to snack on!
While everyone's having fun in the sun, meet them at the table with these summery sweets. They're easy to make: just cover sugar cookies or butter cookies with white royal icing and attach fondant hibiscus petals. Yum!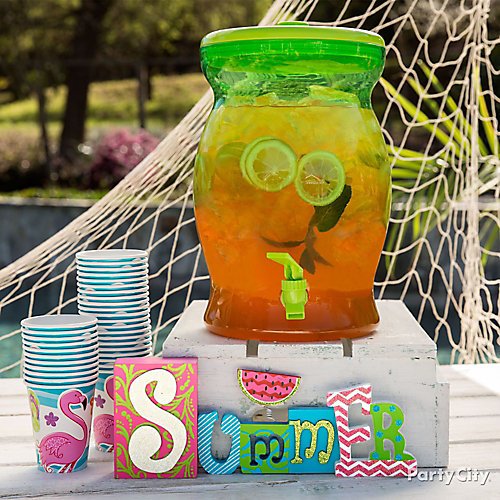 Idea 4: Beat the summer heat and brew sun tea for your pool party!
Take advantage of the summer heat and brew sun tea for that anticipated pool party! Pick your favorite brewing method and brew directly in the drink dispenser – if you're feeling adventurous add a bit of lime and mint leaves to the final product. You'll have to keep cute summery cups handy because sun tea and pool parties go together like surfers and waves!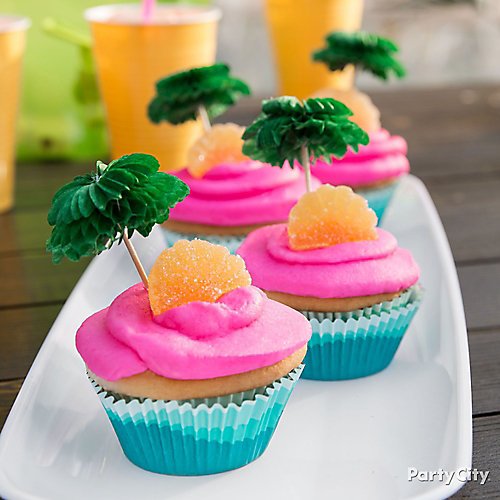 Idea 5: Take their taste buds to the tropics!
Give each guest their own private island to snack on! Decorate cupcakes in bright pink frosting with a palm tree pick and a gummy orange for the perfect poolside treat. These colorful desserts aren't just for snacking – they add tropical flair to the tablescape, too!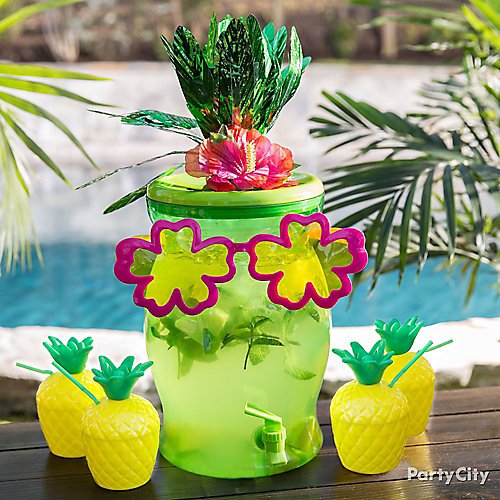 Idea 6: Make waves with a dressed-up drink dispenser!
Create the ultimate refreshment station with a too-cool beverage dispenser, sunny shades, and a headpiece made from a palm tree and a hibiscus flower hair clip. Surround it with a mini oasis of pineapple cups everyone can use to sip their refreshments. Ahhhh…