Oh, Thanksgiving. A night of comfort food, quality time with the people you love, and no pressure to buy extravagant gifts. This holiday's so nice, you'll want to do it twice. The perfect excuse—whoops, we meant reason—to celebrate a second Thanksgiving comes in the form of a fairly new holiday tradition called Friendsgiving. If you can't guess based on the name, it's a special Thanksgiving dinner you put together with your friends.
The best part: you and your friends decide the menu, who cooks (potluck, anyone?), the dress code, and what you want your Friendsgiving traditions to be. Keep scrolling for photo ideas, tips for hosting, and a few recipes you'll want to revisit next year. Long live Friendsgiving!
This isn't your mama's Thanksgiving dinner
Is it really imperative you keep your napkin on your lap? We love traditional family dinners, don't get us wrong: this just isn't that kind of party. Friendsgiving is an opportunity to keep it light, so keep the night focused on friendship, photos, and food.
Down with dress codes!
Friendsgiving isn't the time for your Sunday Best. Keep it casual and comfy, like the way your best friends make you feel. Ask everyone to kick off their shoes—and put on some slippers.
Seriously…don't be afraid to get silly
Let loose and make some memories! It might be tough to get your shyer friends to rock the turkey onesies, but maybe a few brave birds in your flock are down to do it for the 'gram. For those a little less daring, pie and turkey hats are just as funny without the full-body commitment. Side note, it's nearly impossible to keep a straight face while wearing these.
Spread the love
Sometimes friends can become family. Whether you're hosting on the traditional Thursday evening or another day in November, remember the reason you're together. Friendsgiving is the perfect time to tell your friends why they're important to you.
Not sure what kind of food to serve at your Friendsgiving feast? Check out the recipes below to get you started.
Seasonal sippers: cocktails sized for tasting
Apple spritzers
For a tray of Apple Cider Spritzers, pour a mix of sparkling apple cider, club soda and a dash of bourbon into mini cordial glasses. Garnish with chilled cranberries and a sprig of thyme.
Mini Pear Cocktails
In a shaker, mix 2 parts pear juice to 1 part vodka and add a splash of vermouth. Before you pour, rim the mini martini glasses in a blend of equal parts cinnamon and sugar. The mellow pear will complement the cinnamon-sugar rim for a perfect combination of fall flavors.
Single-serve appetizers, perfect for mingling
Bacon-Stuffed Sweet Potatoes
Keep this recipe handy, because everyone's going to ask you for it.
Mac and Cheese Mini Bites
A surefire crowd-pleaser that's easier than you think. See the full how-to.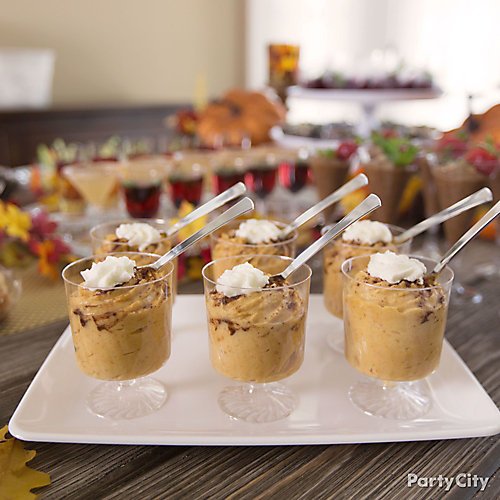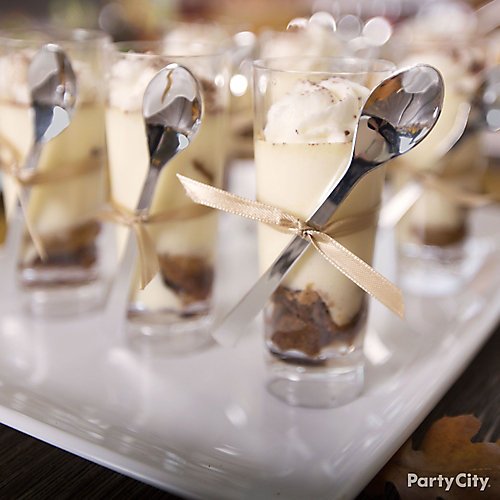 Mini desserts: so everyone can try everything (and then have seconds)
Easy no-bake Mini Cheesecake Parfaits
Beat 1 package of cream cheese, 1 cup canned pumpkin, 1/2 cup sugar, 1 cup heavy whipping cream and 1 1/2 tsp of pumpkin spice until creamy. Refrigerate for at least an hour. Spoon into pedestal cups and add a dollop of whipped cream and a dash of cinnamon. Pop in mini spoons and they're just right.
Tiramisu Shooters
Whisk together 1 cup mascarpone cheese, 1/2 cup sugar, 2 tsp vanilla extract and 1/4 cup brewed coffee. Spoon crumbled lady fingers and cocoa powder into the bottom of mini cordial glasses and top with the creamy mascarpone cheese mixture and a dollop of whipped cream. Tie on a cocktail spoon to make them extra cute.
Pumpkin Whoopie Pies
A seasonal twist on a classic treat. Get the details with our how-to.