A buffet of boo-tiful cake pops, cupcakes, cookies and more! Trick or treat, give them something good to eat! Treat your boo crew to a smorgasbord of yummy Halloween sweets! They'll go batty for these too-cute bites inspired by All Hallows Eve creatures like owls, mummies, pumpkins and witches. Nibble on this menu of goodies and get ghastly-good tips for presenting them to your band of fiends.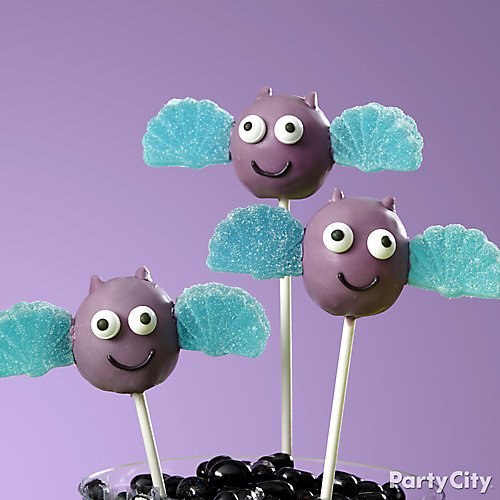 Idea 1: Sink your fangs into bat pops!
Your favorite trick-or-treaters will go batty over these eerie-n-cheery cake pops! They're super easy to make, using doughnut holes and Candy Melts® candy.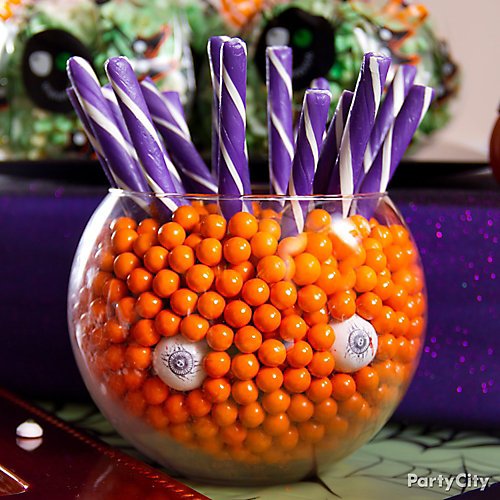 Idea 2: Craft a kooky candy monster face
Why be normal? Mini candy bars in a bowl are perfectly fine for answering the trick-or-treat doorbell … but on your Halloween party treats table, a little imagination and a couple of ping pong eyeballs go a long way! We combined them with gumballs and candy sticks in Halloween colors to make a monster who looks like he's seen a ghost!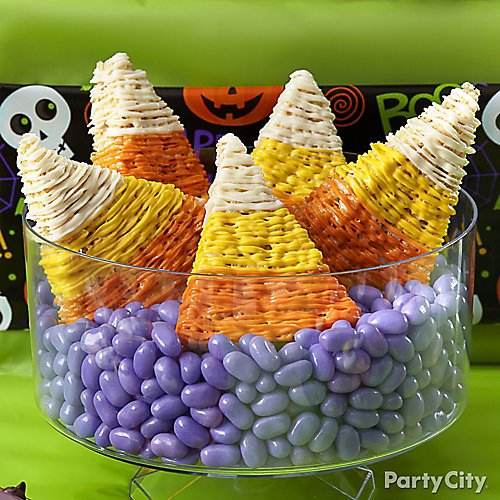 Idea 3: These corny treats are a Halloween fave!
Conjure up a sweet treat to sink your fangs into! Get your boos and ghouls to help decorate these candy-corn-shaped crispy rice treats using white, orange and yellow Candy Melts® candy.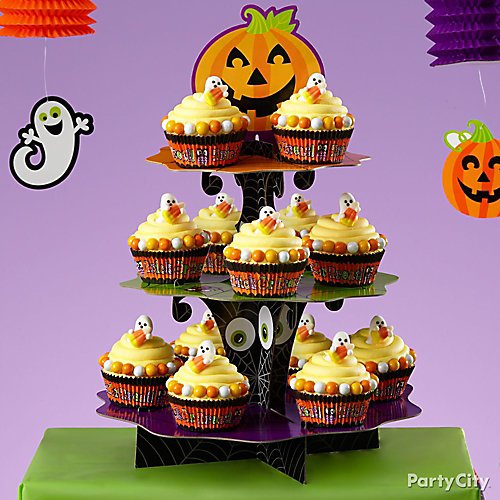 Idea 4: A stack o' spooky sweet cupcakes!
It's spooky how fast you can put together a kids' Halloween party, complete with decorated cupcakes! Just add a simple icing swirl to your baked cupcakes, then add candy accents and place on a colorful treat stand.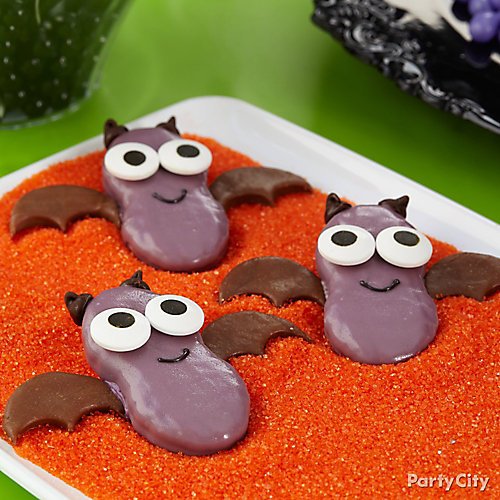 Idea 5: Put some bats in their belfry!
Dress up the kids' favorite peanut butter sandwich cookies as friendly, flapping bats this Halloween! Use Candy Melts® candy for dipping, then decorate with Tootsie Roll® wings and candy eyeballs. Displayed on colorful orange sugar sprinkles, they won't hang around for long!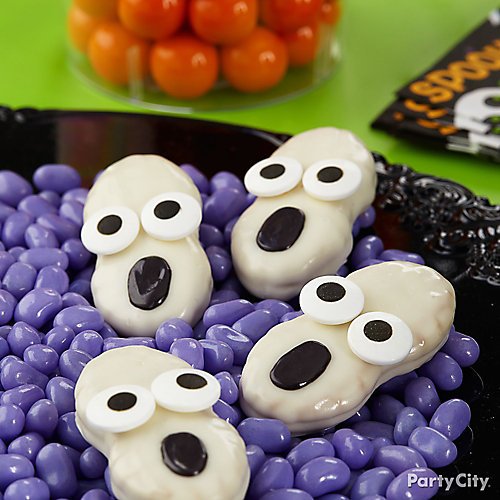 Idea 6: Thrill the kiddies with these ghostly goodies!
Kids will be thrilled when these ghosts are haunting their house this Halloween. Their favorite peanut butter sandwich cookies are dipped in melted white Candy Melts® candy, with fun candy details. We displayed them on purple jelly beans and a spooky black tray.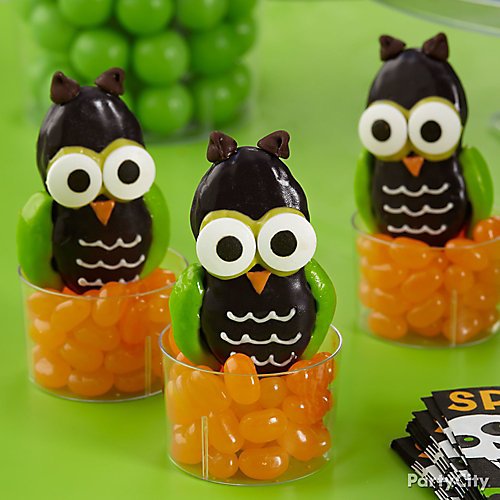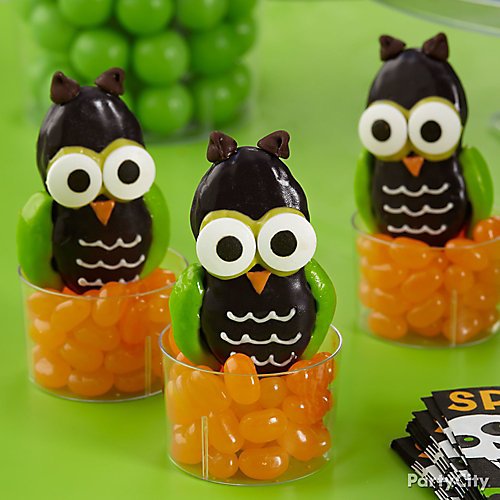 Idea 7: Owls are a ghoul's best friend!
Perch these owls at the party sweets and treats table and watch kids perk up! Peanut-shaped cookies make it easy to decorate your owls. Just cover with Candy Melts® candy and add fun candy features for an easy treat. Display in adorbs mini cups with boo-tiful orange jelly beans!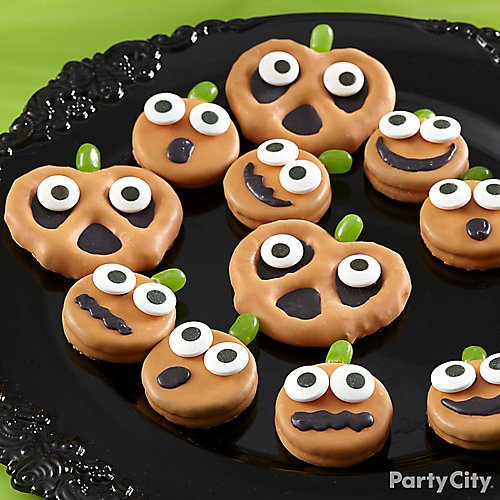 Idea 8: Make a platter o' pumpkins!
Make these faces this Halloween and you'll see smiles all around! They're easy as can be — just give your favorite sandwich cookies or pretzel twists a dip in orange Candy Melts® candy, then add the candy details.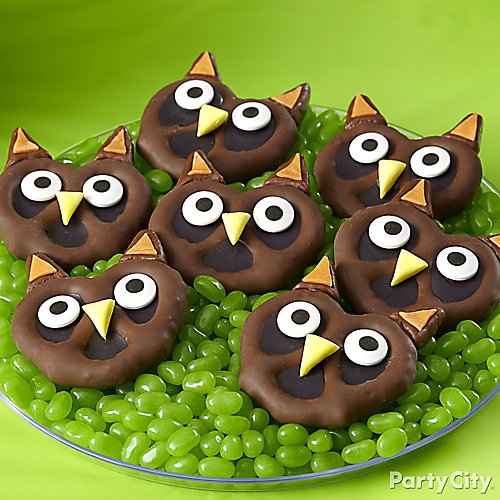 Idea 9: Whoo-whoo wants a bite?
Halloween is a real hoot when you bring these easy treats to the party! Just give pretzel twists a dip in melted Candy Melts® candy, and then add fun features using Tootsie Roll® Midgees® candy, Starburst® Fruit Chews candy, Laffy Taffy® candy and Wilton Candy Eyeballs.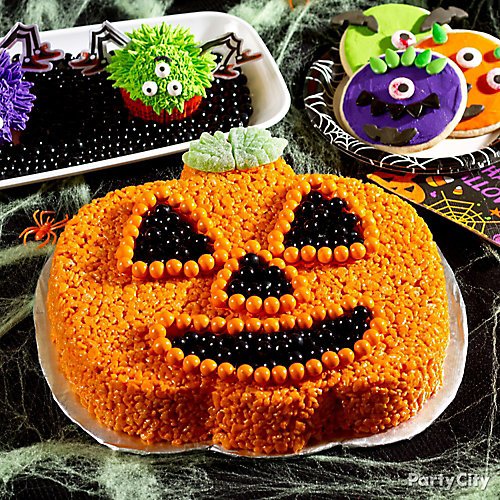 Idea 10: A pumpkin treat they can't wait to carve into!
The little vampires and witches will fly over to your dessert table when they see this yummy pumpkin treat. Not just crispy rice… Crispy rice + yummy candy! This how-to is provided courtesy of the awesome decorating experts at Wilton!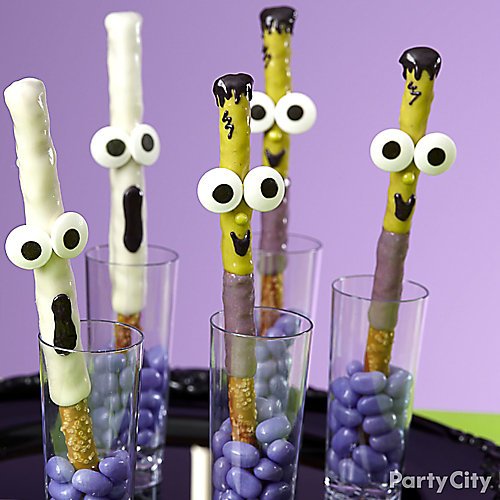 Idea 11: Make Franken-tastic ghost & monster pretzel rods
It's amazing the fun you can scare up with pretzels, Candy Melts® candy and Wilton Candy Eyeballs! Watch the kids' eyes go wide when they see these treats this Halloween.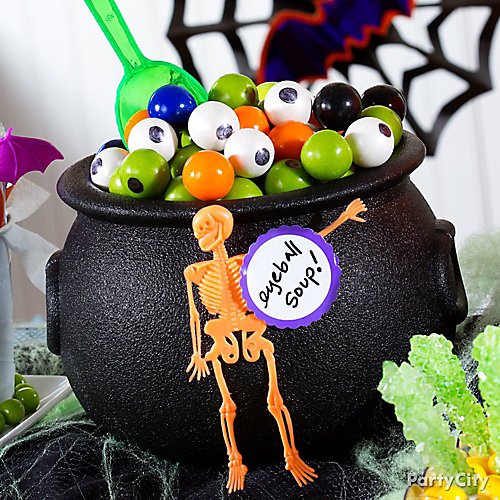 Idea 12: Serve up this witchy brew of eyeball stew!
Wow the li'l monsters at your Halloween get-together with ghoulishly great treats and candy! Cooking up a spooky serving of "eyeball soup" is easy with a plastic cauldron full of gumballs in happy Halloween hues, with pupils drawn on using food-safe markers! Make a fun label with a silly skeleton and a favor sticker, and have a candy scoop on hand for little ghouls to grab gumballs for their treat bags. Get more Halloween candy and dessert ideas to make them howl.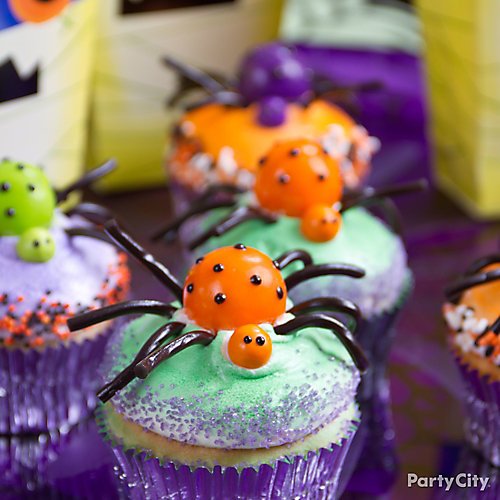 Idea 13: Easy & adorable spider cupcakes
Turn spooky spiders into tasty treats! Spray your frosted cupcakes with purple and green food color mist, then use gumballs and Sixlets® to make spider bodies on top. Licorice strings or thin rolls of black fondant make excellent spider legs, with black sparkle gel for eyes – yum! Creating these sweet spiders makes a fun party activity for the boys and ghouls!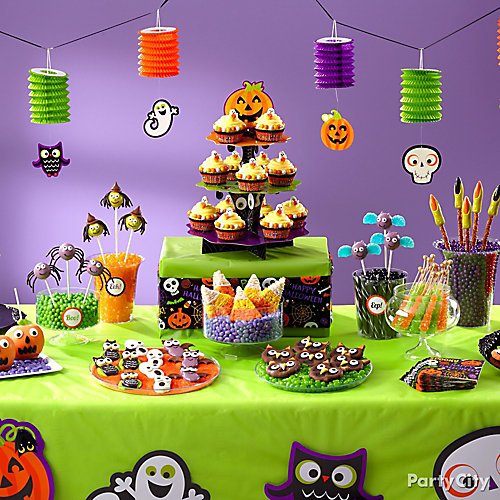 Idea 14: Kids will go batty for this sweet Halloween spread!
A kid-friendly table is all about bright colors and cute characters. Start with a plain kiwi green table cover, then pin or tape adora-boo ghost, owl, jack-o'-lantern and skeleton cutouts to the sides. The paper lantern garland with dangling smiles makes an equally sweet decoration!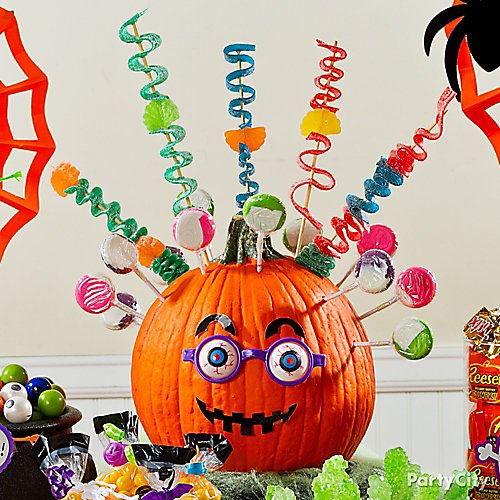 Idea 15: A wacky pumpkin makes a fun candy display!
Forget a boring plate – let your pumpkin lend a hand (or a head!) to display candy kabobs. Make a no-carve jack-o'-lantern with pumpkin decals and googly-eye glasses. Then stick lollipops and bamboo skewers of power belts and gummy fruit slices into the pumpkin for a spooky-sweet hairdo! Kids can grab the ka-boos from the pumpkin head as they explore the treats table.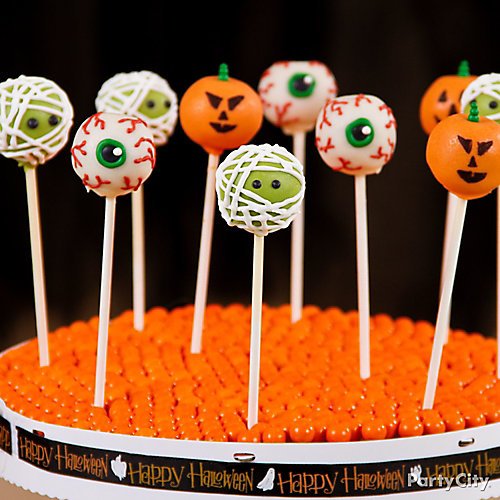 Idea 16: Whip up some wicked-cute Halloween cake pops
Mummies and eyeballs and jack-o'-lanterns, oh my! To make this spookily scrumptious sampler of cake pops, dip your cooled batch of pops in Halloween-hued white, orange, and lime green Candy Melts. Drizzle buttercream icing "wraps" onto the green mummies and use black sparkle gel for the eyes. For the jack-o'-lantern faces, use edible markers on the orange cake pops, with little dots of green gel for the stem. Use red, black and green sparkle gels to make bloodshot eyeballs. Display in a container of orange Sixlets®.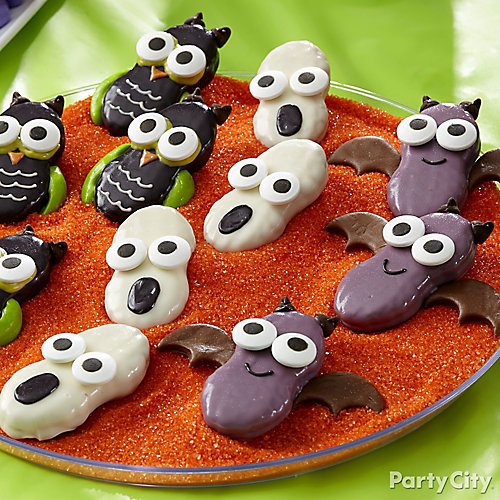 Idea 17: Watch these Halloween snacks disappear!
Make your little monsters squeal with delight over a tray of happy Halloween treats! These creepy creatures are scare-free with cartoonish candy eyeballs and silly icing mouths (and beaks!).