Happy haunting ideas for little ghosts! Fun Halloween porch ideas to make them smile – not scream. Not everyone likes being scared on Halloween! Treat the littler members of your boo crew to a porch of spooky delights with witches, pumpkins and ghosts. Li'l monsters (and their moms!) will love being greeted by the smiling faces of familiar spooks without the scares. Take a stroll through our porch decorating ideas for more inspiration.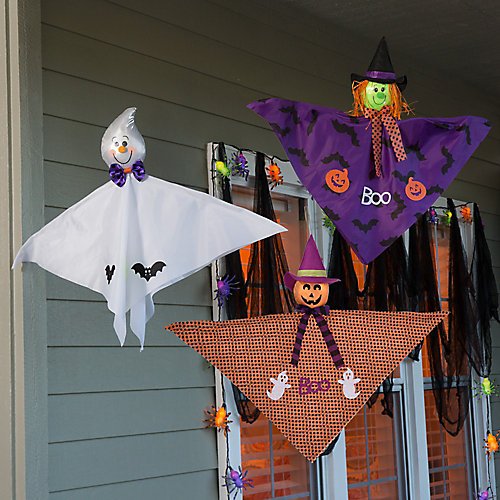 Idea 1: Add some flying friends to your porch scene!
Offer ghostly greetings to passerby with a couple of ghouls! This whimsical witch and her playful ghost friend are an easy way to add some friendliness to a corner of the porch. The smiling faces and playful patterns are sure to cast a spell on all who walk by.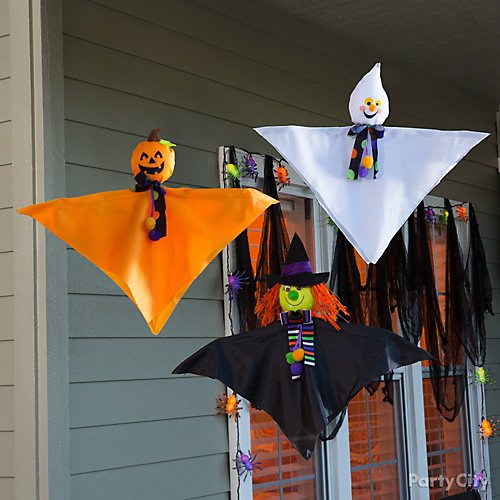 Idea 2: Offer ghostly greetings with this friendly trio!
Welcoming witches, pleasant pumpkins & good-natured ghosts – oh my! Have no fear, these frightfully adorable hanging decorations are the perfect size to hang together for a cheerful scene. Hang them around the porch or above the door for spooky-good decorations.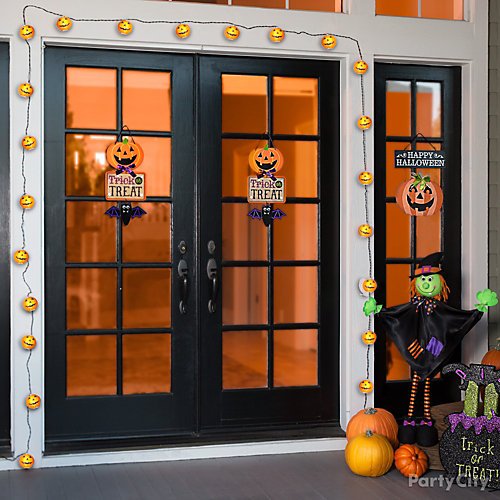 Idea 3: Light the way to candy!
Brighten up the porch with friendly pumpkins so no one is afraid of the dark. Jolly jack-o'-lantern lights around the doorway will light up faces of mini monsters, especially when they see the matching trick-or-treat signs of cheerful pumpkin characters.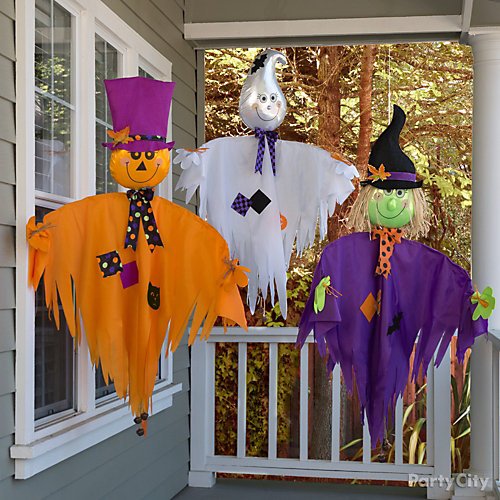 Idea 4: Greet guests with grinning ghoulies!
Give trick-or-treaters a big welcome with their favorite Halloween characters. These not-so-frightening figures measure four feet tall with poseable arms to arrange with open arms, a high-five or a wave. Create a spooktacular scene by hanging this ghoul gang together. Little ones might even want to give each one a hug!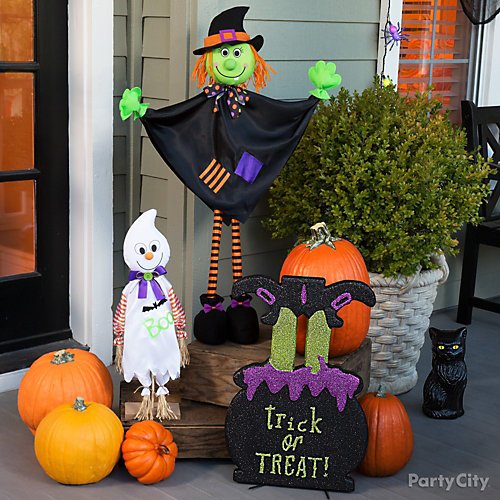 Idea 5: Witch way is the candy?
Welcome trick-or-treaters with a couple of wacky witches. Kids will love this friendly witch who's as tall as they are! Place her next to friends like a grinning ghost and an upside-down witch in a cauldron of purple goo for a spooky-cute crew ready to greet the kiddos.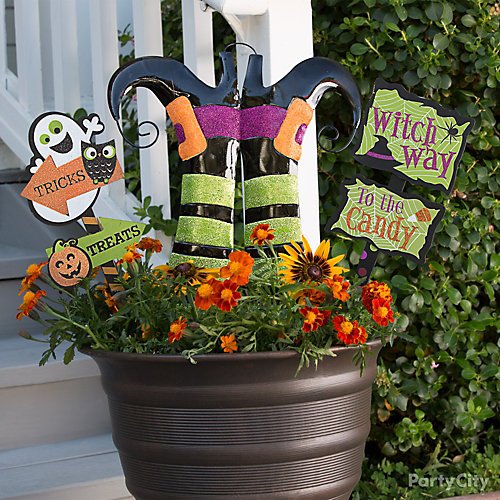 Idea 6: Add the magic touch with a bewitching planter!
Point the way to tricks and treats with Halloween yard signs that are more sweet than spooky. These glittery witch boots are attached to two stakes to easily display in the yard or a pot of fall flowers. Add a frightfully fun touch to your cute, not-creepy porch by planting a couple more yard stakes printed with friendly Halloween messages – spooktacular!