These corny treats are a Halloween fave!
Conjure up a sweet treat to sink your fangs into! Get your boos and ghouls to help decorate these candy-corn-shaped crispy rice treats using white, orange and yellow Candy Melts® candy.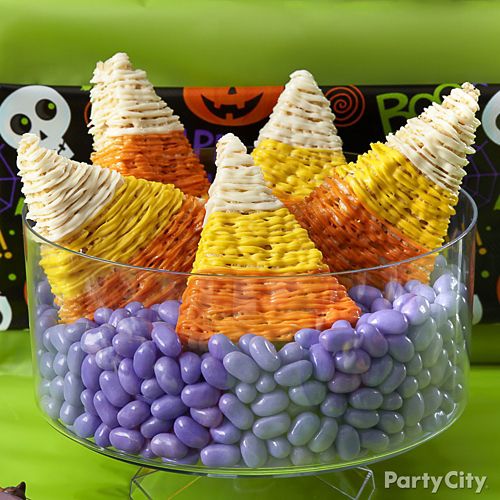 How-To
Ingredients:
Vegetable pan spray
Favorite crisped rice cereal treats recipe
White Candy Melts® Candy (8 oz. makes 16 treats)
Orange Candy Melts Candy (8 oz. makes 16 treats)
Yellow Candy Melts Candy (8 oz. makes 16 treats)
Supplies:
9 in. round pan
Knife
Plastic ruler
12 in. Disposable Decorating Bags
Food-safe scissors
Waxed or parchment paper
Cookie sheet
1) Make Crisped Rice Cereal Treats
Prepare pan with vegetable pan spray. Prepare crisped rice cereal treats following recipe directions. Divide mixture in half and press half into prepared round pan, filling about 1 in. high. Unmold and repeat with remaining mixture. If cereal treat mixture becomes too firm to pat into pan, reheat in microwave, about 10 to 30 seconds. Use knife to cut each circle.
2) Prepare Candy Melts(R) candy
Melt white, orange and yellow Candy Melts candy, separately, in disposable decorating bags according to package directions. Use scissors to cut small points off of disposable decorating bags when ready to decorate triangles.
3) Decorate crisped rice cereal triangles
Place triangles on waxed paper-covered cookie sheet. Drizzle melted white candy over tip of triangles, melted yellow candy over center of triangles and melted orange candy over bottom of triangles. Chill until firm, about 15 minutes.