Give your little MVP a day of football fun! Our football party ideas will help you come up with party plays that make for a winning celebration.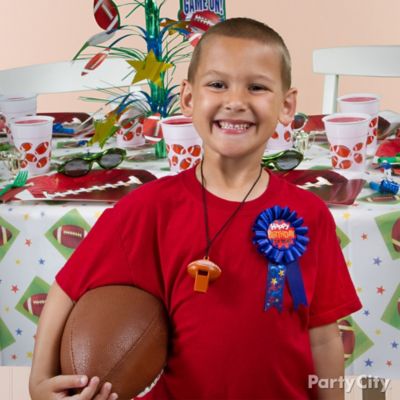 Idea 1: Make any outfit a top draft pick
Get his head in the game no matter what outfit he's wearing with fun football accessories like an award ribbon and football whistle.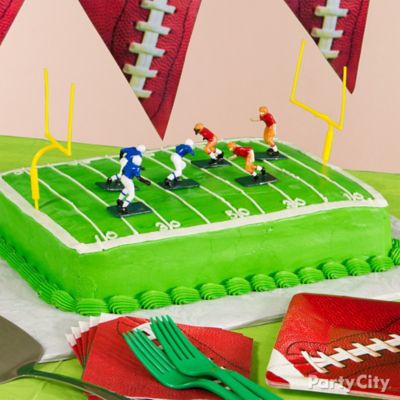 Idea 2: The crowd goes wild for this football cake!
You don't need a playbook to know that birthday cake is the winning move! Bring some sweet football action to your party by baking up a cake that looks just like a football field. Bake the birthday boy's favorite cake, then tint the frosting green. Pipe on white yard lines and pop in some football cake decorations like goal posts and players.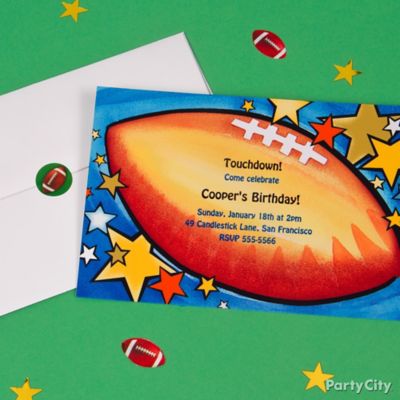 Idea 3: Call a party huddle with custom Football invitations!
Send out the winning "pass" with a custom invite to each of your teammates! Order your custom invites in store or online and add a special message about the birthday boy, like "Touchdown! Come do a victory dance to celebrate Corey's 7th birthday!" Party City will print your invitations and ship them out within five days.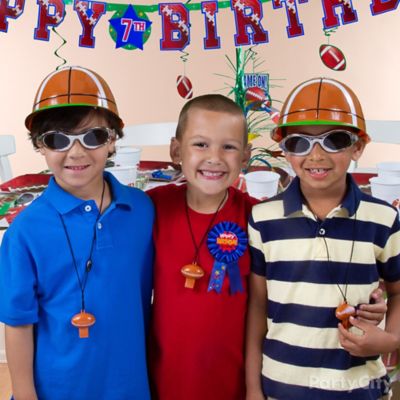 Idea 4: Deck out the team in gridiron gear!
Before the team runs onto the field, get them party-ready with fun football accessories like football party hats, whistles, wristbands and sunglasses.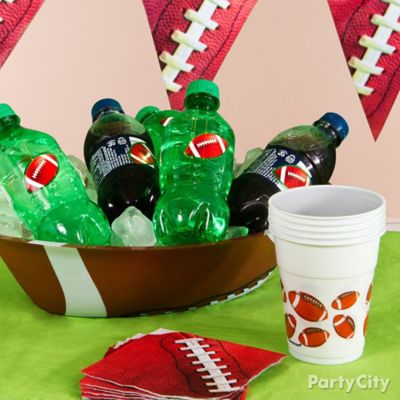 Idea 5: Serve up a bar of refreshments
Serve easy grab-and-go drinks like water, sports drinks and natural sodas in a football bowl filled with ice for the thirsty players to snag without stopping their play. Have lots of football-print cups and beverage napkins so everyone can serve themselves – go team!
Idea 6: Fill football favor cups with fun!
Send the party players home with victory favors in football favor cups! Line a favor cup with lime green paper shred, then top it off with favors like bounce balls, notepads, pencils and erasers. Slip each cup inside a clear favor bag and tie closed with a little curling ribbon – score!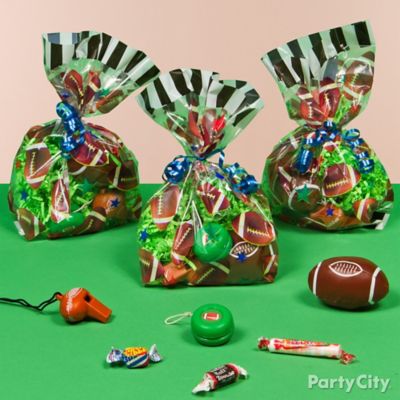 Idea 7: Hide football surprises in themed loot bags
Score the winning touchdown in no seconds flat with a football favor pack and printed favor bags. Fill the clear bags with green paper shred and pile the favors on top, then tie off with some curling ribbon and hand them out to the team!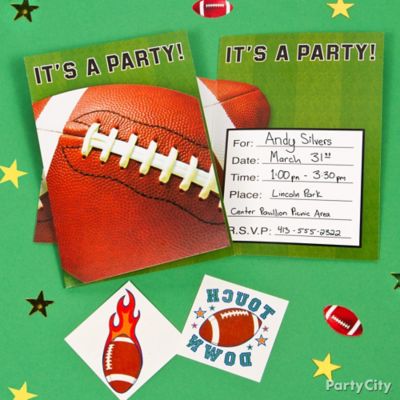 Idea 8: Add sporty tattoos to your football party invitations
Send out some team spirit with your party invitations! Football fans love painting their faces for the big game, so send a couple tattoos with your invites so the boys can wear them to the party. Add a pinch of football confetti to each envelope and seal with a football sticker to go the extra mile!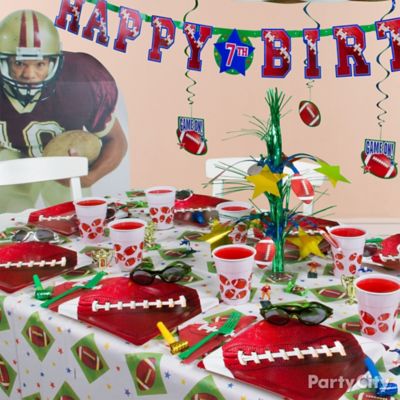 Idea 9: Prep your party room with gridiron gear
Give your party room a football-stadium vibe with decorations that help amp up the party. An add-an-age letter banner, streamers and hanging swirl decorations are easy ways to score a decorating field goal. A football player cutout in the corner of the room is a great photo prop and also adds some dimension to the room.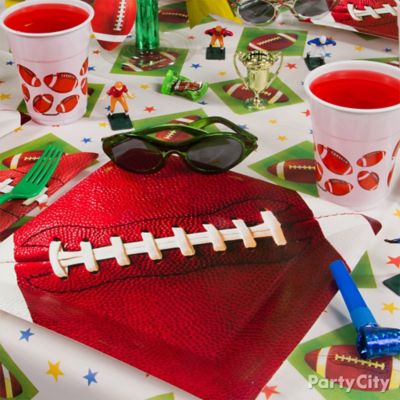 Idea 10: Set a table filled with favors football fans will love!
Set a table fit for football fans starting with a printed table cover and matching plates, cups and napkins. Then sprinkle fun favors like blowouts, sunglasses and mini trophies.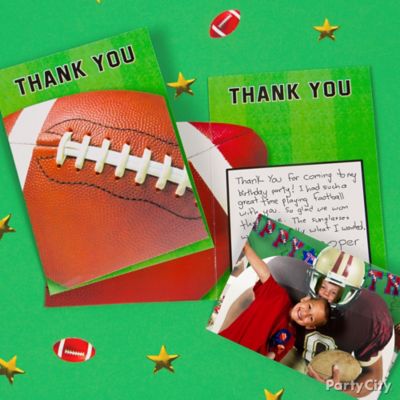 Idea 11: Turn your thank you notes into picture-perfect mementos
Photos are a great way to help your party guests do their own instant replay of your birthday party. Include a couple action shots in your football thank you notes for the teammates and their families to enjoy.