Try these creative football party food ideas to score big with your football fans! Tackle your football party planning with these winning finger foods! On game day, you'll be too busy rooting for your favorite team to worry about setting out a fancy meal. Make your game plan all about finger foods with our fun and easy football party food ideas, including party classics like sliders and chips and dip. Scroll down this page for more fun food ideas!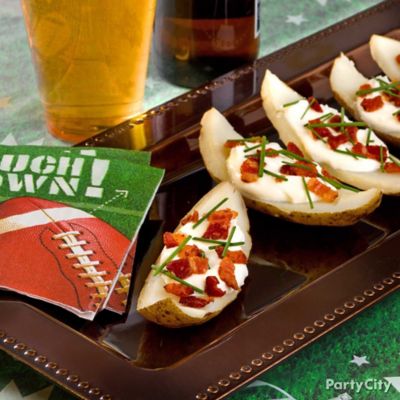 Idea 1: Kick off the party with a fan favorite: potato skins!
Your average baked potato taken to the next level! Start by cutting cooked potatoes and scooping out the flesh to create a cradle for toppings. Fill the cradle with sour cream, bacon bits and chives and serve with football-themed tableware to get your guests pumped for the game.
Idea 2: Potato bar = end zone edible!
Baked potatoes make fanrageous football party food – grab a spud, add some toppings, then chow down. Set up a grab-and-go baked potato bar so guests can dress up their own spuds in a variety of popular toppings, like cheese, sour cream, broccoli, bacon bits, chopped tomatoes and green onions. Create a winning display with a platter of football-shaped appetizer dishes on a turf-printed table cover.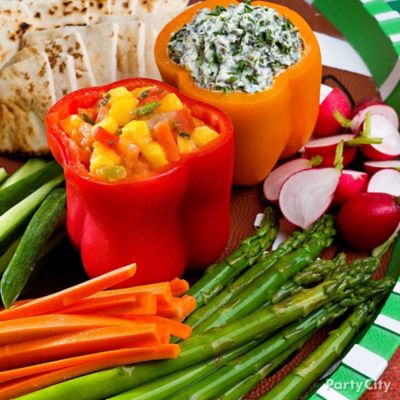 Idea 3: Spice up your dip display with pepper dip bowls!
Your guests will love noshing on these delish dips that use bell peppers for bowls. Cut off the tops of bright bell peppers and scoop out the insides, then spoon in your favorite dips (we used fire roasted papaya-mango salsa and spinach dip). Slice up some crunchy veggies like cucumbers, carrots, asparagus and radishes for dipping. Serve it all up on a football party platter along with some pita chips and tell guests to get ready for some football!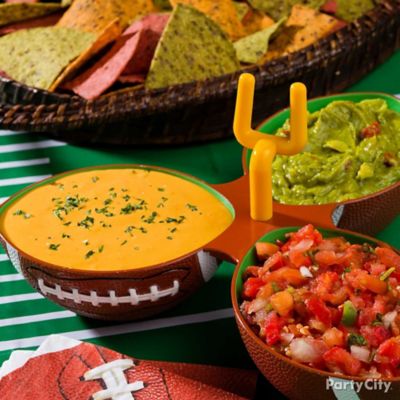 Idea 4: Score big with a trio of delicious dips
Chips and dip – it's not a football party without it! Make sure to stock up on fan favorites like nacho cheese, guacamole and salsa with tortilla chips for dipping. Serve in fun football-themed serveware, like this football condiment dish with a goal post, to get your guests pumped for the game and the food!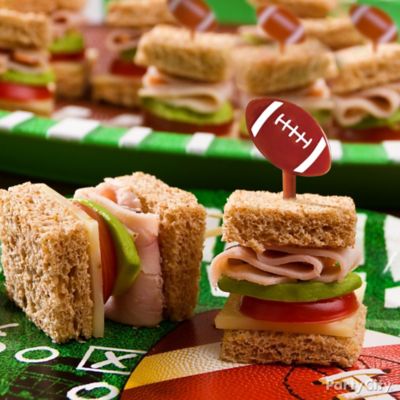 Idea 5: Get the crowd cheering with sandwich skewers!
This grab-and-go snack will make sure neither you nor your guests miss a minute of the big game! Layer slices of turkey, cherry tomatoes, avocado and pepper jack cheese in between mini squares of wheat bread and run through with a football or bamboo party pick. Keep them close to the TV so your guests can get their grub on while watching the game.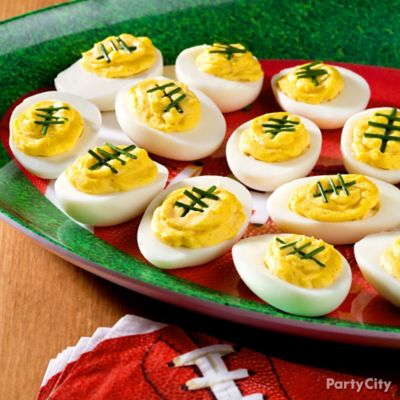 Idea 6: Add this devilishly clever food idea to your party roster
This football version of a snack classic will give your football fanatics something to cheer about! Make deviled eggs from your fave recipe, then place thinly sliced chives on the filling to look like football laces. Spice up your recipe by adding an unusual ingredient to the filling – try chutney, horseradish or avocado. Serve on a party platter with matching beverage napkins and watch the crowd go wild!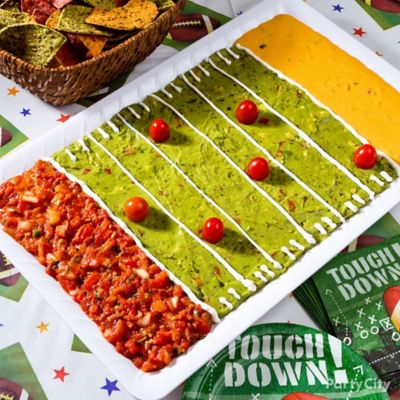 Idea 7: Score a touchdown with this fun football take on party dip
This edible football field matches the one on the TV screen! To make this appealing appetizer, use guacamole as the playing field with salsa and nacho cheese for the end zones. Pipe on sour cream to mark the yard lines and add some cherry tomato "players," then make it the star player on your snack table with tortilla chips for dipping. Serve with Football Frenzy tableware and watch the fans go wild!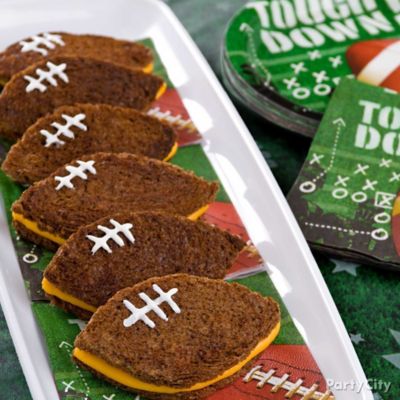 Idea 8: Score big with football grilled cheese sammies
Fans don't want to be bothered with forks when they're busy yelling and gesturing at the ref, so treat your crowd to this finger food winner. Cut out football shapes from a bread slice (darker bread, like wheat or rye, works best) and add a couple slices of cheese. Grill it up and pipe on some sour cream laces – your guests will agree that these savory footballs deserve a place in the football party food hall of fame!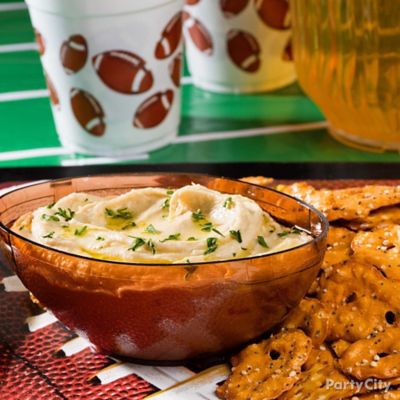 Idea 9: Rev up your cheering section with football-shaped serveware
Have a dip close at hand by the TV so the fans don't miss a minute of the game. Whether it's hummus, queso, artichoke dip or onion dip, make it more fun for football fanatics by serving in a plastic football dip bowl with chips on the side.
Idea 10: Pull this delicious dish out of reserve!
When the stakes are high and the guests are hungry, try out this winning move! To make these football pizza pockets, cut out football shapes from homemade or packaged pastry dough and fill with your favorite ingredients, like mozzarella, pepperoni and pizza sauce. Slice some "laces" into the top before baking and serve with a side of marinara for dipping. Touchdown!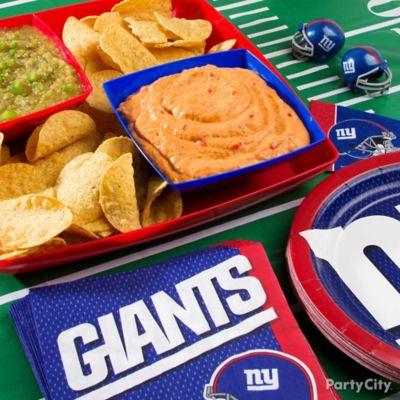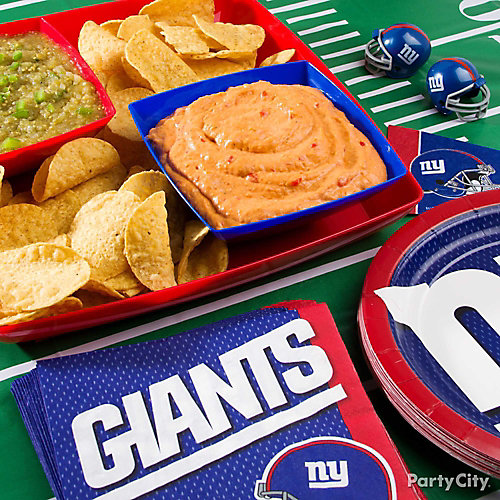 Idea 11: Decorate your snack table in team colors!
Here's a pro move: Serve up your favorite dips in appetizer dishes featuring the colors of your favorite sports team! We spooned a zesty red pepper hummus and mild green salsa into the bold red and blue colors of the NY Giants, dished up on official team logo plates and napkins.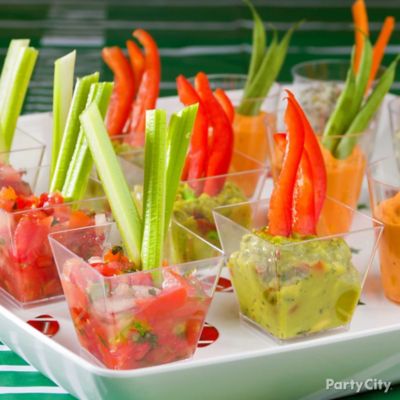 Idea 12: Add these colorful dips to your starting lineup of appetizers!
Choosing which team to root for can be a challenge – so can deciding which dip to taste! Set up a tray of mini dips so your guests can give them all a try. For this dip lineup, we spooned a little salsa, guacamole, hummus and spinach dip into clear mini cubes with a couple strips of bell pepper, celery, green beans and carrots sticking out of each.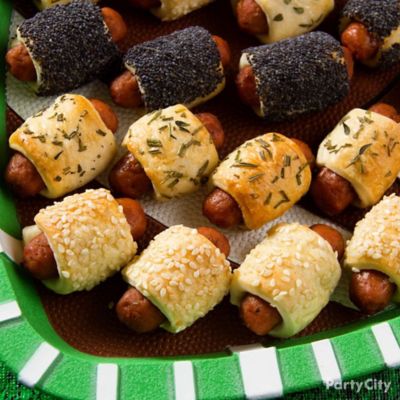 Idea 13: Add pigskins in a blanket to your football party food playbook
While your team is scoring points, make a touchdown of your own with these crowd-pleasing pigs in a blanket. Add your own spin to these bite-size appetizers by brushing the tops with butter and sprinkling them with poppy seeds, sesame seeds and herbs before popping them in the oven. Serve them on a football party platter and watch out – you might get tackled by a guest on their way to grab one of these tasty tidbits!
Idea 14: Create a tailgating experience anywhere with mini sliders
Your guests will feel like they're at a tailgate party when they get a taste of these bite-size burgers. Top your sliders with cheese and colorful veggies like arugula, red onions and tomatoes, with multicolored tortilla chips on the side. This smaller-sized meal leaves your guests with energy to cheer on their team through the fourth quarter! Add to the tailgate experience by serving up these mouthwatering morsels on football party plates and napkins.