Score big with these football-inspired sweets! Make the crowd go wild with these football party dessert ideas! Hosting a football feast? Make it even more memorable with these dessert ideas that will get your fans cheering. You don't even have to be a pro. Browse our treat ideas below, and then shop our wide assortment of decorating tools to make them football-fab!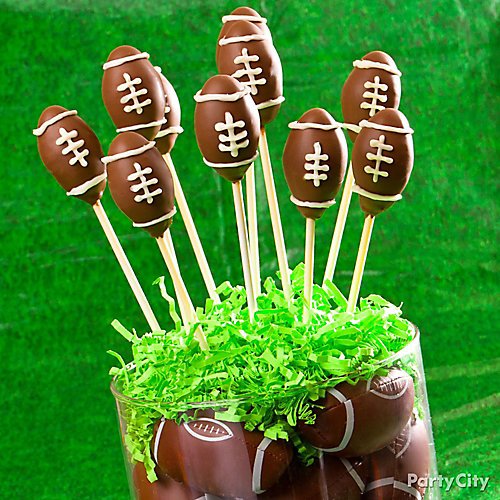 Idea 1: Kick off the festivities with football cake pops!
Whether you start from scratch or bake from a box and a can of frosting, dip your cake pops in chocolate Candy Melts and pipe on white stitching, then display in a clear vase filled with candy, football favors or colorful paper shred.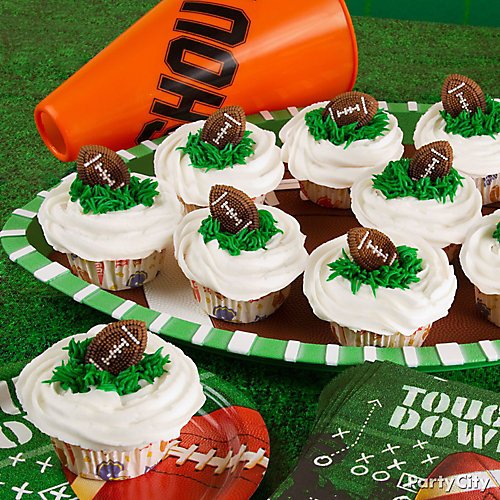 Idea 2: Win big with your guests with super-easy football cupcakes!
It's the final quarter of the game – dessert time! Give yourself a break by whipping up these delish football cupcakes for your team of fans. Bake your favorite cupcake recipe, frost with white icing, add some green icing "grass" with small round piping tip, and "spike" football icing decorations on top for the winning touchdown of your football party!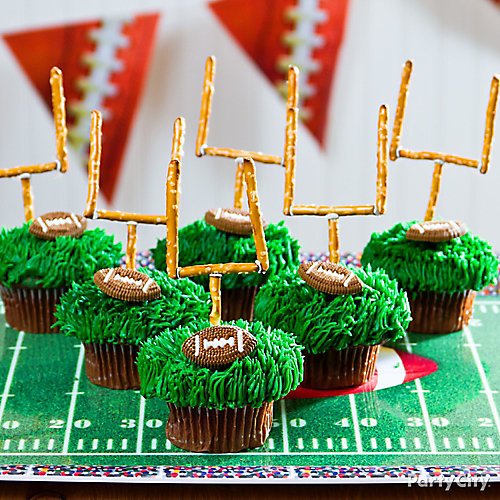 Idea 3: Level the playing field with goal-post football cupcakes!
Rev up your guests for the fourth quarter with these football field-goal cupcakes! Create playing-field turf by dyeing your frosting with green icing color and decorating with a specially designed, multi-hole tip. "Glue" pretzel sticks together with fondant or gum paste to form an edible field goal, then position on top of your cupcakes with a football icing decoration in front. And the kick is good!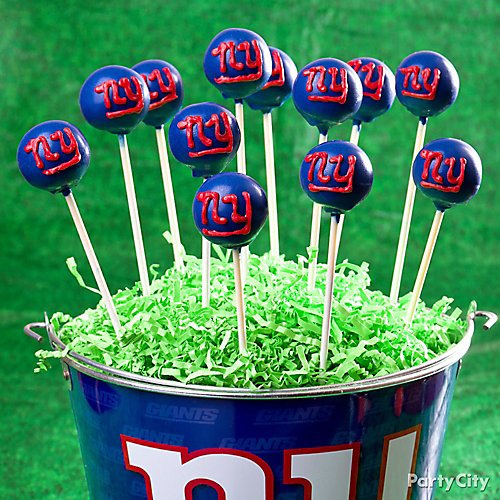 Idea 4: Show some spirit with cake pops featuring your team's logo
Show your team spirit with team logo cake pops! After baking up our favorite cake pop recipe, we chose the bold blue of the New York Giants and piped their team logo in bright red on the front. Set up a fun display by arranging your cake pops in a football team container with a block of Styrofoam inside covered in paper shred or candy.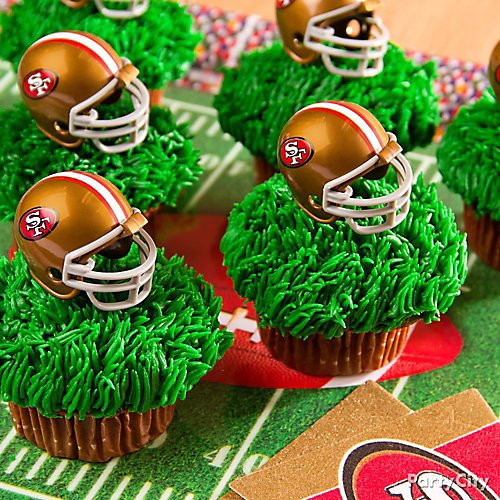 Idea 5: Add these football cupcakes to your party game plan
Guests will be calling a timeout to snack on this dessert winner! Football helmet cupcakes are a fun and easy way to personalize your football party food – simply pick your team from our wide selection of NFL team logo mini helmets and use as a cupcake topper. To make the grass frosting, add green icing color to your favorite icing recipe and pipe onto cupcakes using a small round tip from a cake decorating set.