Everyone will welcome baby with these adorable and easy ways that keep the fun going! Make sure you have lots of fun baby shower games so that there's never a dull moment. Games have always been a big part of baby showers — so make sure you have lots of fun activities so that there's never a dull moment at your shower. Find classic party games and word games that celebrate the special occasion. Remember: the new mom's already a winner!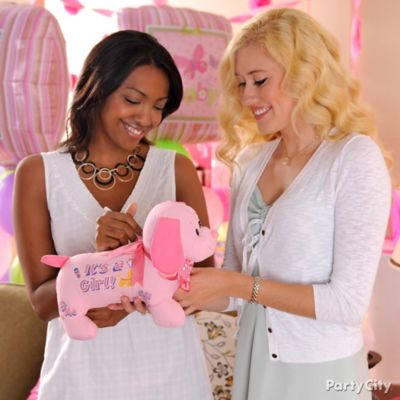 Idea 1: Give the expecting mother a keepsake
Preparing for a baby is a very special time for an expectant mother. Make sure she'll never forget her baby shower by giving her a keepsake she'll treasure. Have everyone sign an adorable plush, a sign-in scroll or plate. Guests can write special messages for the new mommy-to-be or can just sign their names as they would in a guest book.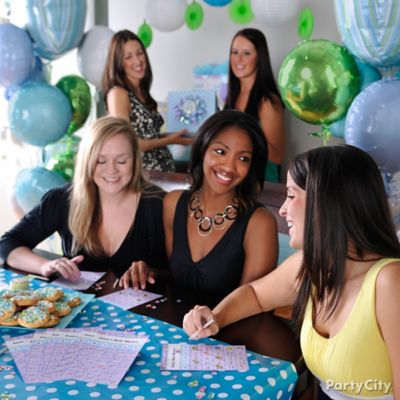 Idea 2: Play baby bingo
Bingo is one of our favorite baby shower games, especially when the score cards and playing pieces are printed with adorable baby motifs. Pick one that works for your color scheme (girl shower, boy shower or neutral). In these versions, players write in the gifts they think the mother-to-be will receive. As she opens her gifts, the players mark off their squares on their bingo score cards that relate to that gift. The first guest with a completed row wins!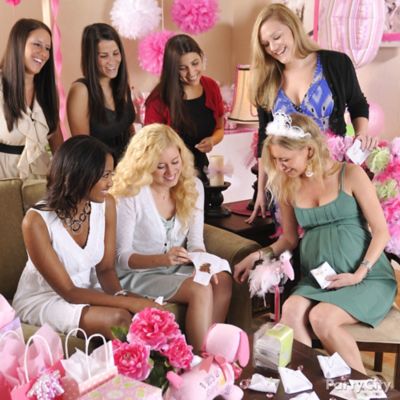 Idea 3: Games galore!
Games have always been a big part of baby showers - so make sure you have lots of fun activities so that there's never a dull moment at your shower. Try the Diaper Baby Shower Game shown here for lots of laughs. Whoever finds the diaper with the "special surprise" is the winner.
Idea 4: Save time with a game kit
If you're running short on planning time, or you just want to save time, you can get a baby shower games kit or book that comes with pre-selected games for your shower. Kits include word searches, Charades, Bingo, Pin the Pacifier on the Baby and much more. Your party guests will be impressed with your baby shower games and will think you planned all the activities yourself!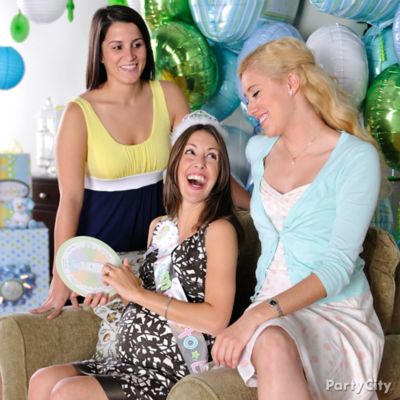 Idea 5: Leave the winner to chance!
Games of chance keep them guessing and make sure everyone has a great time at your shower. Prize Tickets and Scratch & Win Baby Shower Games create a thrill of excitement, while the Spin the Baby Bottle Baby Shower Game forces everyone to do silly things when the bottle spinner lands on their "dares."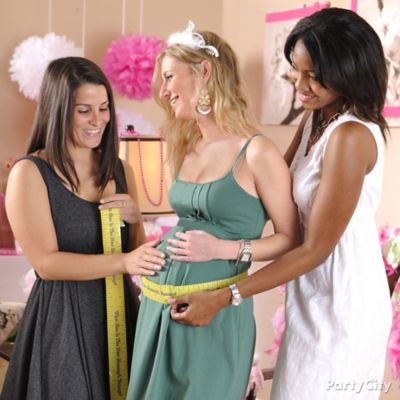 Idea 6: Measure the mommy-to-be
For immeasurable fun, play a guessing game that involves the mommy-to-be. To play the Tummy Measure Baby Shower Game, guests guess how large they think the mother's new waist size is. The guest whose tape measure fits most closely wins. Make sure to give out prizes to the winners of all your games. Practical and cute favors like candles, shakers and cookie cutters make great prize choices.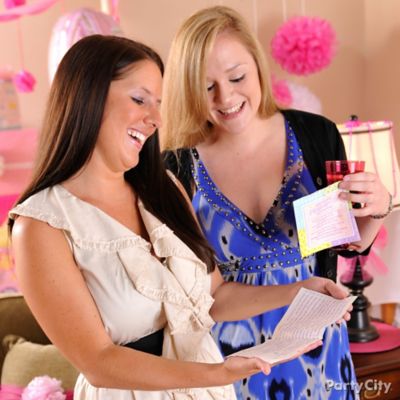 Idea 7: Stump them with thinking games
Choose baby shower games that make your guests use their thinking caps. Napkin Trivia, Guess Baby's Stats and Word Sheets challenge guests to put a little more thought into the competition. New Mommy Advice Cards are also a great way for guests to leave behind their best advice for the new mommy as the end of the party nears.