Nibble on new Easter sweets and treats ideas! Easter treats? We're all ears! Delight the kids (and your sweet tooth!) with bunny treats like coconut cake, Peeps®-inspired cookies, chocolate pops and cupcakes covered in creative icing. The ideas below are sure to get your inspiration hopping!
Idea 1: Make Easter chocolate covered strawberries
Every bunny will love these carrot look-alikes! Simply dip strawberries into orange candy melts and drizzle a little on top for a finishing touch. Serve them on top of crushed Oreos and chocolate fudge to make them look like they've sprung up from a garden.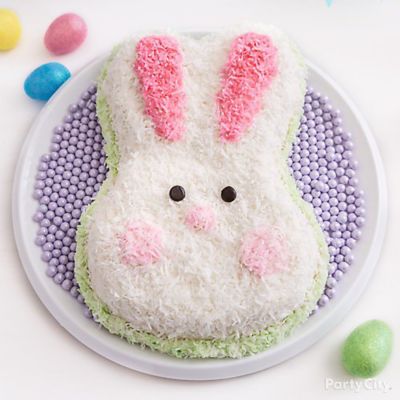 Idea 2: Bake a bunny cake
The Easter bunny delivered a furry coconut cake! No matter what flavor of cake you prefer, try baking it in a bunny cake pan, icing it and then covering the cake with coconut flakes. Then use green mist to color the bottom edge of the cake green and pink color mist for the ears, cheeks and nose. (Pro tip: cut out ear, nose and cheeks from parchment paper and lay them over the cake for clean lines.)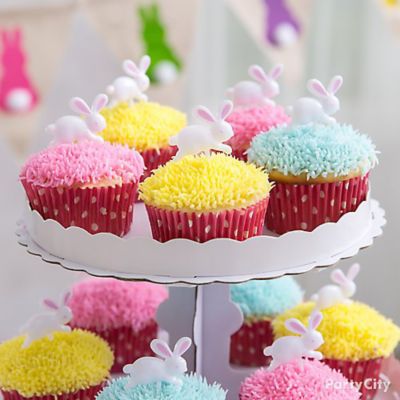 Idea 3: Try cute grass icing!
Nothing says Easter like colored grass and frolicking bunnies, so decorate your favorite cupcake using decorating tip 233 and multiple colors of icing. Here we used pink, blue and yellow to pop against the white rabbit picks and cupcake stand. Cute and delicious!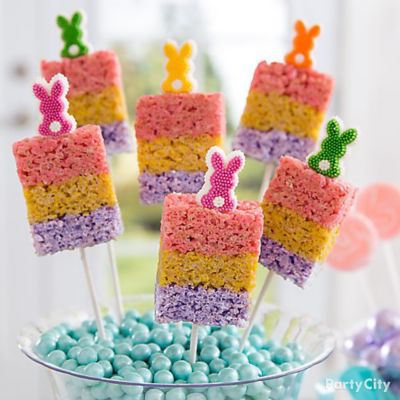 Idea 4: Nibble on crispy rice pops
Crispy rice squares on sticks are a great Easter party treat – they're easy to eat while walking around! Collect pink, yellow and purple color mist sprays, cut your favorite crispy rice into squares and spray them in thirds (use parchment paper to keep the mist from coloring outside the lines). Then just insert lollipop sticks in the squares and use a dab of Candy Melts to attach the bunny icing decorations. These won't last long at the Easter egg hunt!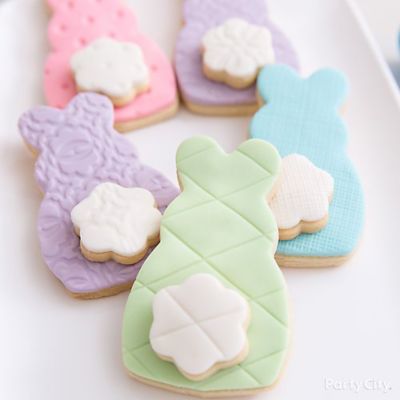 Idea 5: New treat idea! Quilted bunny-bottom cookies
Pick up a cake decorating tool set and your little bunnies can create cool patterns on fondant like a quilt pattern, cross-hatch lines or dots. We're loving a bunny-bottom cookie cutter to get the perfect bunny silhouette. Super fun!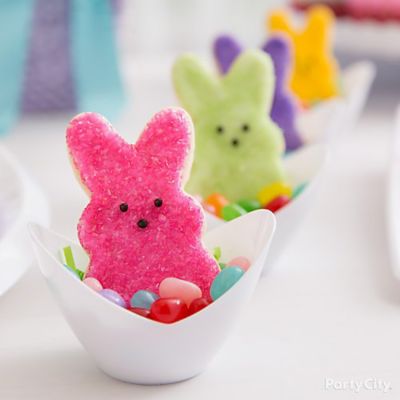 Idea 6: Up to the ears in Peeps cookies!
Put your best paw forward with bunny Peeps® cookies! Cut bunny shapes from your favorite roll-out cookie recipe, bake them and dip the confections in pink, purple, green and yellow sugar sprinkles. Sprinkles imitate the sugar coating on Peeps®. Add black pearl sprinkles as the eyes and nose and nestle the finished cookies in mini cup "baskets" filled with jelly beans. Too cute!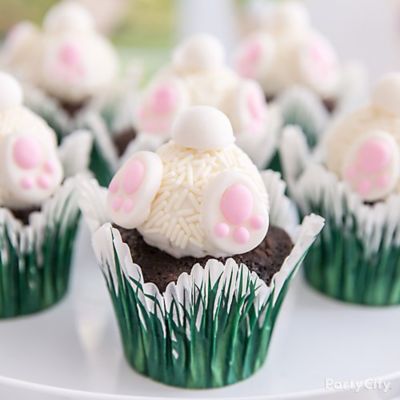 Idea 7: Bunny-bottom cupcakes = cutest treat ever
All you need to create these easy and adorable cupcakes is a bunny feet-and-tail sugar deco set, white frosting and some grass baking cups. Bake your fave brownies or chocolate cupcakes (to look like dirt) in the baking cups, add a dollop of icing on top and decorate with the sprinkles that come with the sugar deco set. Pop on the paws and cottontail for instant awwww!