Sweet + salty = a hoppin' new Easter treat!
Impress with a unique sweets idea they've never seen before! Marshmallows dipped in lemon yellow icing, with sugar bunny decorations and a salty pretzel handle. It's a scrumptious flavor combination – and a must-try dessert for this year's Easter brunch. See the Easter Marshmallow Pretzel Pops How-To to make these super-fun treats that'll be gobbled up before you can say "Peter Cottontail!"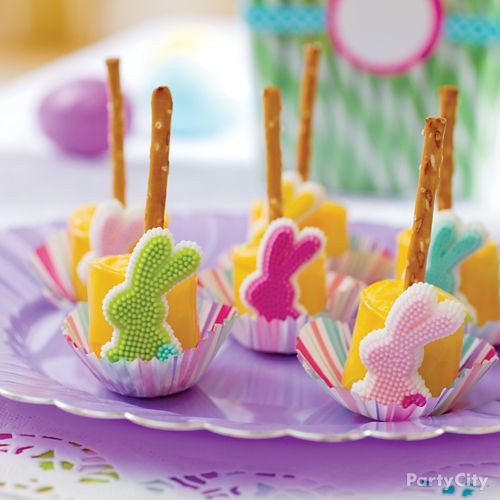 How-To
Ingredients:
White decorator icing (1 lb.)
Icing color: gemon yellow
Bunny icing decorations
Mini baking cups
Marshmallows
Pretzel sticks
Supplies:
Cookie sheet
Cooling grid
Toothpicks
Waxed paper
Teaspoon
1) Make icing-covered marshmallows.
Use a toothpick to tint decorator icing golden yellow. Heat decorator icing can in microwave at defrost setting (30% power) for 20-30 seconds; stir. Repeat until consistency of icing will pour. Place marshmallows on a cooling grid positioned over waxed paper-covered cookie sheet. Pour heated icing over marshmallows. Gently tap cooling grid on solid, flat surface to cover completely. Insert pretzel sticks into tops of marshmallows. Let set.
2) Decorate treats.
Turn baking cups inside out. Use a teaspoon to place a small dot of icing in center of baking cup. Position marshmallow on baking cup. Use a dot of icing to attach bunny icing decoration.
3) Enjoy!
Tuck into an Easter basket or display at your Easter gathering.