There are so many reasons to celebrate in colorful Seuss style, and it's easy to do with our huge selection of Dr. Seuss party supplies! If your child loves to read, they might enjoy a Dr. Seuss birthday party full of Truffula trees and cats in hats. Dr. Seuss's classic stories also make an adorable baby shower or first birthday theme.

March 2nd marks the birthday of beloved author Dr. Seuss. To celebrate, many classrooms and schools participate in school-wide reading events but you can also join in on the fun at home. Whether you're a parent looking for easy World Book Day costumes or a teacher looking to Seuss-out your classroom for Read Across America, these Dr. Seuss party ideas celebrate a lifelong love of stories and reading.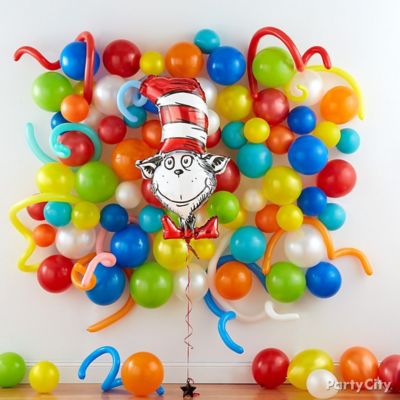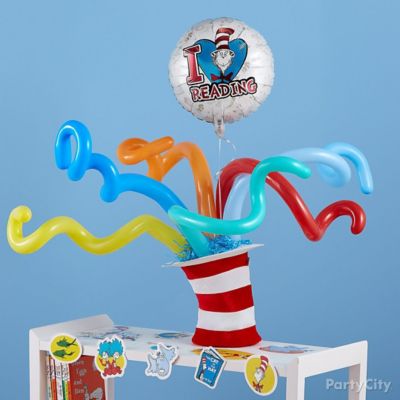 Idea 1: Create wacky, whimsical balloon decorations
Perfect for a library display or photo op, a trendy Dr. Seuss balloon wall will make a BIG impression. Use an air pump to inflate balloons in wild colors. Attach them to the wall using the sheet from a rainbow balloon backdrop kit, two additional balloon arch decorating strips and plastic wall hooks. To make a balloon swirl, wrap an uninflated twist balloon (the kind you use to make balloon animals!) around a pole or broom before inflating with the air pump. Finish with a Cat in the Hat balloon: just what the doctor (Seuss) ordered!
Our second bright and silly decoration will delight kiddos , and is super easy to make! Attach a Dr. Seuss balloon to a balloon weight and place at the bottom of a Cat in the Hat top hat. Create a balloon swirl by wrapping an uninflated twist balloon around a pole or broom, then inflating using a balloon pump. Once tied, position each balloon into the top hat and fill the empty space with bright blue paper shred.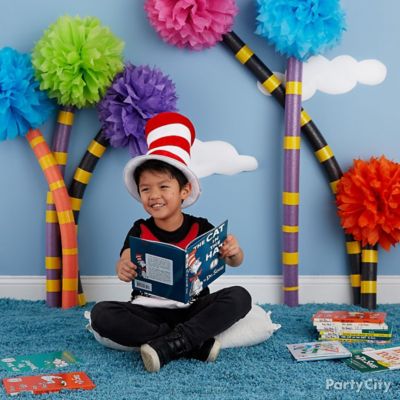 Idea 2: Make DIY Truffula trees
Your kiddos will love hanging out with the Lorax in this forest of Truffula trees! These unique decorations are easier to DIY than you might expect.
To create the trunks of these vibrant Truffula trees, wrap pool noodles with strips of yellow duct tape and attach them to the wall. Our tissue pom pom decorations start flat; just open them halfway and attach the flat side to the wall above your pool noodle trunks. You can use different colors and sizes to create a forest! To expand your trees into a fuller scene, cut out clouds from white paper.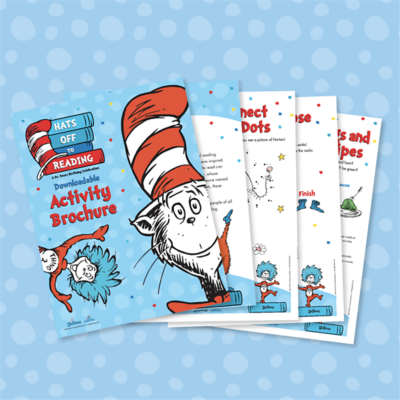 Idea 3: Download Dr. Seuss printables
Celebrate Dr. Seuss' birthday and the joys of reading with fun activities, crafts, recipes, and more. Simply download our Dr. Seuss activity brochure, print out the activities, and get ready for loads of fun!

Click here to get your free Dr. Seuss printables.
Idea 4: Reward readers with Seuss-tastic favors
Let your little readers pick a prize to celebrate your day of reading. Fill colorful pails with favors that inspire creativity: silly kazoos, bookmarks, and pencils they can use to create their own Seuss-inspired stories.
If you need a lot of favors, one easy way is to go for a cinch bag kit filled with stickers, erasers and more. And don't forget pencils, award ribbons, and stickers to let your kiddos know you're proud of their reading achievements.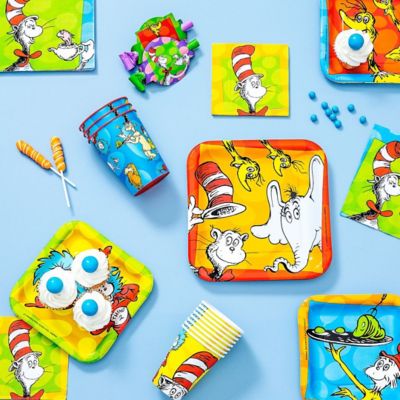 Idea 5: Dr. Seuss themed tableware
These plates, napkins and cups are super colorful and fun, just like the whimsical world of Dr. Seuss. The bright designs really POP against solid color table covers. Themed tableware makes it easy to set the scene for Seuss-inspired snacks and delightful desserts.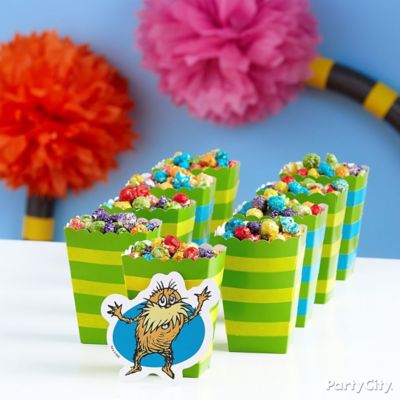 Idea 6: Easy reading party snacks
If you're throwing a reading party, you'll need snacks you can eat with one hand (so the other can continue turning pages). These snack ideas are quick and easy, with a fun Dr. Seuss spin.
To serve "Truffula seeds," add colorful strips of duct tape to treat boxes to match the trunks of your Truffula tree decorations. These beautiful Lorax-inspired Truffula tree seeds are really Fruitfetti popcorn, a perfect Reading Party snack!
If you want to snack on fish in a dish, choose a container that looks like a fish bowl and fill with rainbow fish crackers. Serving them in paper treat cups means an easy cleanup at the end of the day. For an extra dash of personality, tape a Dr. Seuss cutout to a striped paper straw and insert into the container. Your students will love this nod to Dr. Seuss's One Fish, Two Fish, Red Fish, Blue Fish.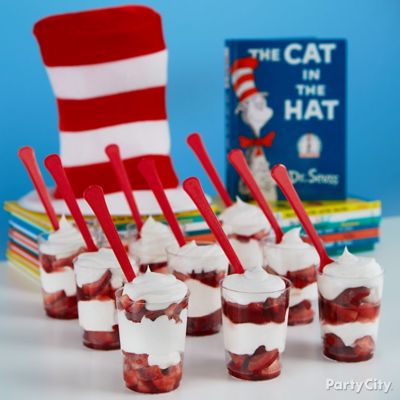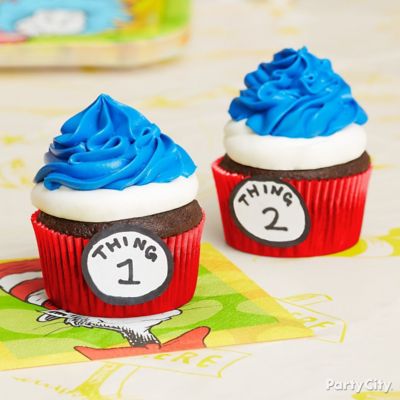 Idea 7: Serve up easy, festive sweets!
When planning your Dr. Seuss party, don't forget dessert! Our favorite treat ideas come in single servings. Why? With these Dr. Seuss treats there's no cake to cut, clear portion sizes, and easy cleanup—a perfect combination for a classroom reading party or a Dr. Seuss birthday attended by little book lovers.
You can make these easy Cat in the Hat inspired fruit parfaits with a few simple ingredients. Pick a tasty red fruit (strawberries, cherries, or raspberries will do!) and your favorite yogurt or whipped topping. Simply layer them in clear cups, and serve with a spoon.
And is it really a party if there isn't cake? Bake or buy chocolate cupcakes in red paper wrappers. Decorate with thick white buttercream topped with blue icing. Don't be surprised if these are everyone's favorite thing!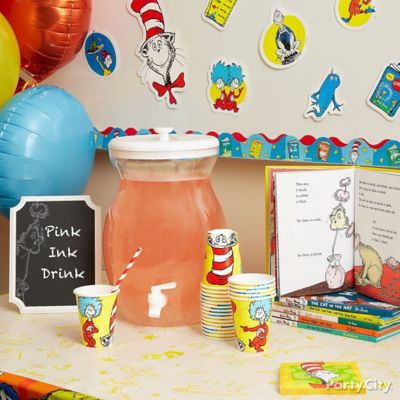 Idea 8: Serve a Pink Yink Drink
Fans of One Fish, Two Fish might remember our friend the Yink, who likes to wink and drink pink ink. We suggest skipping the ink and going for something a bit tastier for your reading party, like pink lemonade! For extra fun, serve in Dr. Seuss cups with striped straws.
Idea 9: Add Seuss style to any outfit
Easy outfits for Seuss Day! Spread the Seuss spirit with Dr. Seuss costume accessories like glasses, headbands and necklaces.
You can also get your little readers ready for Dr. Seuss's birthday by dressing them up as the blue-haired troublemakers from The Cat in the Hat. Pick up a Thing 1 and Thing 2 accessory kit, or add iron-on patches to a red shirt they already own. Finish their outfits with headboppers or sunglasses.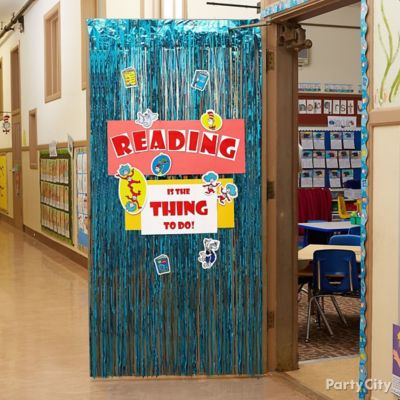 Idea 10: Welcome students with door decor!
Inspire your students with this fun Dr. Seuss door decorating idea! Perfect for the first day of school or a Dr. Seuss reading event, this adorable decoration will have your students excited to visit your classroom.
Hang door fringe in Thing-blue, and attach brightly colored Dr. Seuss cutouts with double-sided tape. Using a printer and construction paper, create a sign that lets everyone know your class thinks reading is the THING to do!
Idea 11: Super easy classroom decorating ideas
Transform your classroom with cutouts from your favorite Dr. Seuss books, from Hop on Pop to Green Eggs and Ham. Students will have fun spotting characters from their books all throughout the classroom.
Balloons are an easy way to let your students know you're celebrating! If your reading party is in honor of Dr. Seuss's birthday, make sure to include a bright and colorful balloon bouquet. Feature a Cat in the Hat balloon at the center to proclaim your love of reading.

Between all of your white boards, charts and posters, it can be tough to find a place to hang Dr. Seuss decorations. Window clings are a great solution for classrooms with no wall space to spare. Inspire your students to stick with reading with some fun gel window clings!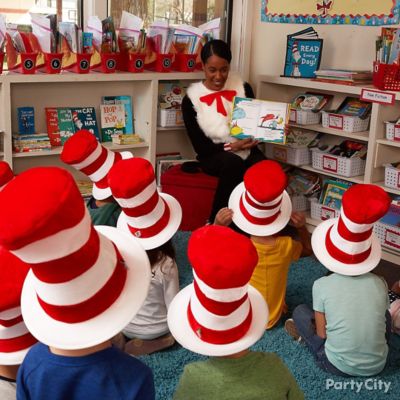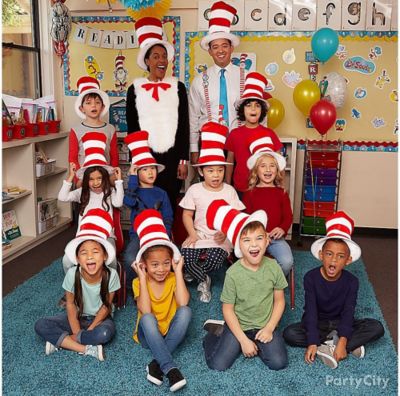 Idea 12: These hats are classic and Seuss-tastic!
Tip your hat to one of Dr. Seuss's most memorable characters at your reading party. Your students will instantly recognize the red and white stripes of their favorite cat's hat! Depending on your classroom's budget, choose between felt hats, headbands, or paper hats, all in Seuss-tastic red and white.
Whether your class is decked out from head to toe for spirit day or just rocking Cat in the Hat top hats, don't forget to snap photos to commemorate the occasion. A Dr. Seuss party calls for your silliest faces!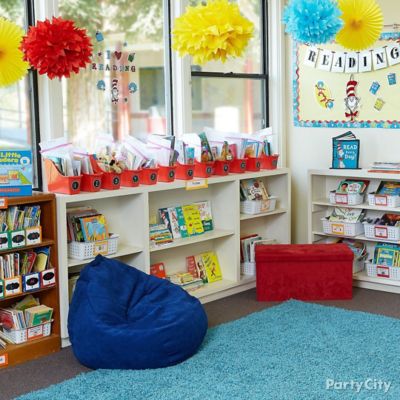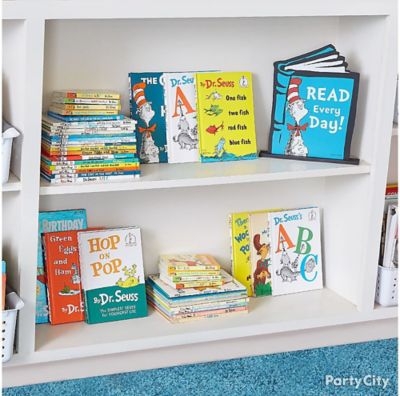 Idea 13: Curl up with a book in a Seuss reading nook
Create a space for little readers to enjoy long after your classroom's reading event. Set up a bean bag or comfortable chair next to a bookcase stocked with Dr. Seuss and other children's books. Hang fluffy decorations and paper fans, and display colorful cutouts and window clings.
Encourage your students to read by frequently updating your reading area with new books. In the weeks leading up to Dr. Seuss events, offer a varied selection of Dr. Seuss classics so they're ready for the celebrations. The colorful covers and fun stories will draw them right in!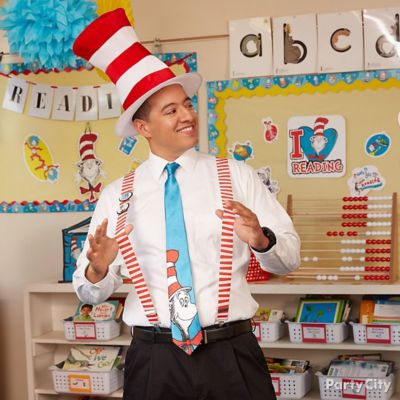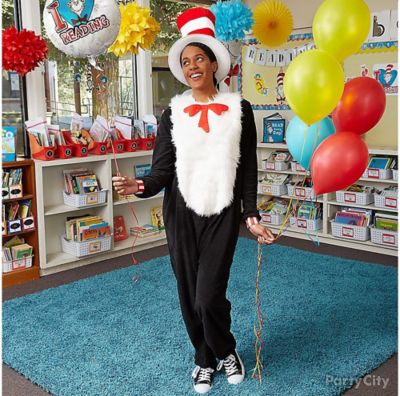 Idea 14: Dr. Seuss Teacher Dress-Up Ideas
Your students will be so excited to see you dressed in your Seuss Day best. A special tie is a good start, but go all-out with striped suspenders and a Cat in the Hat top hat!
Or maybe you want a Seuss costume that's worthy of book week. This simple and comfortable Cat in the Hat costume is perfect for teachers celebrating Dr. Seuss's birthday or book week. The kids will love seeing their teacher all dressed up and ready for fun!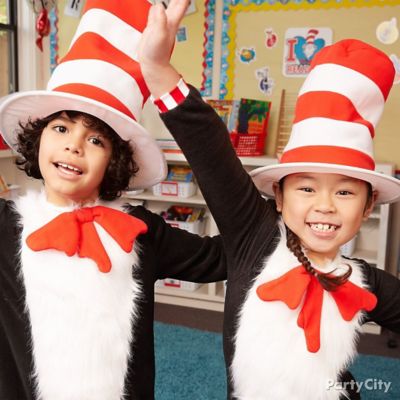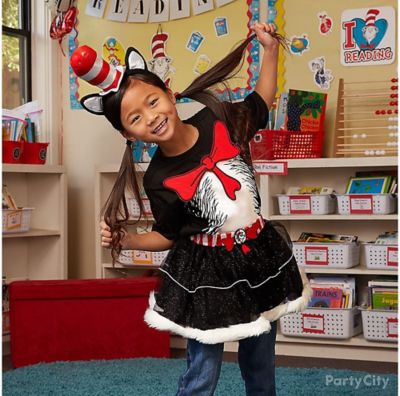 Idea 15: Dr. Seuss Student Dress-Up Ideas
They'll shine on spirit day as the Cat in the Hat! If your little ones are participating in a Dr. Seuss week at school, they'll have five days of themed outfits to plan! A Cat in the Hat costume will have them ready for reading adventures.
Or choose a super easy Cat in the Hat costume that's comfy and cute. This costume consists of a headband, Dr. Seuss shirt and tutu, and can be worn over jeans or leggings. They'll love looking super cute during reading week dressed as the Cat in the Hat!