I love to bake, and it just warms my heart to share yummy tasty treats with friends and family. What could be tastier than Double Chocolate Chip Dipped Cookies? How fun are these cookies and they could not be easier to make! I absolutely love that I can get all my favorite baking supplies at Party City!! It starts with a cake mix and is packed with lots of chocolate chips, then to put them over the top dip them in Wilton Light Cocoa Melts and sprinkle with your favorite Wilton Sprinkles. When your cookies are all baked and looking pretty, pack them in cute treat bags and deliver to friends and family.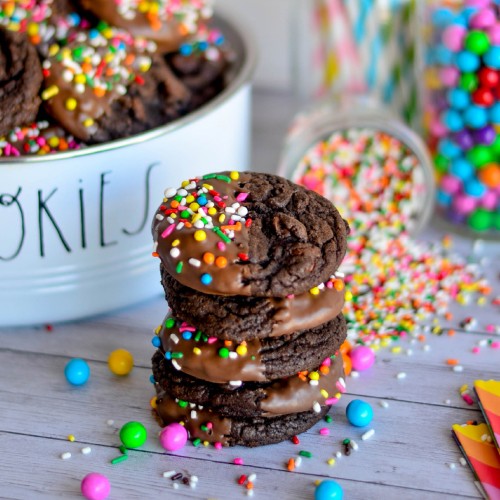 Supplies:
Wilton Light Cocoa Candy Melts
Wilton Non-Stick Parchment Paper
Wilton Jumbo Rainbow Nonpareils
Wilton Chocolate Jimmies Sprinkles Party Pack
Wilton Rainbow Jimmies Sprinkles Party Pack
Rainbow Chocolate Sixlets 450pc
Medium Sunshine Yellow Striped Paper Treat Bags with Seals 8ct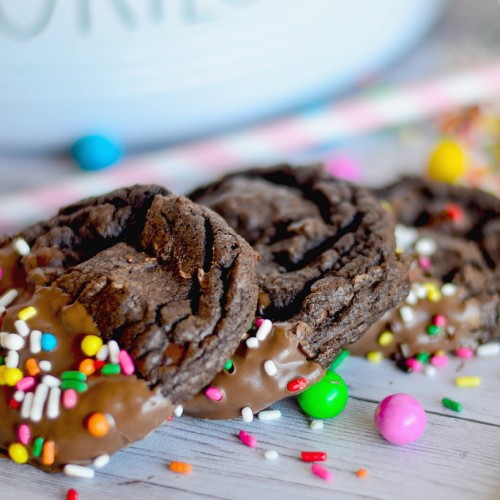 Double Chocolate Chip Dipped Cookies
Ingredients:
1/2 cup butter
1 box Chocolate Fudge Cake Mix
1 large egg
1 teaspoon vanilla extract
1 tbs water
1 cup chocolate chips
12 oz Wilton Light Cocoa Candy Melts
Directions:
Preheat oven to 350°F. Cover baking sheets with Wilton Non-Stick parchment paper. Set aside. Combine cake mix, melted butter, egg, water and vanilla in large bowl with wooden spoon until blended. Add in chocolate chips and mix. Batter will be thick. Using cookie 2 tbs cookie scoop, scoop cookie dough onto parchment covered baking sheets. Bake 10 to 12 minutes or until set. Cool cookies 1 minute on pan. Cool completely on wire rack.
Melt the Wilton Light Cocoa candy melts in a microwave safe bowl in 30 second increments making sure to stir the candy in between each time in the microwave. When candy is melted and cookies are cool dip each cookie about halfway in the melted candy melts, gently shake off excess candy and place on parchment paper. Sprinkle with Wilton Jimmies and Jumbo Nonpareils. Do not allow candy to harden before putting sprinkles on. Allow candy to harden then eat and enjoy.