Make your gifts stand out underneath the tree with easy do-it-yourself embellishments. Be a wrap star! Decorate presents with baking cups, paper doilies, stickers and even yummy candy. It's the thought that counts, but beautiful wrapping doesn't hurt! And when it's this easy to add a personalized touch to your gifts, you can wow family and friends and leave yourself time to enjoy the season. You've love all the merry gift wrap ideas shown here — from candy accents and DIY labels to gift card holders and baking cup poinsettias.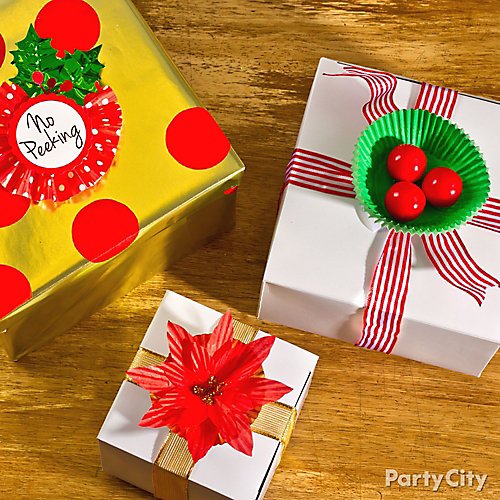 Idea 1: Add unconventional accents!
Good things come in great-looking packages! Candy, cupcake liners and a bit of creativity will make your presents stand out under the tree. Add some red tissue paper polka-dots to gold wrapping paper for a whimsical touch. Top it off with a mistletoe tag made from a favor label, red polka-dot baking cup and foil leaves from a Christmas garland. When everyone asks where you got your cute wrapping ideas, wink and say, "A li'l reindeer told me…"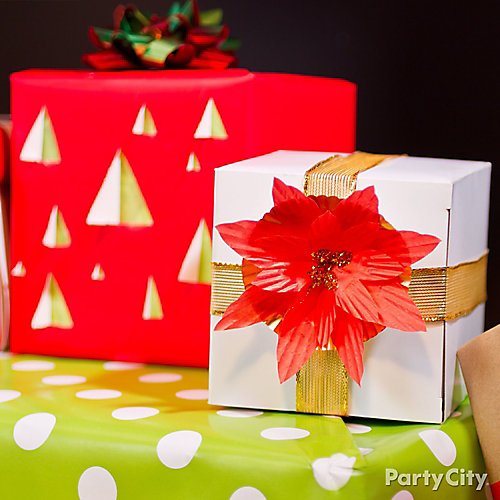 Idea 2: Make paper poinsettias and peek-a-boo wrapping
Add some easy elegance to your presents with these chic ideas. For the poinsettia flower, cut out big and small petals from red baking cups, then layer them on a gold baking cup with a few dots of gold glitter glue in the center. To make the cut-out tree effect, first wrap your package with green tissue paper, then cover it in red wrapping paper. With an X-Acto knife, carefully cut out half of a triangle so the paper is still attached, then fold it back so the green tissue underneath peeks out.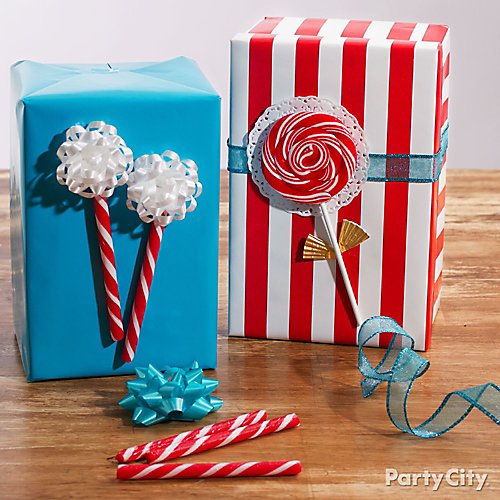 Idea 3: Delight sweet-tooths with eye-candy embellishments
Cure any bah humbugs with these sweetly wrapped gifts! Use candy sticks and lollipops to add a special touch to candy-colored wrapping. Glue or tape a couple of candy sticks to solid-colored wrapping paper with fluffy gift bows on top. For candy-striped wrapping paper, add a lolly "flower" to the front with a round paper doily and leaves made from gold baking cups. The best part? Gift-openers can snack on the sweets while they open the rest of their presents!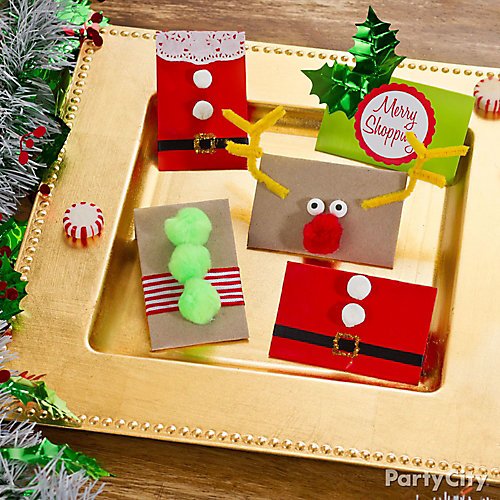 Idea 4: Jolly gift card holders
Everyone loves receiving a gift card to their fave store, but handing them out can feel a bit impersonal. Skip the store envelopes and make adorbs card holders! Pom-poms, pipe cleaners, favor labels and candy eyeballs transform those plain ol' envelopes into pouches of Christmas cheer. Try making a Santa suit with red gift wrap, mini marshmallows, black ribbon and gold glitter glue. Whip up a Rudolph with yellow pipe cleaners, candy eyeballs and a red pom-pom nose – so easy, so cute!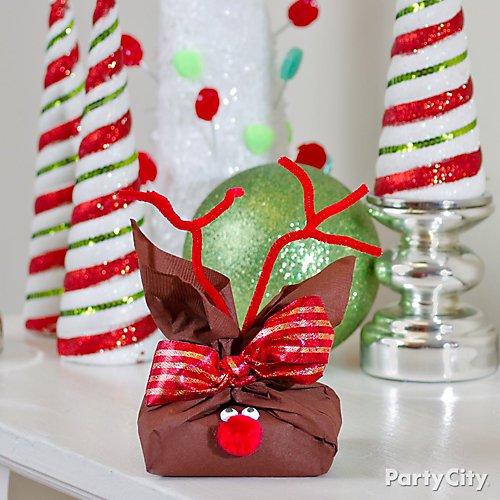 Idea 5: Gift wrap you'll love deer-ly!
Out of wrapping paper? Transform brown paper napkins into cute reindeer! This idea is perf for small presents. Place your box in the center of an unfolded brown paper napkin and twist the tops into ears. Tie off with some ribbon and add a couple of pipe cleaner antlers. Finally, glue on two candy eyeballs and a red pom-pom nose – go Rudolph! Shout out to Angie of Bumblebee's Craft Den for this super-cute idea!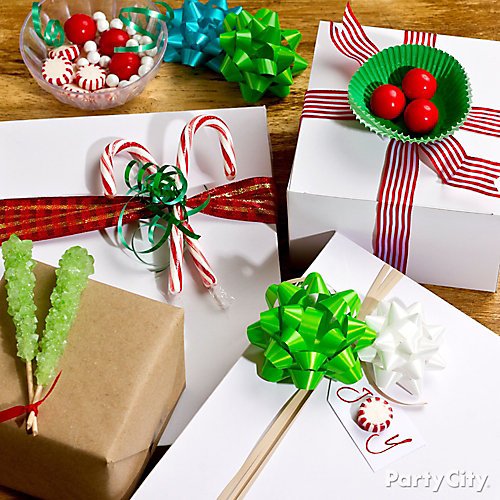 Idea 6: No peeking - or nibbling!
Up the anticipation of Christmas Day with a smorgasbord of delectably wrapped gifts! Candy is an easy and inexpensive way to add a special touch to plain packages. Not all of these ideas are edible but they make an eye-catching display, especially when they're stacked together under the Christmas tree.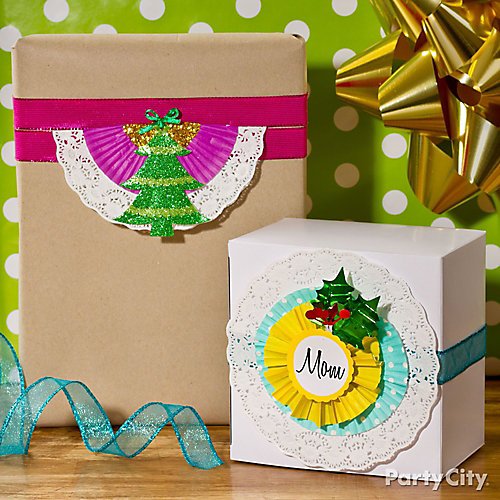 Idea 7: Personalize packages in a snap!
This simple DIY will bring smiles before presents are even opened! Personalize plain boxes or store-bought gift wrap with baking cups, paper doilies, favor labels and gift tags. Start with a whole or half doily and layer a prettily patterned baking cup on top. Add a glittery gift tag or favor label with a little ribbon bow or some foil leaves from a holly garland. The perfect technique for everyone from wrap-a-holics to wrapping newbies!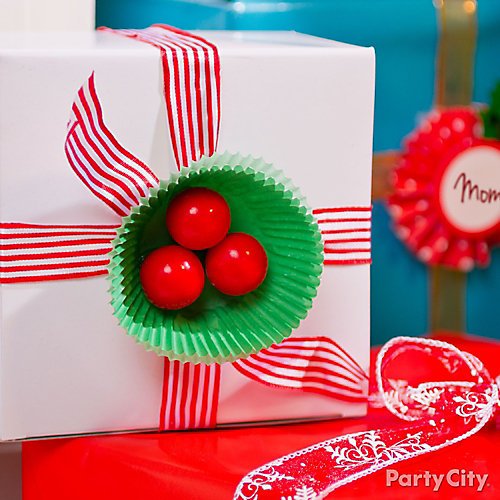 Idea 8: Candy cane stripes and sweet "holly"
Deck your presents with boughs of gumball holly! All you need are green baking cups and red gumballs. Flip one green baking cup inside out and place inside of another, wrong sides together. Then glue a trio of red mini gumballs in the center. Tie candy-striped ribbon around your box and glue your mini holly on top – it's beginning to look a lot like Christmas!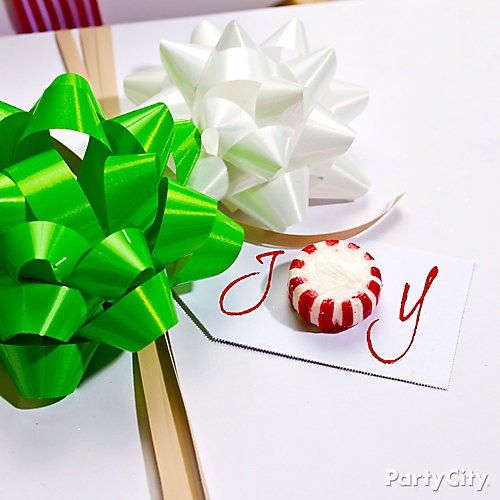 Idea 9: A Christmas label that was mint to be!
Here's a quick and creative way to add a special touch to presents: a peppermint gift tag! Keep it simple with a white gift tag and round peppermint, then write in a seasonal saying. The recipient will love the sweet touch (even if they can't eat the peppermint!).