Despicable Me Fondant Cake How To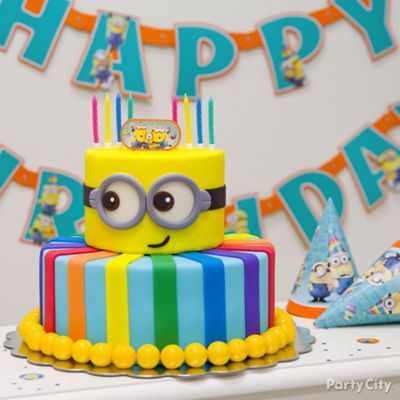 A Minion cake steals their attention!
Treat hard-working Minions to a rainbow Minion cake! Fondant goggles, rainbow stripes and Despicable Me Candles make this villainously delectable confection Gru-approved.

For bottom tier, knead out about 1lb of white fondant with 5 drops of Sky Blue icing color. Roll out fondant to about 20 in. round. Lay over top of cake and smooth top and sides. Remove excess fondant with knife. For top tier, follow same process using 1/2 lb of white fondant with 2 drops of Lemon Yellow icing color. Roll out fondant to about 12 in. round.

Divide tubs of fondant and use icing colors to tint fondant in red, orange, yellow, green, sky blue, royal blue, violet, brown and black. Roll into strips. Brush a bit of water on the back of each piece and add to the top tier, starting with the black strips, and then layering on the rest of the pieces to create the goggles. Add the mouth. Use buttercream to secure 36 yellow gumballs around the base of the cake.