Sugar Skull Makeup for Men & Women
Bring your Day of the Dead costume to life with shriek-tastic sugar-skull makeup! A face of pale white is the perfect starting base for a spirited shift into the afterlife. We have two different takes on the sugar skull look, so make sure to keep reading!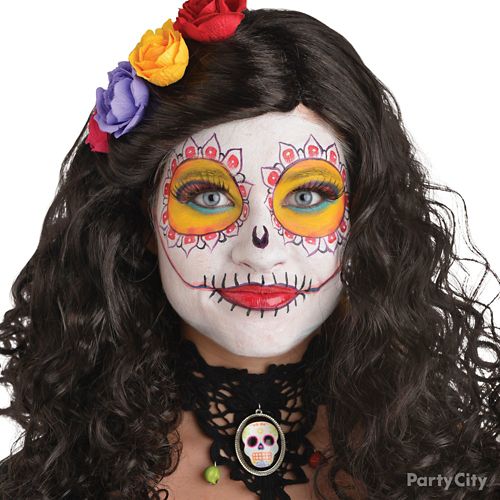 Women's Sugar Skull Supplies:
Grease makeup in white and yellow
Makeup crayons in pink and black
Teal eyeshadow
Setting powder
Makeup sponges or brushes
False eyelashes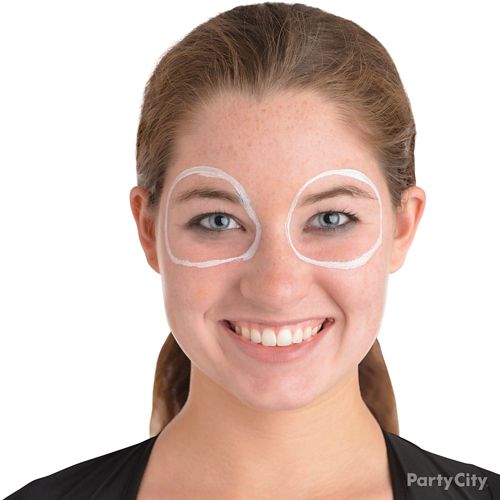 1) Draw two white circles
Use white grease paint, on a sponge or brush, to draw two large circles around your eyes. You're about to become muy bone-ita!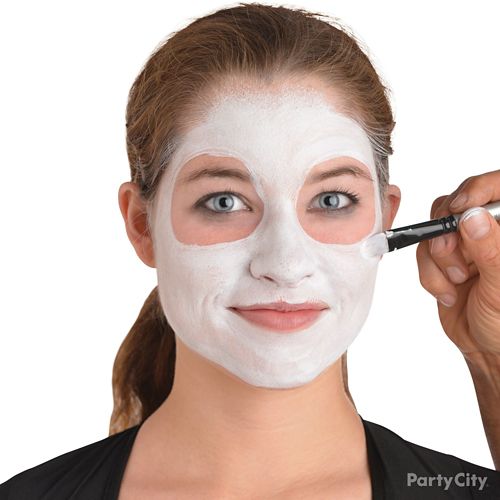 2) Apply white makeup
Use a sponge or brush to apply white makeup. We've found "grease" makeup works best for this look!
3) Fill in the eyes
Using a fresh sponge or brush, color the eye area with marigold yellow. Leave the skin on your eyelids and a small area below your eyes bare for the next step.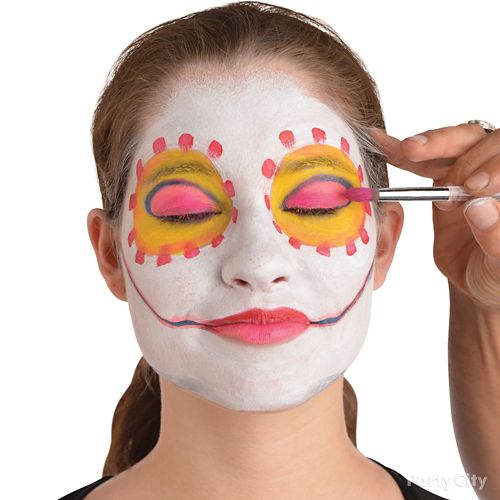 4) Add eye detail
Time to get drop-dead gorgeous! Use pink crayon, or makeup on a brush, to draw lines from your mouth to your ears. Use black crayon to layer black on the pink lines. Frame your eyes with pink spots. Apply pink to eyelids.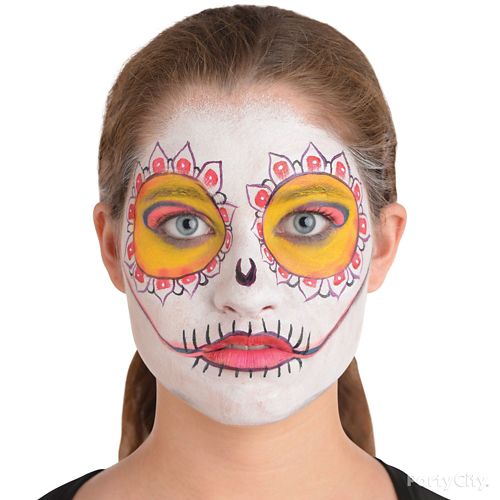 5) Add black details
Using black eyeliner or black crayon, it's time to get creative! Create flower shapes around your eyes and add lines around your mouth to mimic a skeleton. Just one more step!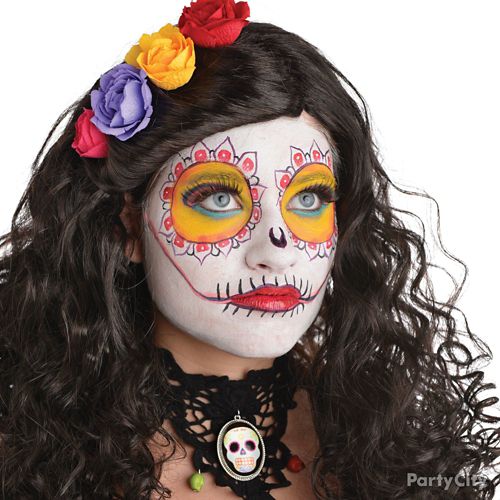 6) Finish the look!
Add eyelashes and teal makeup on the space under your lower lash line and set the face with colorless setting powder (it will help the grease makeup stay all night long!). You're ready for your wig. Put on all of your accessories and touch up any makeup once that's done. What lovely bones!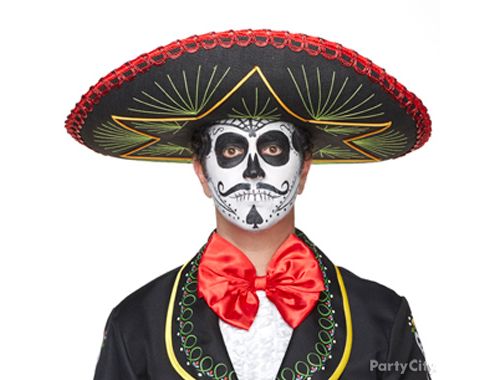 Men's Sugar Skull Supplies:
Day of the Dead makeup kit, or
White and black makeup crayons
White makeup
Black makeup
1) Step One
Clean skin. Use a white makeup crayon or white eyeliner to draw circles around eyes and a jagged tip for the nose.
2) Step Two
Smooth white makeup outside of these lines using a makeup sponge.
3) Step Three
Use black makeup on a brush or a black makeup crayon to color in the circles and tip of nose.
4) Step Four
Use stencils or freehand details for your sugar skull using black makeup or a makeup crayon. Get creative, and don't forget your mustache!