Create a tower of sweet cupcake offerings!
Get the step-by-step instructions to make these drop-dead delicious cupcakes! Make mini "sugar skulls" with a candy mold and give them a ghoulish look with skeleton baking cups. Give your cupcake tower a Day of the Dead look with a paper cutout on top and colorful fresh flowers tucked in the bottom - for a treats display the spirits will adore!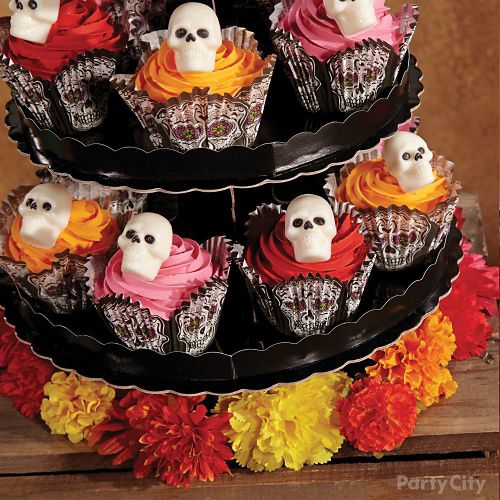 How-To
Ingredients:
White Candy Melts® Candy
Black Candy Melts® Candy
Favorite cupcake recipe or mix
White Ready-To-Use Decorator Icing — 4.5 lb. Tub
Rose Icing Color
Red-Red Icing Color
Orange Icing Color*
Golden Yellow Icing Color*
*combine orange golden yellow to make color shown
Supplies:
12 in. Disposable Decorating Bags
3D Skull Candy Mold
Deadly Soiree Petal Baking Cups
Recipe Right® Standard Muffin Pan
Cooling grid
Tip 1M (3 needed)
Black cupcake stand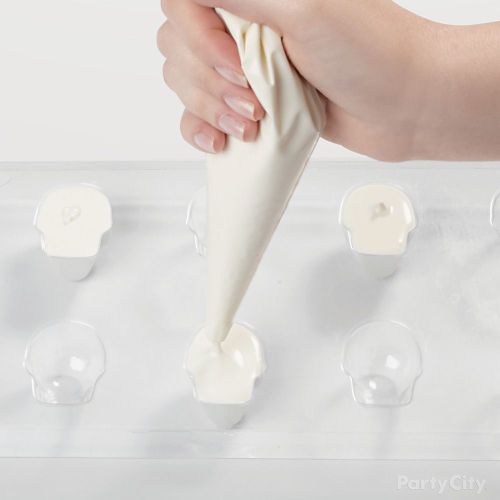 1) Make Candy Skulls
Melt white Candy Melts candy in disposable decorating bag according to package directions. Cut small point off of bag. Use melted white candy to fill mold cavities. Chill until firm, about 10 to 15 minutes. Unmold.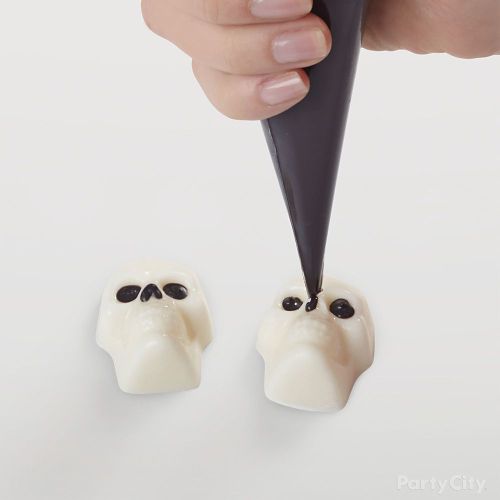 2) Decorate Skull Features
Melt black Candy Melts candy in disposable decorating bag. Use melted black candy to decorate eyes and nose. Chill until firm, about 3 to 5 minutes.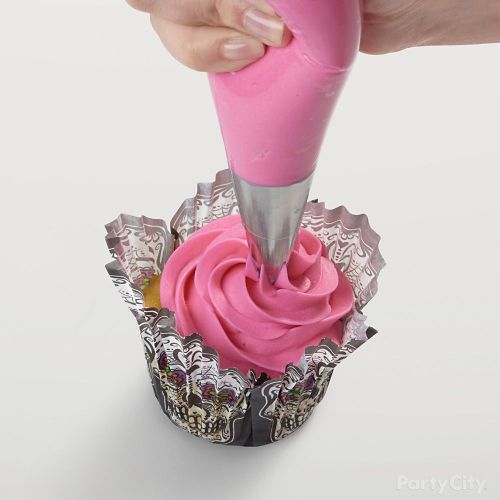 3) Make and Decorate Cupcakes
Bake and cool cupcakes in baking cups. Tint portions of icing rose, red, and orange. Use tip 1M, a cut disposable decorating bag and tinted icings to pipe a swirl on cupcake tops.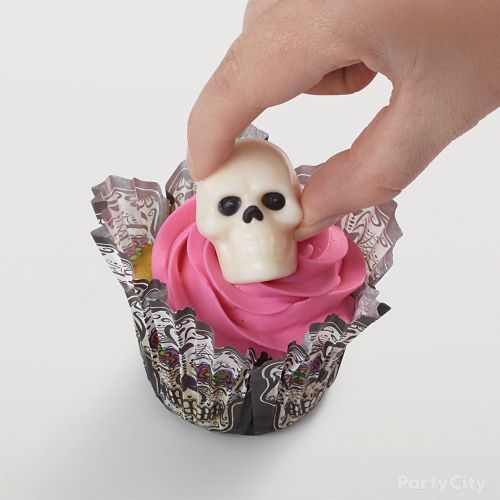 4) Place Candy Skull
Place candy skulls on cupcake icing. Assemble treat stand and position cupcakes.