Make a marvelously macabre offering to your party ghouls with a decadent Day of the Dead buffet table! Hungry souls will love filling their sugar-skull plates with classic Mexican dishes like tamales and stuffed peppers. We'll show you how to make a devilishly spirited sangria bar and decorate with sugar skulls, skeletons and the flowers of the dead for a buffet table bursting with graveyard glam.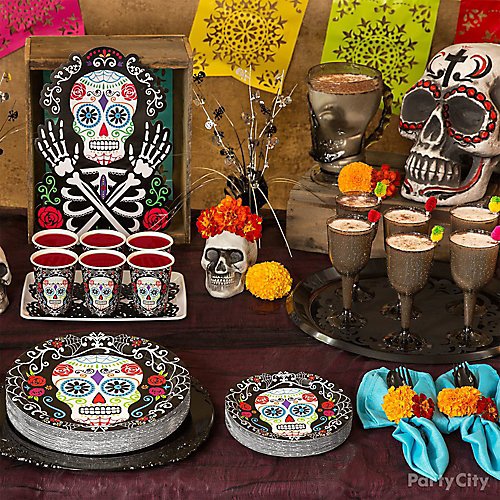 Idea 1: Sugar skulls, sangria and savory bites!
Decorate your buffet table to let your deadly dishes shine. Sugar skulls are colorful and ornate, so we kept the table simple with a dark-colored fabric tablecloth and a single del sol paper banner. To keep the spread from being too dark, add pops of color in the form of Caribbean blue napkins tied with marigolds.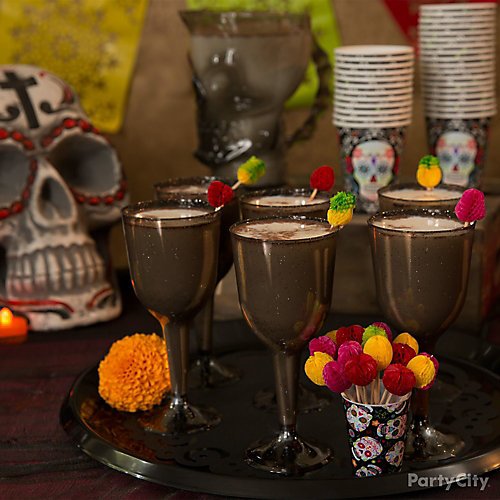 Idea 2: Try this haunting twist on a cocktail classic!
Impress your ghoulfriends with this devilish concoction we dug up! Shake up 1 part rum, 1/2 part coconut cream and 1 1/2 parts pineapple juice and strain into a goblet filled with ice cubes. Top off this perfect potion with a sprinkle of cinnamon and a fruit pom-pom pick. We call it the Calacas Colada (calacas is Spanish for skeleton), but everyone will call it delicioso!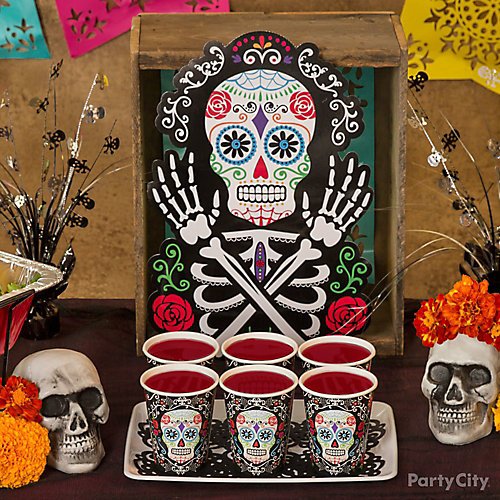 Idea 3: Lure spirits with a thirst-quenching offering
These sugar skulls will smile on anyone who pays their shrine a visit! Create a shriek-tastic altar scene that's equal parts decoration and beverage bar. Set out thirst-quenching cups of punch in sugar skull cups on a tray of lacy black doilies. A couple sprays of skeletons, Day of the Dead cutouts, skulls and colorful flowers will make this shocktail station the perfect stop after the buffet – bottoms up!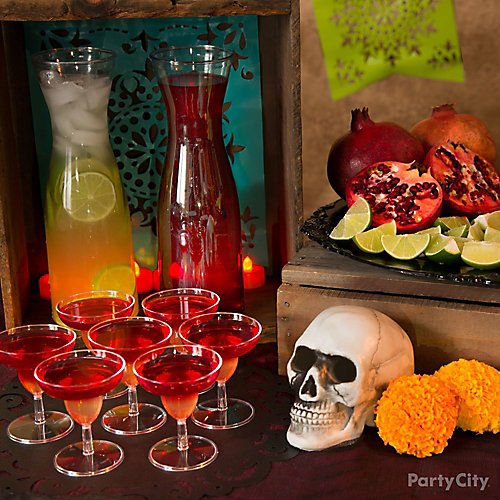 Idea 4: A sangria altar worthy of worshipping!
All souls will love sipping on sangria! Offer up both white and red sangria to satisfy the tastes of all your ghouls. Slice up some limes and pomegranates for guests to add a bite of sour or tartness to their drinks. Create an altar atmosphere with a small crate and a panel from a papel picado banner, battery-operated tea lights, a couple marigolds and a grinning skull looking on. Spirited fun!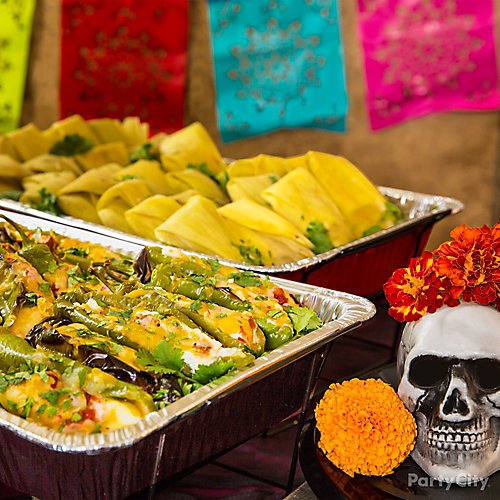 Idea 5: A frightfully delicious feast!
Make their taste buds come alive with classic Mexican dishes like tamales and stuffed peppers! Prepare your dishes in advance, then keep them at the perfect temperature for serving with chafing dishes. Now you can mingle without worrying the food is going cold as a grave! With the extra time you have, whip up a smiling skull centerpiece with a black tray, a skull prop and a handful of marigolds.