Make your party shine with inspiration from the City of Love. Show your French fashion sense with a party full of on-trend ideas! Want a celebration that's fun and fab with a touch of sophistication? Say bonjour to a Paris-themed party. From pretty favor boxes to a chic candy buffet, browse our magnifique ideas to make your fête feel like a day in Paris!
Idea 1: Say "merci!" with fan-tastique favors that go aflutter
Thank guests with a haute couture fashion accessory that keeps them cool! Folding paper fans make for a fun take on a chic trend. Open them on a table or a plate and style them with beaded necklaces. Turn the fans into a posh favor by tucking a label pick between the slats with the words merci!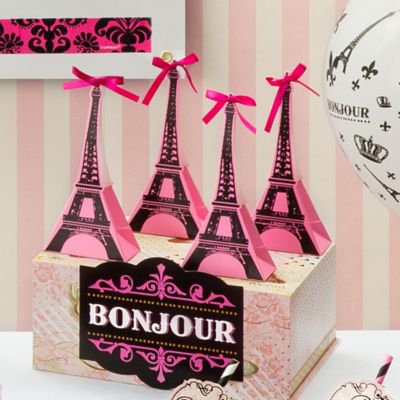 Idea 2: Make "au revoirs" memorable with pretty pink packages
This party calls for favor boxes that add chic style to your buffet or dinner table. Pretty Eiffel Tower favor boxes are the perfect size for little candies like chocolate drops, Sixlets or mints. Set them on top of a box or a pedestal cake stand, and your guests can't help but ooh la la over your charming display.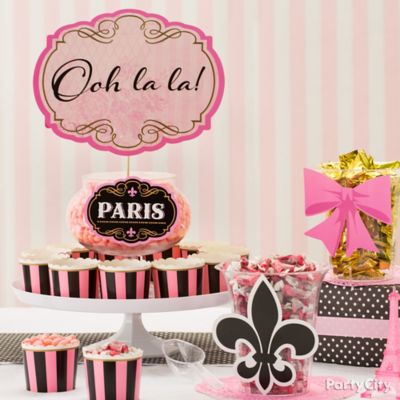 Idea 3: Let your party Parisians create their signature sweet!
A take on the perfume boutiques of Paris, this candy buffet idea entices guests to combine their favorite sweet-scented treats. We used mints, jelly beans and fruit chews, and displayed them in pretty clear containers decorated with Paris cutouts. Have fun with your own combination of striped candy cups, pedestal stands, doiles and placemats.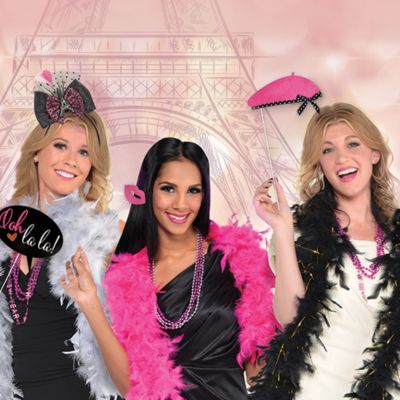 Idea 4: French-inspired props and wearables make snaps a cinch!
Go vogue with this fun and folly version of a Paris fashion runway! Create a photo booth catwalk using photo props of French icons and sayings. Pair them with feather boas, beads and other wearables to get your guests to strut an on-point, camera-ready look!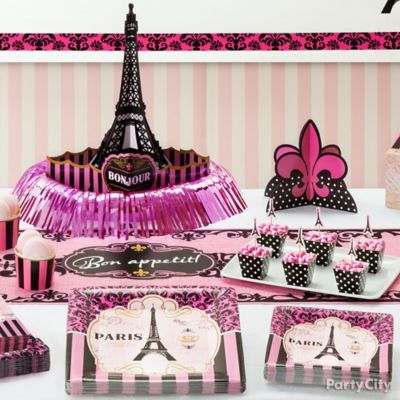 Idea 5: Turn the tables on typical party decor
Turn the tables on plain plateware with these magnifique Day in Paris plates with stripes, flourishes and damask prints. An Eiffel Tower centerpiece and fleur-de-lis "kickers" make for a chic pairing. Complete the scene with a stylish table runner and a sprinkling of thematic paper cutouts. Voilà! Your Paris party is all set with table decor that's perfectly Parisian!
Idea 6: Go ooh la la with a stylish sign
Mix and match a posh and pretty with a display that will turn any room into a Parisian salon. Show your sense of style by artfully combining magical paper chandeliers, fleur-de-lis shapes and cutouts of the Eiffel Tower. So chic!