Sugar cookies are so fun to make! I wanted to do a fun spin on the traditional sugar cookie!! How about a Chocolate Donut Sugar Cookie!! I had so much fun making these adorable Chocolate Donut Sugar Cookies. I cheated a little bit with the Wilton Buttercream Icing Mix, I have to say I love it so much. It tastes delicious and takes the measuring out of making icing! I split the batch of icing mix in two so I could color one the pretty pink and I added cocoa powder to the second half to make chocolate icing. I used the star tip from the Wilton Cookie Decorating Kit and swirled the icing on the cookies. This method is great for a novice cookie decorator. It is easy and still looks really fancy. Of course, the sprinkles are a must and add that finishing touch! I was going for a Neapolitan theme with these Chocolate Donut Sugar Cookies, and I think they turned out so cute! Grab an ice-cold glass of milk and enjoy eating your adorable Chocolate Donut Sugar Cookies.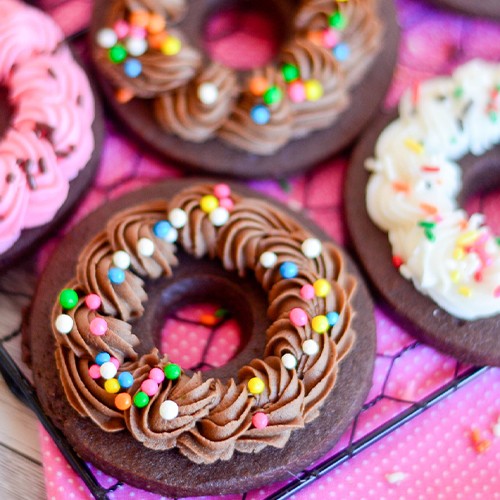 Supplies:
Wilton Color Icing Kit 12ct
Wilton Non-Stick Parchment Paper
Wilton Disposable Decorating Bags 12ct
Wilton Jumbo Rainbow Nonpareils
Wilton Chocolate Jimmies Sprinkles Party Pack
Wilton Rainbow Jimmies Sprinkles Party Pack
Wilton Cookie Decorating Tip Set 6ct
Wilton Color Icing Kit 12ct
Sweet Tooth Fairy Donut Cookie Cutter (got at Party City, can't find link online)
Wilton White Buttercream Icing Mix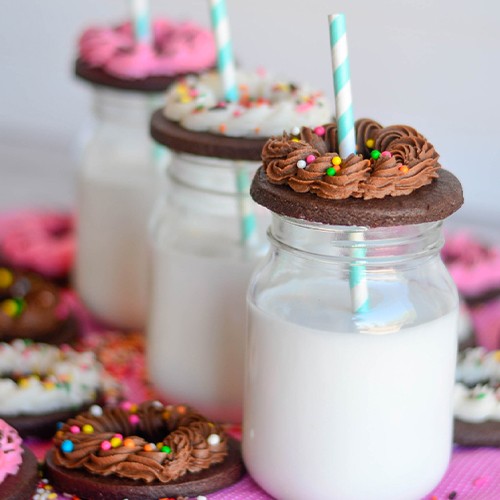 Ingredients:
3/4 cup (172g) unsalted butter, softened to room temperature
1 cup (200g) granulated sugar
1 large egg, at room temperature
1 teaspoon pure vanilla extract
1 and 1/2 cups (188g) all-purpose flour (spoon & leveled)
3/4 cup (63g) unsweetened natural cocoa powder (or Dutch process)
1 teaspoon baking powder
1/8 teaspoon salt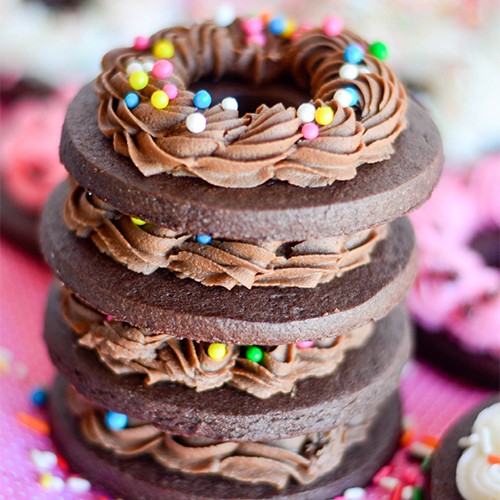 Directions:
In a large bowl using a hand-held mixer or stand mixer fitted with a paddle attachment, beat the butter for 1 minute on medium speed until completely smooth and creamy. Add the granulated sugar and beat on medium high speed until fluffy and light in color. Beat in the egg and vanilla extract on high speed. Scrape down the sides and bottom of the bowl as needed.
Sift the flour and cocoa powder together in a medium bowl. Whisk in the baking powder and salt until combined. On low speed, slowly mix into the wet ingredients until combined.
Divide the dough into 2 equal parts. Roll each portion out onto a piece of parchment to about 1/4″ thickness. Stack the pieces (with parchment paper between) onto a baking sheet and refrigerate for at least 1-2 hours. Chilling is mandatory. If chilling for more than a couple hours, cover the top dough piece with a single piece of parchment paper. You can chill up to 2 days.
Once chilled, preheat oven to 350°F (177°C). Line 2-3 large baking sheets with parchment paper. The number of batches will depend on how large/small you cut your cookies. (Using the Donut cookie cutter, I was able to get about 18 cookies from this batch.) Remove one of the dough pieces from the refrigerator and using a cookie cutter, cut in shapes. Transfer the cut cookie dough to the prepared baking sheet. Re-roll the remaining dough and continue cutting until all is used.
Bake for 10 minutes– the cookies will still appear soft. Make sure you rotate the baking sheet halfway through bake time. Allow to cool on baking sheet for 5 minutes, then transfer to a wire rack to cool completely before icing.
Follow the directions on the Wilton Buttercream Icing mix. I used 2 batches one I kept white the other batch was split, one was colored pink with the Wilton Color Icing Kit. The second half of the icing I added about 2 tbs of cocoa powder to make Chocolate Buttercream. Then use your favorite sprinkles to decorate these adorable Chocolate Donut Sugar Cookies.