Pie-in-a-jar is the dessert star!
This pie idea gets a blue ribbon. Not only is cherry pie-in-a-jar mouthwateringly delicious, it's fun to get crafty with mason jar lids. Make them extra-sweet by adding polka-dot baking cups, a bit of bright blue ribbon and sticker labels on top with your own fun words like "yum" and "delish" or people's names. Tie on a silver spoon with a touch of red ribbon… too cute!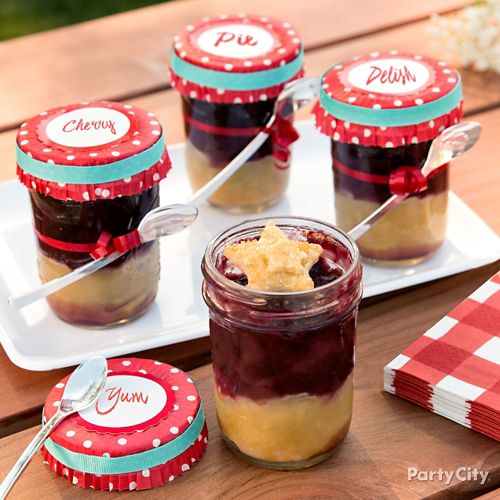 How-To
Ingredients:
Premade pie dough
1/2 can candied dark cherries
1 pinch white sugar
1 pinch cornstarch
1 pinch cinnamon
1 pinch lemon zest
1 egg, beaten
1 pinch brown sugar
Supplies:
Oven-safe glass mason jars
Star Fondant Cutters
Food-safe brush
Aluminum Cookie Sheet
1) Place dough in jars
Cut out 6 in. circles from the premade pie dough, and place one in the bottom of each jar, pressing into the sides.
2) Add cherries
Mix dark cherries from a can, white sugar, cornstarch, cinnamon and lemon zest. Spoon mixture into mason jars until half full.
3) Create star crusts
Cut out stars from pie crust using star fondant cutters and place on top of cherries. Brush with egg and sprinkle with brown sugar.
4) Bake pies
Preheat oven to 400°F. Place jars on cookie tray in oven. Bake for 25 minutes or until pies are bubbling. Let stand until jars have cooled. Serve and get ready for oohs and aahs!