School's out! Celebrate your graduate's achievements with a trendy chalkboard theme in red, black and white. Have fun with clever signs, and we'll show you the trick to making a Pinterest-worthy chalkboard cake, ideas for a drink station, graduation themed food and more!
Let your school colors POP with a chalkboard theme and explore all graduation party supplies.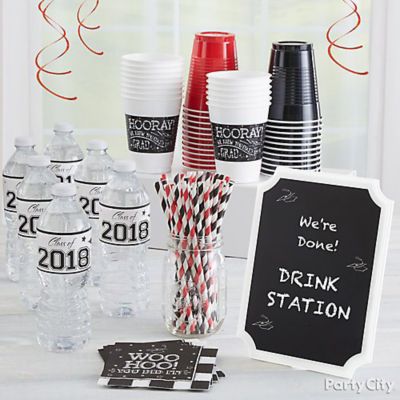 Idea 1: This graduation drink station makes the grade!
If you plan on offering lots of drink options at your graduation party, set up a drink station in your party colors. Black, white and red cups look super-cute paired with matching striped straws, and you can place a small chalkboard sign nearby with a fun grad saying.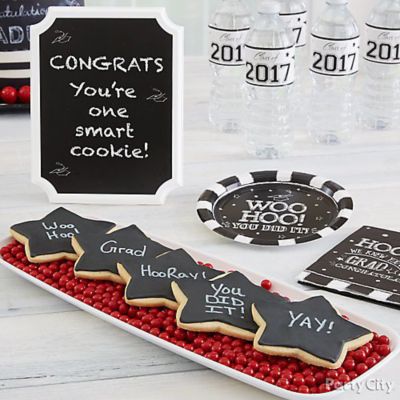 Idea 2: Create edible chalkboard cookies
Check out our instructions for creating ultra-customizable graduation cookies that look just like little chalkboards: it's easier than you might think!

Directions: Shape and bake your favorite sugar cookies using a star-shaped cookie cutter. Make black royal icing or use cookie icing to make an outline around your star cookie. Let dry until hardened. Once your outline is set, fill it in with your choice of icing and let harden completely; overnight works best. Use a thin, pointed brush and white food coloring to write on your cookies. We chose short phrases like "you did it!", but you could also write your grad's name or graduation year!
Idea 3: Label your cups - it's roll call!
Help everyone keep track of their drinks with this cute idea. Attach adhesive name tags to cups in your party's colors and pop in cute striped straws.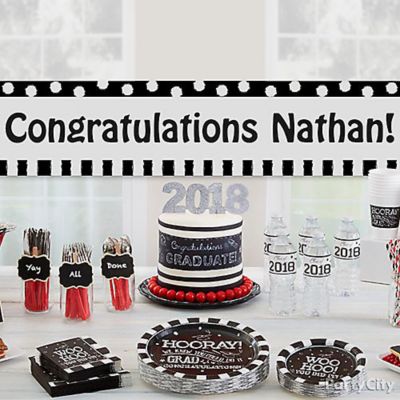 Idea 4: Play up the chalkboard theme with fun custom signs!
Have fun with this vintage school theme with all sorts of chalkboard supplies! Bring out cute chalkboard plates and napkins and hang a custom banner with a special message for your grad. Personalize your party by accenting with school colors and play off the theme with fun custom clip signs.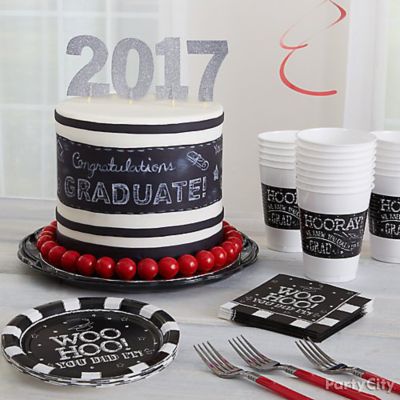 Idea 5: Make a stylish chalkboard graduation cake
Celebrate your grad's hard work with an elegant (and surprisingly easy) chalkboard graduation cake! The secret is learning how to use fondant and food coloring to get the look.

Directions: Use a round cake pan and bake your favorite flavor cake, stacking multiple layers for extra height. Use a spatula to lightly ice your cake with buttercream icing, then cover your cake with white fondant. Cut strips of black fondant: two small, one medium, and one large. Wet the back with a damp brush, then smooth each strip around the cake. Dip a thin, pointed brush into white food coloring and paint on your message. Get creative! Finish up your creation by adding red gumballs around the base and gently pressing numbered party picks into the top layer of fondant.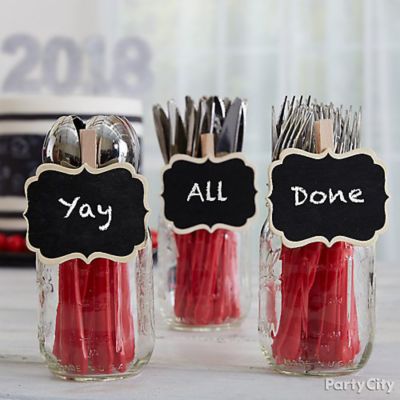 Idea 6: Celebrate graduation with signs on cutlery jars!
Liven up your utensils by housing them in clear mason jars with cute chalkboard clip signs attached. Use cutlery with brightly colored handles to really get that pop!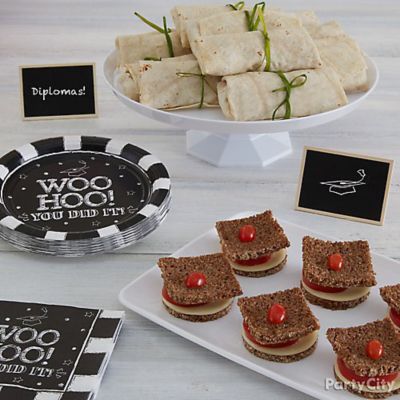 Idea 7: Whip up cute graduation snacks
They've been working so hard in school, and it's about time for a long-awaited snack break! Small burritos wrapped in green onion take on the look of little diplomas, and you can make easy grad cap sandwiches with rye bread, tomato slices and circles of mozzarella cheese. Yum!