When I think of the perfect Summer and early Fall party, I immediately dream of a vintage style country fair or carnival. There truly isn't anything more classic than a country fair in my opinion. Styled on a chippy white painted lemonade stand with bold red and white striped decorations. This is the perfect party theme for kids of all ages!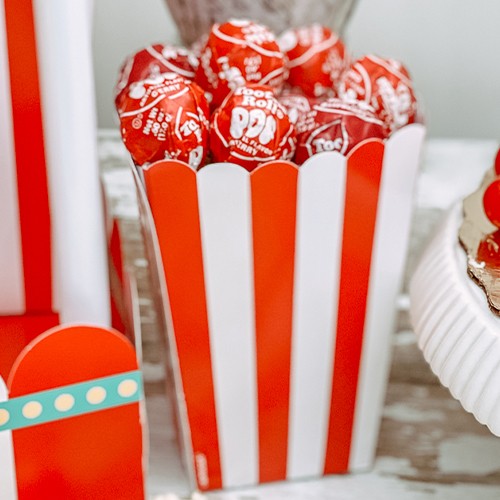 Party Decorations:
Carnival Chalkboard Yard Stake
Carnival Table Decoration
Ticket Roll
Carnival Plates
Carnival Napkins
Red Clown Noses
Red Gumballs
Tootsie Pops
Red Popcorn Favor Boxes
Mini Bubbles
Carnival Toys
Party Game Supplies:
Mini Rubber Ducks
5" Balloons
Cornhole Game
Staple Gun
18x36" Plywood Sheet
Red Paint
Bucket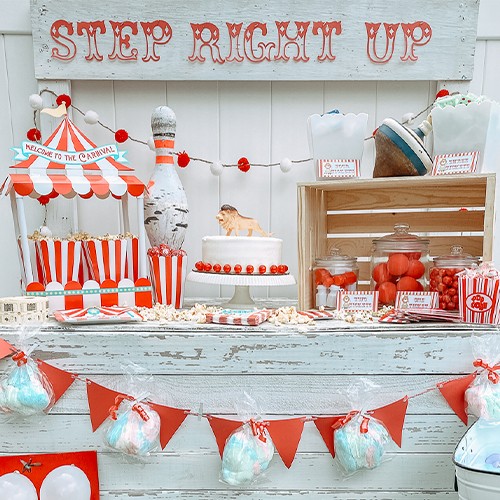 Instructions:
I moved our old lemonade stand onto our grass against the white vinyl fence for this party. It is the perfect size for a small party! I used my cutting machine to cut out card stock letters to spell out Step Right Up on the sign board. I also used the cutting machine to make a simple red card stock banner to hang on the front of the lemonade stand.
Now, I was ready to decorate my mini vintage carnival! I set up the carnival table decoration and filled small red and white striped favor boxes with popcorn. Then, I used mini clothespins to attach small bags of cotton candy to the banner. Next, I used a wooden crate to display fun carnival toys and candies. A vintage top was the perfect touch next to the plastic toys and treats.
Finally it was time to add all the carnival games! I filled a bucket with water and added tiny rubber ducks. Then, I added a fun cardboard cornhole style game next to the party table.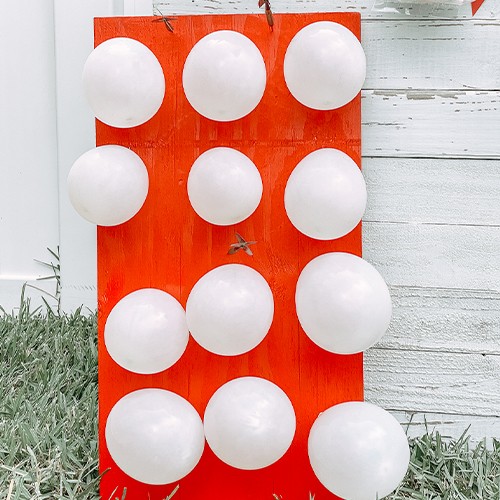 But, my favorite game at any carnival or fair has to be the balloon dart throw game! So, I painted a small sheet of plywood bright red. Then, I stapled small white balloons to the plywood. It was the perfect finishing touch to our vintage carnival party!