Even sweeter candy canes with a chocolate-y handle!
Candy canes and Candy Melts® create a sensational combination for a long-lasting sweet. Decorate a plain candy cane in minutes with Candy Melts Candy and Snowman Icing Decorations. These dipped treats make great gift toppers and they add a merry touch to Christmas celebrations. And to complete the sweet look, fill a bowl with red jelly beans and stick the canes in. It will look as though the snowmen are dancing!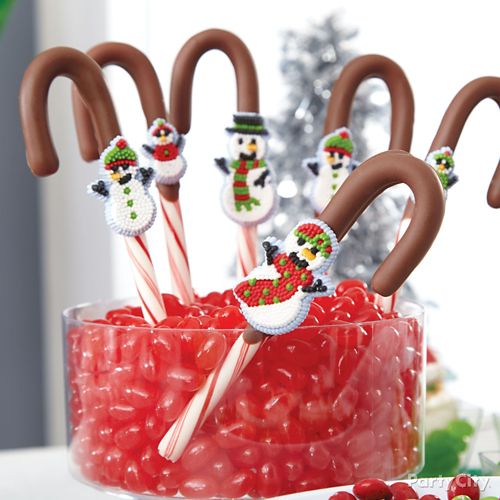 How-To
Ingredients:
Light Cocoa Candy Melts® Candy (12 oz. makes 18 to 20 treats)
Candy canes
Snowman Icing Decorations
Supplies:
Microwave-safe bowl
Waxed or parchment paper
Cookie sheet
1) Dip candy canes
Melt light cocoa Candy Melts candy in microwave-safe bowl according to package directions. Dip candy canes in melted candy. Gently tap to smooth and remove excess candy. Place on parchment paper-covered cookie sheet. Chill until firm, about 10 to 15 minutes.
2) Attach snowman decoration
Use a dot of melted light cocoa candy to attach snowman icing decoration to candy cane. Let set, about 3 to 5 minutes.