Host a spicy Cajun cookout with crawfish-themed everything! Crawfish, also known as crayfish or mudbug, is a freshwater shellfish considered a Louisiana delicacy. Crawfish boils are a time-honored tradition for many families in Louisiana and beyond. This party revolves around a messy, down-home meal usually piled high on newspapers, but we like the look of red and white gingham table covers with party essentials to match. Crawfish season is usually March to May, so be ready to get your spice on. Put your claws up for even more more tasty crawfish boil party ideas!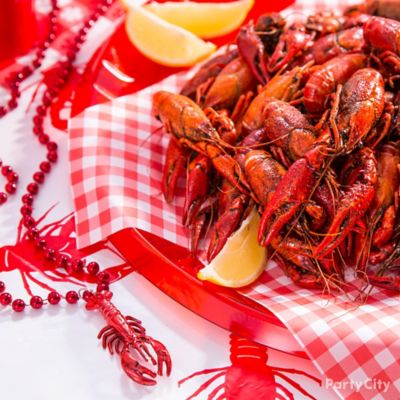 Idea 1: How to cook a crawfish boil
What's involved in a crawfish boil? Throwing clean, live crawfish into a pot of boiling, Cajun-spiced water. Think cayenne pepper, paprika, garlic, onion powder, coriander and oregano, just to name a few of the spice options. When cooked, toss the crawfish out on the table so people can start feasting. Most folks will eat three pounds of crawfish on average, more if they're a veteran de-sheller!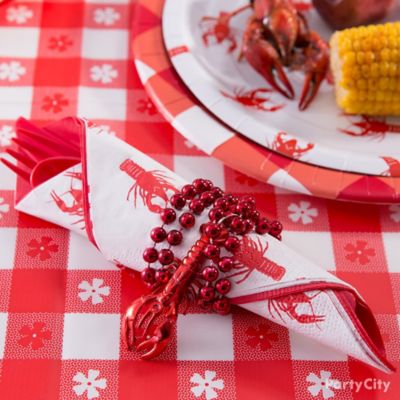 Idea 2: This mud-bug bead you to the napkins!
You'll need napkins, lots of them, once the feasting begins! Before everyone dives in have cute cutlery bundles wrapped in beads so everyone can deck themselves out in claw-fashion. Then all you'll need to do is blast Zydeco music and the boil will really feel like a party!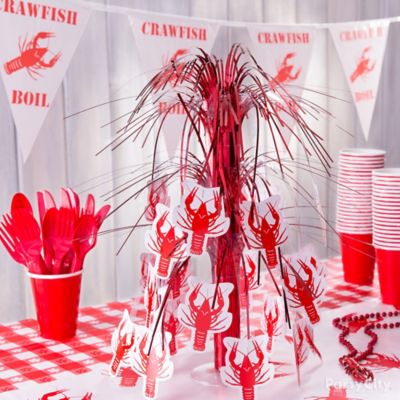 Idea 3: Decorate fast with a crawfish centerpiece
There's nothing more laid back than a crawfish boil, so keep the decor equally relaxed with these crawfish boil decorating ideas. Hang up a crawfish pennant banner and decorate the table with this metallic crawfish theme centerpiece. Red plastic cups filled with red utensils are bright, colorful and utilitarian!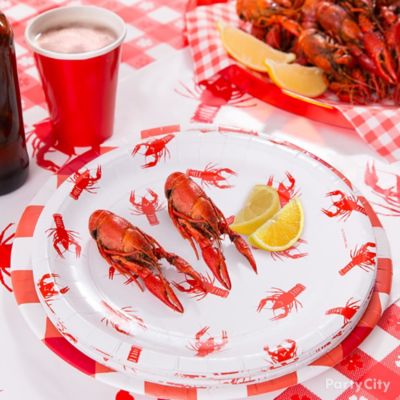 Idea 4: Grab a plate and dig in!
Enjoy the mess that comes with a crawfish party! Offer crawfish-themed paper plates layered on gingham plates, with small trash bins beside each seat. That way all the feasters can scoop out the flesh onto their plates and immediately dispose of the shells. All that's left is to wash it down with a cold beverage of choice!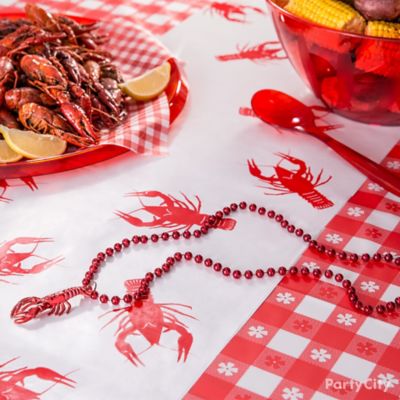 Idea 5: DIY a spicy table runner!
Dress the table Cajun style. For a kickin' crawfish boil tablescape, start with a gingham table cover then create thematic table runners by cutting a crawfish boil table cover into wide strips. Toss crawfish beads all around to add more flavor!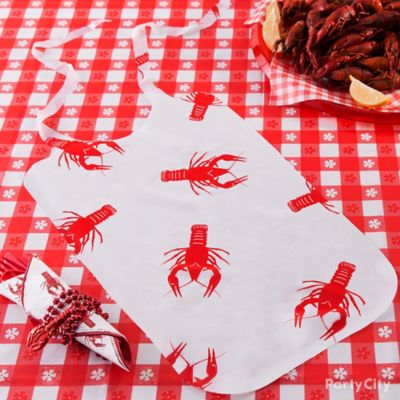 Idea 6: Make seafood bibs!
Even the neatest eater is messier than a swamp lobster when chowing down at a boil, so be prepared with bibs! All you'll need to do is cut bibs out of this crawfish table cover and set them out for people to wear like party gear. Ready to get messy?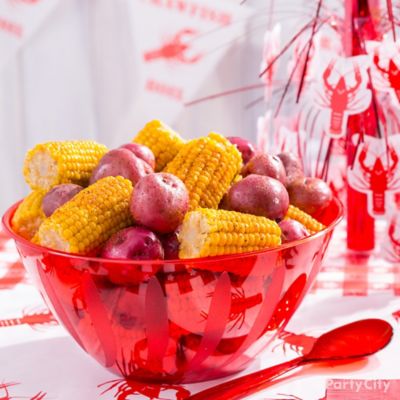 Idea 7: Cook corn and potatoes in the crawfish pot!
With all the Cajun spices in the crawfish pot, anything else that's boiled in it turns into culinary gold. Cook your choice of veggies (potatoes and corn are highly recommended) in between crawfish batches, and then serve them in a red bowl that matches brilliantly with the boil decorations. Get ready to dig in!