Wedding season will look a little different this year, but that does not mean it can't still be beautiful! Gather your girls and DIY an at home bridal shower with this beautiful balloon ring as a selfie station and group photo backdrop. If you do not have access to a round arch, no worries! You can still create this same look by making a traditional arch or a balloon garland.
Supplies:
White Balloons 72ct, 12in
White Pearl Balloons 50ct, 5in
White Balloons 3, 24in
Gold Pearl Balloons 20ct, 9in
Gold Pearl Balloons 50ct, 5in
Blush & White So Engaged Balloons 15ct, 12in
Electric Balloon Pump
Double Sided Tape
Faux Flowers (optional)
Giant Blush & Rose Gold Bridal Shower Photo Frame Kit (optional)
Blush & Rose Gold I Do Crew Gift Bags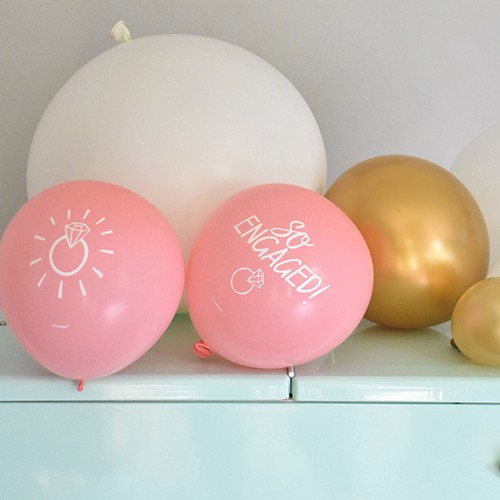 Instructions:
Before getting started, decide how many balloons you think you will need to complete this project. You can choose to cover the entire ring in balloons, or you can do half of each side like I did. Ring arches come in different sizes and if yours is more than 5ft tall, I suggest following the balloon count in the provided supplies list.
Step 1:
Use an electric pump to blow up the 12in, 9in and 24in balloons. Use a hand pump to blow up the 5in balloons.
Step 2:
Begin clustering the white and gold 12in, 9in and 5in balloons by color and size.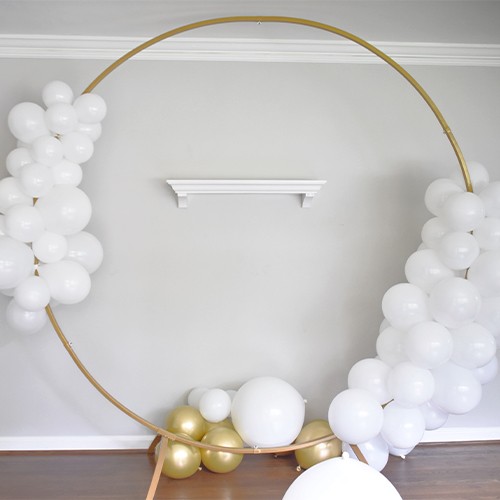 Step 3:
Tie all the white balloon clusters randomly around the arch until it is filled to your desired fullness. If you are not able to tie the 24 inch balloons onto the arch, you can simply use double sided tape to keep them in place. (If you are creating a traditional arch or balloon garland instead, you will also want to use the white balloons as your base color.)
Step 4:
Go back around the ring again and begin randomly tying in the clusters of gold balloons. Make sure not to overdo it since the gold is only an accent color.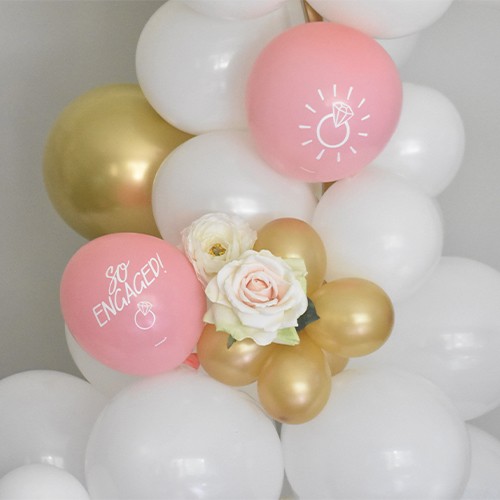 Step 5:
Use double sided tape to place the blush "So Engaged" balloons randomly throughout the balloon ring. You can also add in pops of faux floral accents to tie in the traditional "bridal shower" feel and a touch of elegance.
If you want to add a little extra pizazz to your design, hang a giant selfie frame from the top of the arch so your guests can take pictures behind it!