Raise spirits with our scary-good Halloween recipes for cocktails! We've got a drinks menu to quench the thirsts of the most bloodthirsty party monsters, including a body parts punch, martinis with eyeball garnishes and blood syringe shots. Check out wicked-cool cocktail recipes and ideas for pairing them with frightening bloody decorations!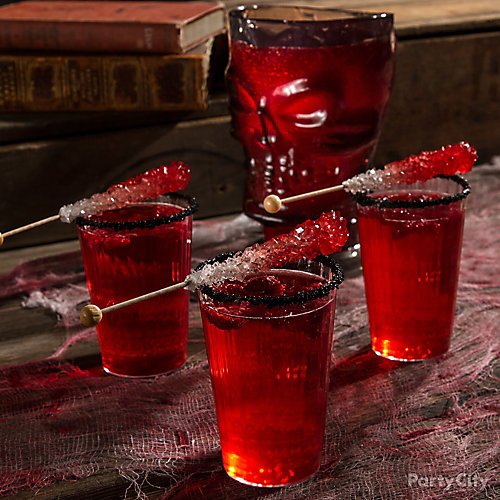 Idea 1: Brew up bloody bones coolers!
This blood-red cooler with a bony twist will get their spines tingling! Your grown-up ghouls and ghosties will love this mix of champagne and muddled raspberries. Add a "bloody bone" swizzle stick by spraying a white rock candy stick with red food mist!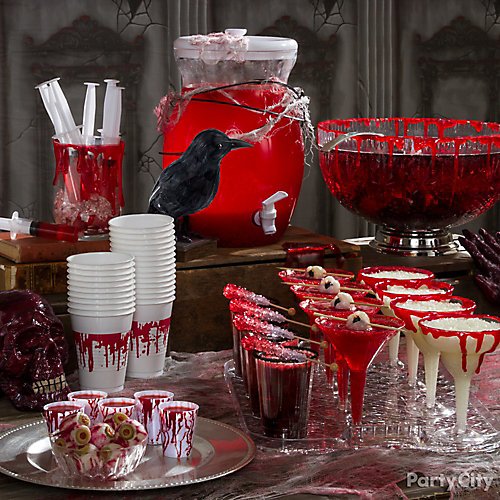 Idea 2: Step up to the blood bar!
Ve vant to drink your bloody drinks… especially when they're creepy and creative cocktails! They're the stars of this blood-curdling show, so we kept the table decor simple with black and white sticky spider webs and a well-placed crow prop. You can even add some faux barbed wire for good measure!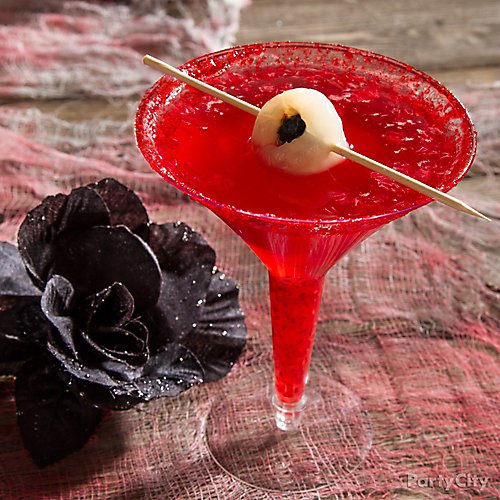 Idea 3: Make 'em shriek for eyeball martinis
Vampires and mortals alike will have their eye on this creepy cocktail! To make, mix 1oz vodka, 1/2oz raspberry liqueur, 3oz cranberry juice, and a splash of lime juice in a cocktail shaker. Make it to-die-for with a candy-coated rim of icing gel and red sugar sprinkles, and a peeled lychee fruit and blueberry "eyeball" across the top as an eerie garnish.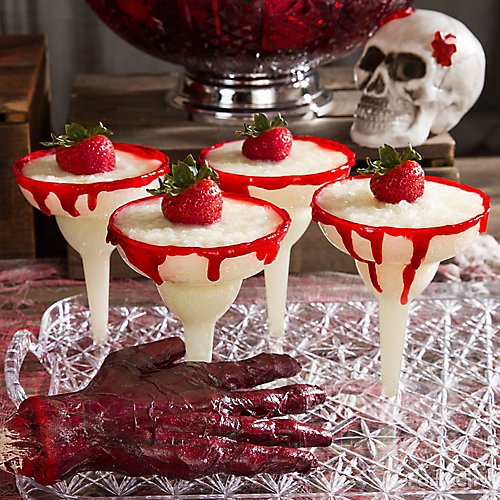 Idea 4: Delight with festively frightful pina ghouladas!
You and your fellow fiends can swap spooky tales over this refreshing sipper. To make, whisk 20oz pineapple juice, 15oz cream of coconut, 1/2 cup heavy cream, 1 cup orange juice, and 10oz rum. Mix in a blender with 2 cups ice per 1 cup drink mixture. Up the creep factor with a bloody-good rim of red icing gel – scary good!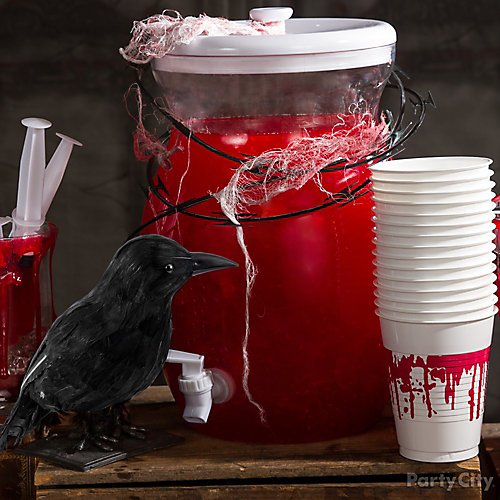 Idea 5: Dip your fangs into a bloody good punch!
Spook ghoulish guests of all ages with a pulpy punch. To make, blend 8 cups cranberry juice, 16 ounces strawberries, 8 ounces pitted cherries, 1/4 cup honey and 24 ice cubes. A clear beverage dispenser gives everyone a view of the scary-good sipper. Give it an even more sinister look with barbed wire, bloody gauze and a decaying crow. Leave some "bloody" drink cups out for everyone to serve themselves – O-positively delicious!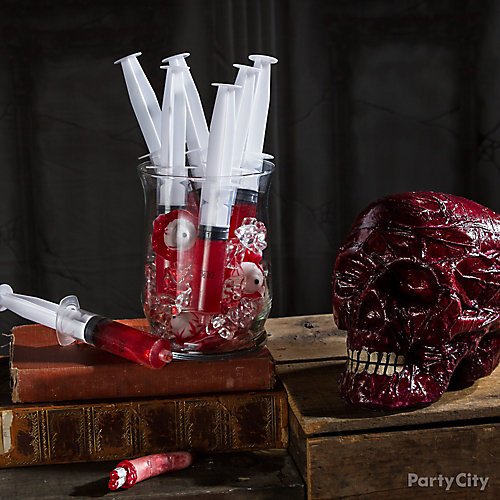 Idea 6: It's time for your shots!
Get their blood pumping with to-die-for cocktail shooters! Fill faux party syringes with red punch and vodka, then put them on "eyes" in an apothecary jar filled with ice cubes and fake eyeballs. For an even more haunting display, arrange them on a stack of aged books with a few dismembered body parts – ooOOoo!