Check out our tips for bloodying up easy Halloween treats! Personalize store-bought sweets or elevate your own fave recipes. Halloween has become so much more than a single night. These days, the season is a month-long riot of parties and events celebrating all things spooky. Save yourself the stress of complicated recipes and see how we made store-bought treats unforgettably unique with simple sugar decorations and blood icing. Creep through our ideas and learn how to embellish, drizzle and slash your way to spine-tingling desserts Lizzie Borden would love!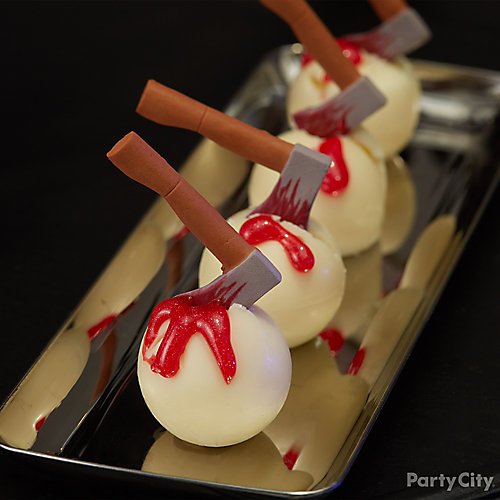 Idea 1: Just add blood to finish this gory treat!
Whether you have a favorite no-bake truffle recipe or grab some Lindor Truffles from the candy aisle, this is a super easy way to make them memorable. Use a butter knife to make a shallow indentation at the top of the truffle, then press in a tiny sugar deco axe. Don't stress if the shell breaks a little, just cover up any mistakes with a healthy dose of glitter red decorating gel as blood.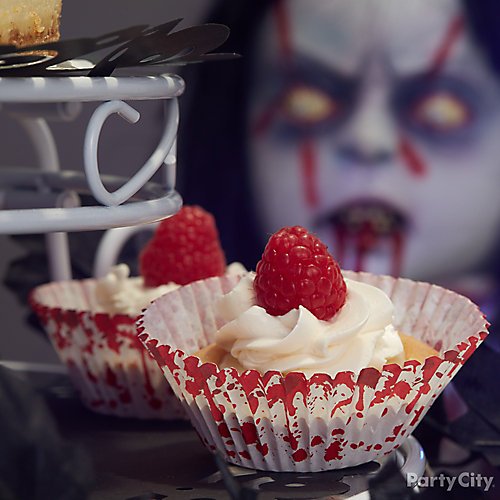 Idea 2: Transform elegant treats with blood spatters
If you have a favorite treat you love to bring to parties, make it stand out by adding a touch of the macabre. We found mini key lime pies at a local bakery, popped blood-red raspberries on top and slipped them into bloody baking cups.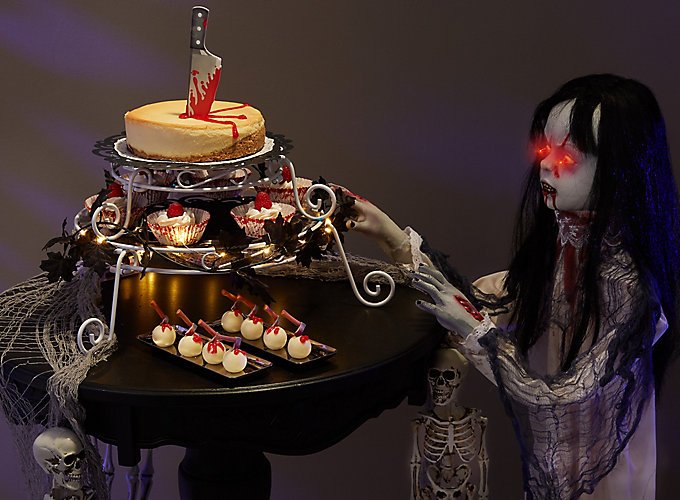 Idea 3: Create a super creepy display
Freak out your friends with this totally creepy treats display! We started with an animatronic girl that lights up, talks, and wears a bloody, high-collared Victorian costume that matched our Lizzie Borden theme. Next, we added unique accents to our display like a leaf garland, black doilies and a couple of hanging skeletons to really drive home the spook. Now get your sweet revenge with blood-dripped cheesecake and white chocolate truffles.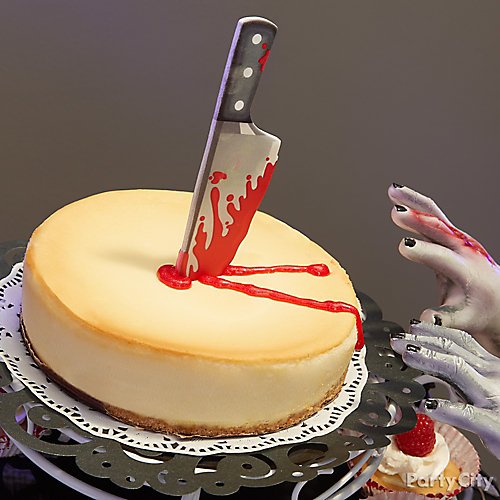 Idea 4: Learn the trick to this easy blood-dripped cheesecake
You can make this scary-cool cake on the cheap with a store-bought cheesecake and a few edible extras. Press the sugar knife into the center and pool red glitter decorating gel at the back of the knife. Draw lines of blood oozing down the side of the cheesecake, squeezing a little harder at the end to create a droplet.