This kid-friendly black cat mask making party table is sure to be a hit for the whole family this Halloween. Make your own custom mask using the black cat mask, glitter felt, sequins, markers, and fur. While you're making masks enjoy pink lemonade and black cat cupcakes.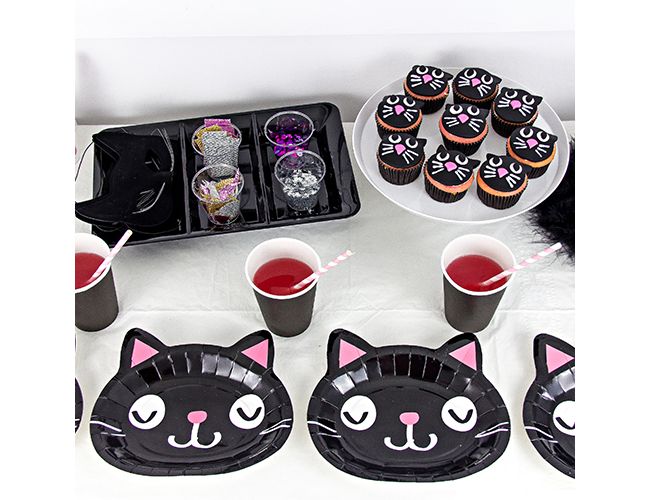 Supplies:
Black Cat Mask
Purrfect Cat Face Lunch Plates
White Paper Table Cover
Black Plastic Rectangular Sectional Platter
Black Baking Cups
Pink Striped Paper Straws
Glitter Gold Letter Banner Kit
Big Party Pack Clear Plastic Cups
White Plastic Cake Stand
Wilton White Rolled Fondant
Wilton Black Rolled Fondant
Black Cat Cupcakes (instructions below)
Pink Lemonade
Black Spray Paint
Felt, Glitter Sheets, Sequins, and Fur
Glue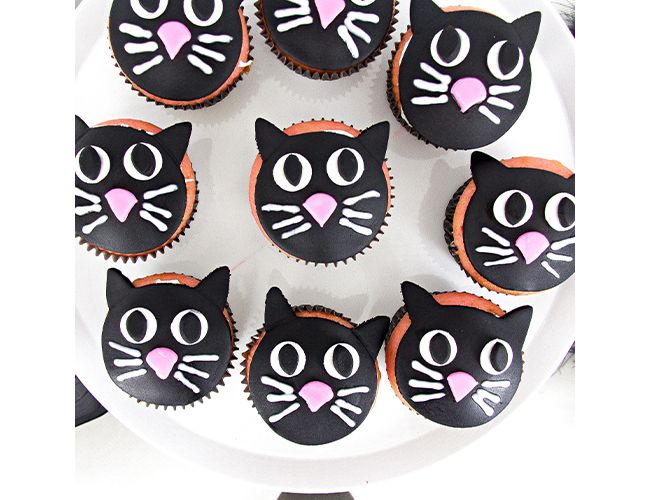 Instructions:
Bake your favorite flavored cupcake in the black baking cups (we baked strawberry cupcakes). Set aside to cool.
Once cooled, spread a little icing over the top of each cupcake, this will help the fondant stick to the top.
Use a cat-shaped cookie cutter to cut out the cat face from rolled black fondant. Place the face on top of the icing. You can also use the same fondant now that it's rolled out to make the slits for the cats eyes.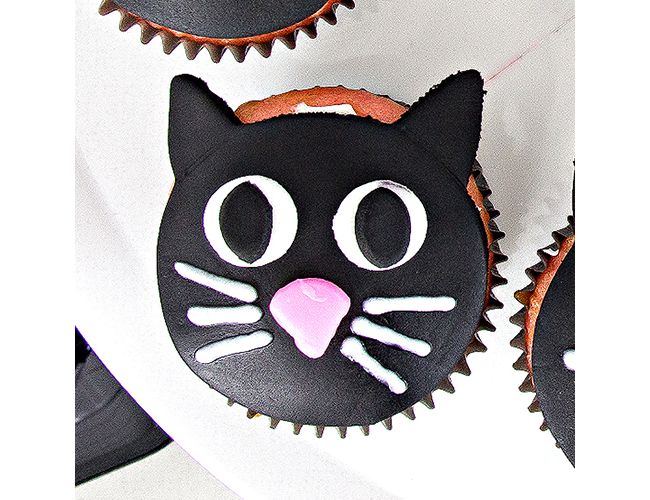 Roll out your white fondant and use a small round fondant cutter to cut out the eyes. Attach them to the cat face by brushing a little water onto the back of each eye.
Mix a little pink food dye into a small ball of white fondant and blend together to make pink fondant. Cut out the shape of the nose, and attach that using a little water too.
Using a white icing gel put whiskers on your cat.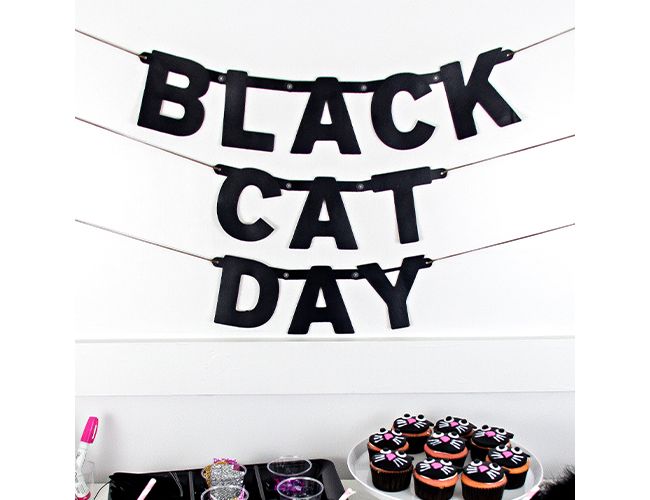 Custom Black Cat Day Banner
To make the BLACK CAT DAY banner, we used black spray paint to change the color of each of the gold letters before attaching them to each other using the banner clips provided.
Black Cat Masks
Pre-cut eyelashes, the inside of each ear, and the nose for each cat mask. We used a variety of glitter sheets. Pop these into a clear plastic cup for easy access. Cut small rectangular sections of remaining glitter sheets to make custom shapes for your cat. You can also put out assorted sequins, permanent markers or paint pens, and fur that can be used to decorate the cat masks too.