Sail through trendy ideas for beachy decorations, favors and treats. Steal our bright and breezy ideas for a beach-themed bridal shower. Recreate a warm and relaxing beach vibe that's the perfect tribute to their romance. From an edible "sand" castle to perfect pails of seashell favors to splashy sippers, we've got everything you need for a smooth-sailing bridal shower.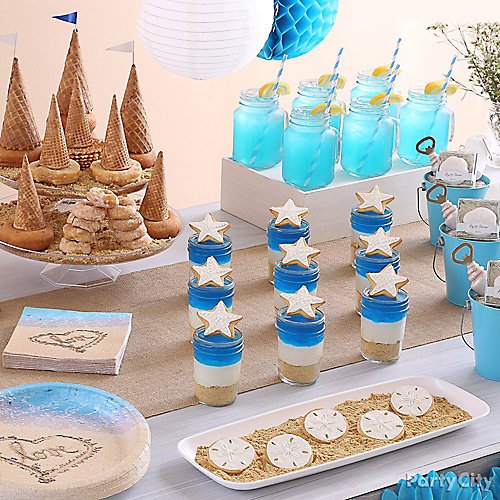 Idea 1: Personalize your bridal shower with bright and breezy touches
Imbue a sense of paradise into a romantic bridal shower with unique ideas for a party with a personal touch. Set up a sweets table and get inspired by our sandcastle made with donuts topped with sugar cones over crushed graham cracker "sand." Keep your party theme bright by focusing on a color scheme of fresh blues and whites.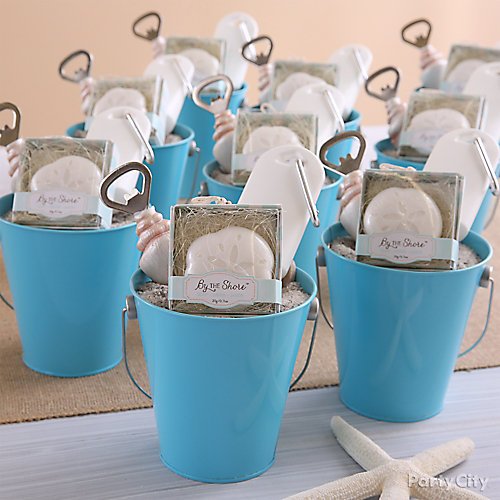 Idea 2: Create pretty pails brimming with beachy goodies
Arrange seaside shower favors like shell bottle openers, sand dollar soaps, and keychain sunscreens in Caribbean blue pails for a fun and memorable parting gift. Arrange your favors in the sand-filled pails for a beachy gift they'll love!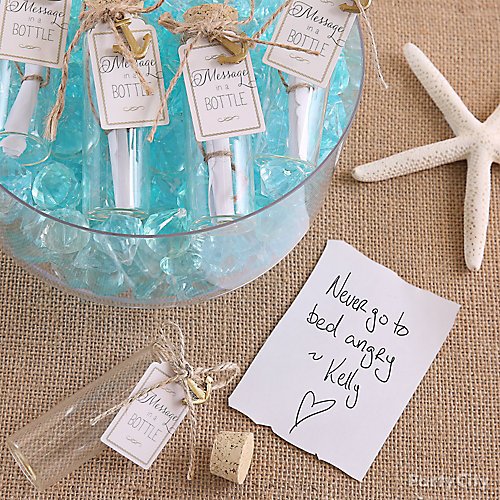 Idea 3: Set out lovely mini bottles for notes of advice
This is the perfect way to get guests involved and share something memorable with the bride and groom. These mini bottles come with everything you need for a sweet memento – bottle, cork, paper and twine with a little anchor charm. Arrange your lovely letters in a bowl of blue faux gems for a little ocean of love.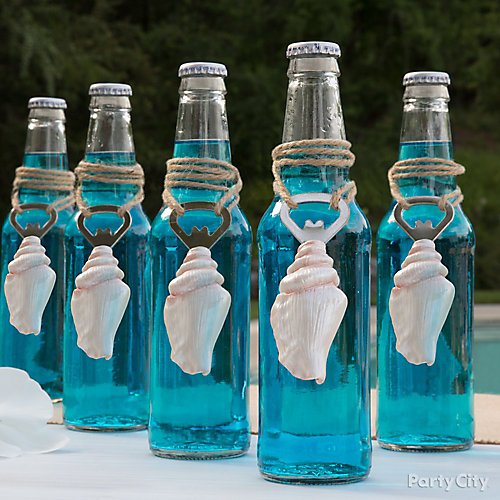 Idea 4: Pop the top on this easy favor idea
This idea is so easy and looks so upscale! Pick up your favorite blue sodas and soak off the labels with warm water and dish soap. Use twine to tie on trendy seashell bottle openers. Your guests can enjoy this favor right away!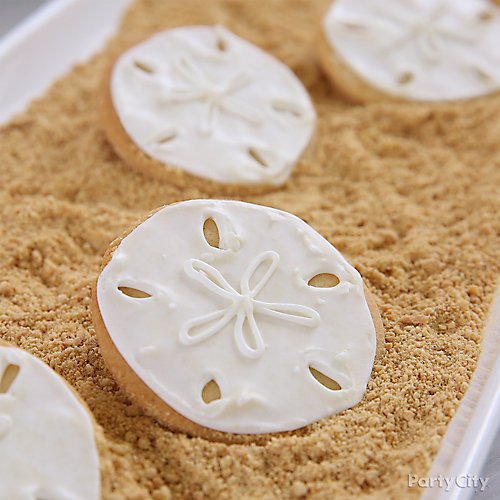 Idea 5: Sand dollar cookies will be the star of your dessert table
Evoke a romantic walk on the beach with iconic treats like pretty white iced sand dollar cookies. To make them, bake circular cookies and cool, then cover with a layer of white cookie icing and allow to harden before drawing a sweet little frosting star. Nestle them in a tray of brown sugar sand. They'll fall in love with these!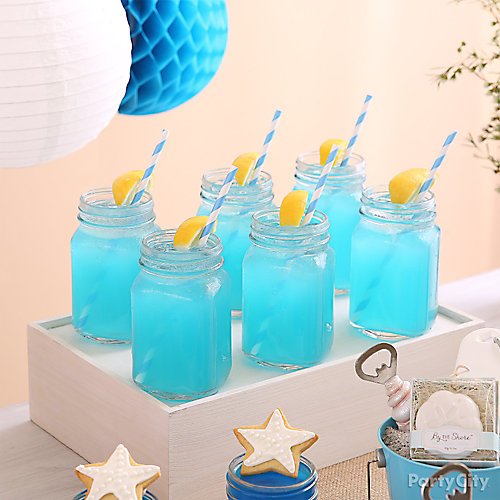 Idea 6: Make a splash with blue-tinted drinks in mason jars
Serve "ocean water" blue drinks with a slice of lemon and a matching striped straw – so refreshing! Use a Powerade drink or create a cocktail with vodka and blue curacao and lemonade. These jars can also be personalized with the couple's name and date with a thematic design such as a clam, starfish or sand dollar!