Our Batman birthday party ideas will save the day, so it's easy to throw an action-packed Batman party that everyone will remember!
Idea 1: Dress him up as the Caped Crusader
Your little superhero will love swooping into the party as the Dark Knight himself in a Batman costume, and you'll love the great photos with him in full costume!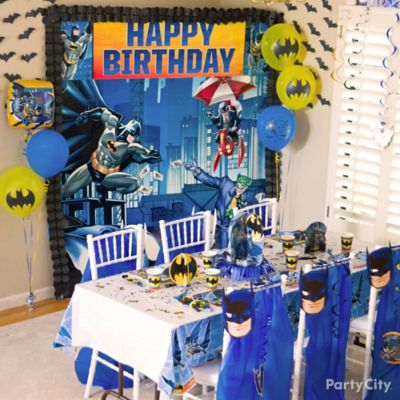 Idea 2: Holy party chairs, Batman!
Add adventure to your table with capes for your chairs made out of Batman masks, blue table skirts and swirl decorations for added superhero flair. Cut the plastic table skirts into sections to fit your chair backs with scalloped edges for a bat-wing effect. Hang your hand-crafted capes with Batman masks and dangling swirl decorations for super capes Bruce Wayne would approve of!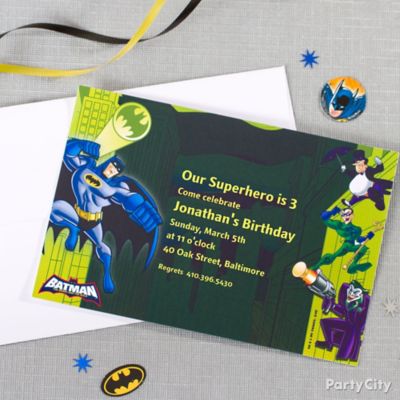 Idea 3: Personalize it with a custom invite
The first step to getting into Bruce Wayne's swanky mansion is a personalized invite. Guests will be excited to receive one of our Batman custom invitations, ready to ship within five days and perfect for saving in a scrapbook. Toss in some Batman confetti for added fun!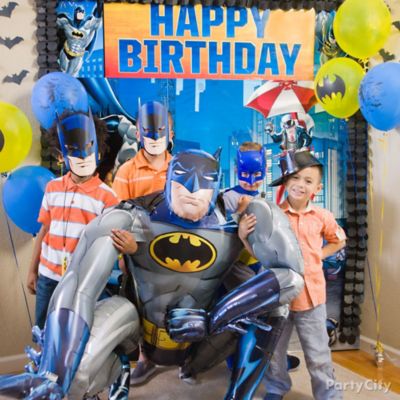 Idea 4: Get everyone in on the dress-up fun!
Guests can get into character with easy Batman dress-up accessories for fun pics that double as party favors. Hand out Batman masks and wristbands so everyone can join the fun!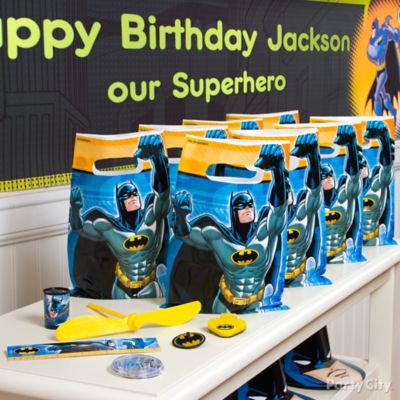 Idea 5: Save time with a ready-made favor kit
Put together favors faster than Batman can save Gotham with our Batman favor pack, which contains enough toys and accessories for eight superheroes. And you'll feel like a superhero when party favors are done in a flash!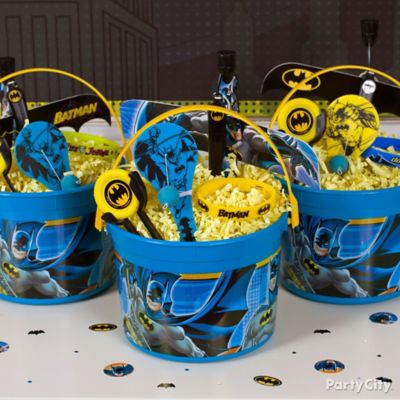 Idea 6: Batman favor buckets are the best!
Kids will love these Batman favor buckets that feature their favorite masked hero. Just add some paper shred, top with Batman favors and place in eager hands.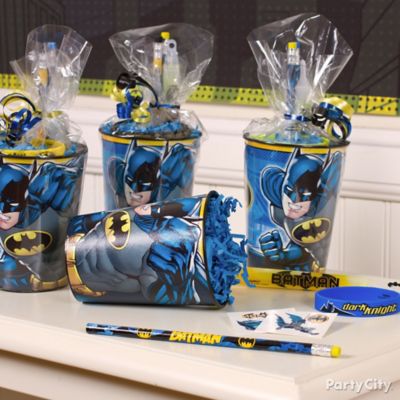 Idea 7: Batman favor cups idea are awesome!
These favors look as impressive as they are easy to make! Simply fill reusable Batman favor cups with your pick of favors, slip them inside clear plastic bags and tie them off with curling ribbon.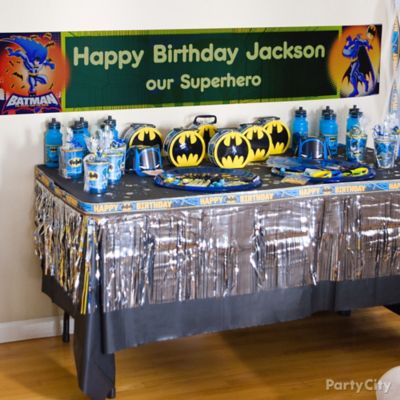 Idea 8: Make your favor table pack a powerful DIY punch
Favors shine like the Bat-Signal on a table trimmed with silver fringe garland! Cover your table with a dark-as-night black table cover, trim the edge with fringe and complete with a stripe of Batman streamer. A customized Batman birthday banner above the table gets your little superheroes' attention.
Idea 9: Include a secret party pass with your Batman invitations
Batman is pretty selective about who gets to visit the Batcave – no bad guys allowed. Include Batman tattoos inside the invitations along with a note telling guests to wear their tattoos to the party as a secret pass, so they're sure to get in!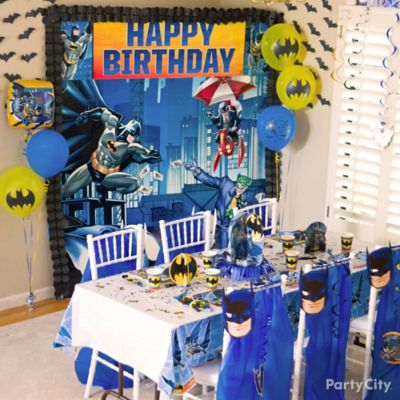 Idea 10: Set a party table fit for a superhero
An awesome table to the rescue! A solid-white table cover lets the Bat-Signal really pop! The tablescape gets a wow-factor from 3D centerpieces and party favors like blowouts — they'll keep party guests occupied until birthday cake and snacks arrive.
Idea 11: No superhero is complete without his emblem!
Get the guys in on the fun with a Batman party game, a super twist on the classic Pin the Tail on the Donkey with Bat emblem stickers instead of pins. The game comes with an action-packed poster, blindfold and enough stickers for eight players. For a fun DIY touch, create a cool border with Batman streamers and a paper garland.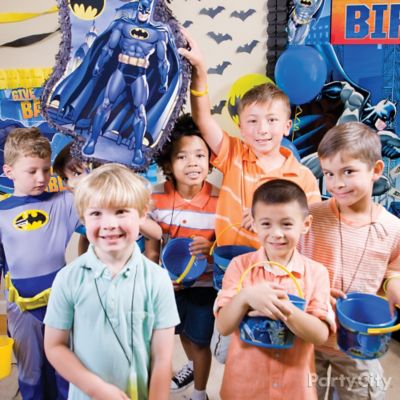 Idea 12: Say KA-POW with a Batman pinata
Kids will love the chance to show that they're as strong as Batman with a Batman pinata filled with Batman favors and candies. Smaller children can take turns pulling the ribbons at the bottom to release the candy instead of using a pinata bat.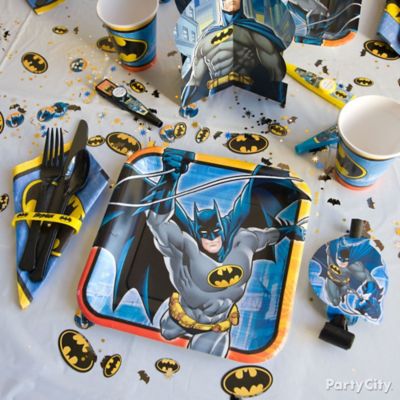 Idea 13: A superhero-worthy table!
The Batcave may be dark, but party tables work best when they're bright and colorful. Pair Batman place-settings with coordinating confetti, favors and centerpieces to create this vibrant, action-filled look at your celebration.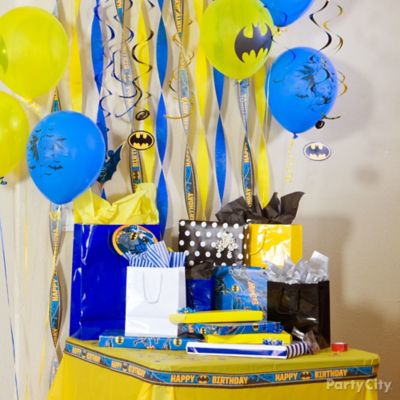 Idea 14: Give the gift table a super splash of color
For presents with POW!, decorate the gift table in a bright yellow table cover with a Batman streamer around the edge. Gently twist blue, yellow and patterned streamers to hang from ceiling to tabletop for a fun backdrop. Complete with printed balloons and matching Batman giftwrap. Holy birthday, Batman!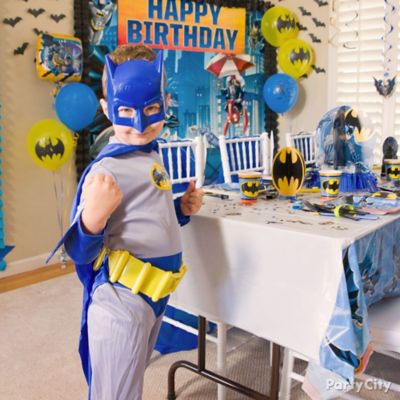 Idea 15: Craft some to-DIY-for bat cutouts
Set the scene for super fun with a Batman scene setter lined with a black paper garland. Add Dark Knight design with Batman balloons plus some shining swirl decorations. To create those awesome DIY black bats, just trace Batman's emblem onto the back of black paper plates, cut them out and stick them to your walls with sticky tack.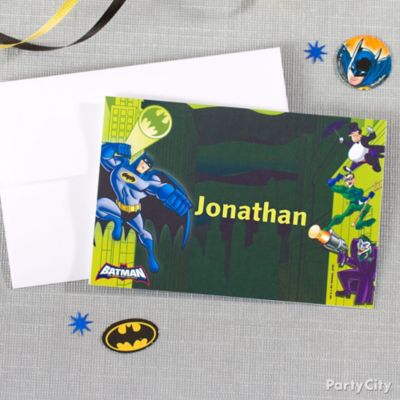 Idea 16: Personalize it with a custom thank you note from Batman!
Say thanks to your visiting heroes with our Batman custom thank you notes, printed with their names on the front. Order your notes from stores or online and the notes will be ready to ship within five business days."