Acai Berry Margarita Cocktail Recipe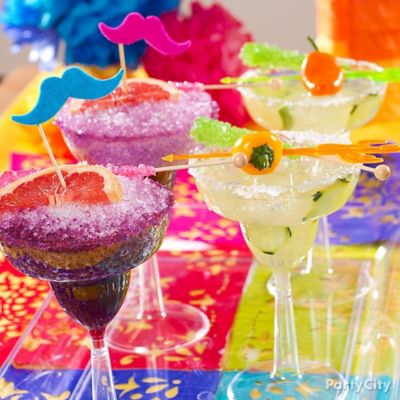 Must-try margaritas with Latin style!
Drinks that are muy bien for your taste buds and your health! Blend up frozen Aca'i Aye Aye! Berry Margaritas with 4 cups ice, 10 oz. Aca'i berry juice, 2 oz. lime juice, 2 oz. tequila and 1 oz. triple sec. Garnish with grapefruit, rock candy and 'staches on sticks – and enjoy the antioxidant benefits! For low-cal Skinny Fresh Margaritas, mix 3 oz. tequila, 2 oz. lime juice, 4 oz. mineral water, 1 oz. margarita mix and ice in a shaker. Pour over ice, add cucumber slices, and garnish with mini peppers and candy. About 120 calories. Served on a clear tray with vibrant papel picado, they'll be pitcher-perfect!