Easter festivities may be cancelled this year but there's no reason why you can't celebrate in the comfort of your own home. From decor to entertaining, we're making it easy to have an intimate Easter gathering with your loved ones. Keep the spirit of Easter alive with spring tableware collections, family-friendly activities, and colorful Easter decorations. Here are 6 ways to have a joyous Easter get-together. Shop all Easter Party Supplies to find everything you need for the day.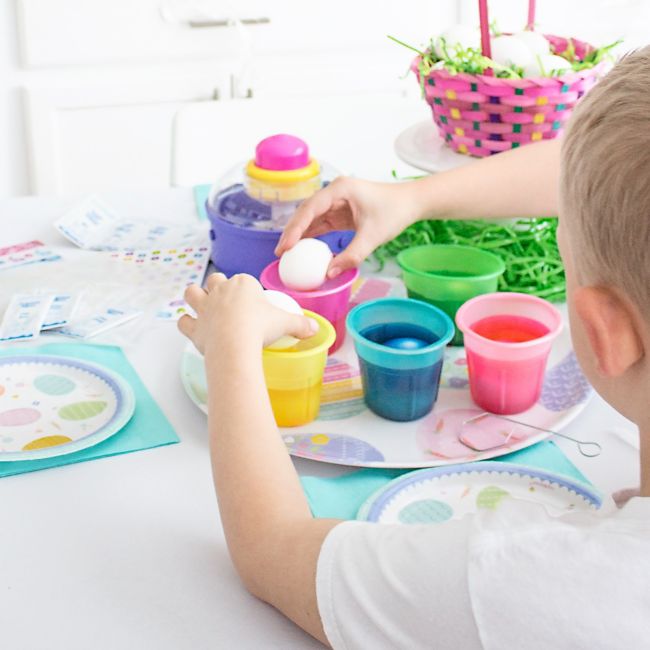 1. Decorate Easter Eggs
This timeless tradition is an Easter must! Get everybunny involved by setting up a table with all the decorating essentials and hop to dying those eggs. Unleash your creativity with colorful dyes, paints, markers, and confetti to dress your eggs. Kids will be entertained, and adults will relive fond childhood memories with this hands-on Easter activity.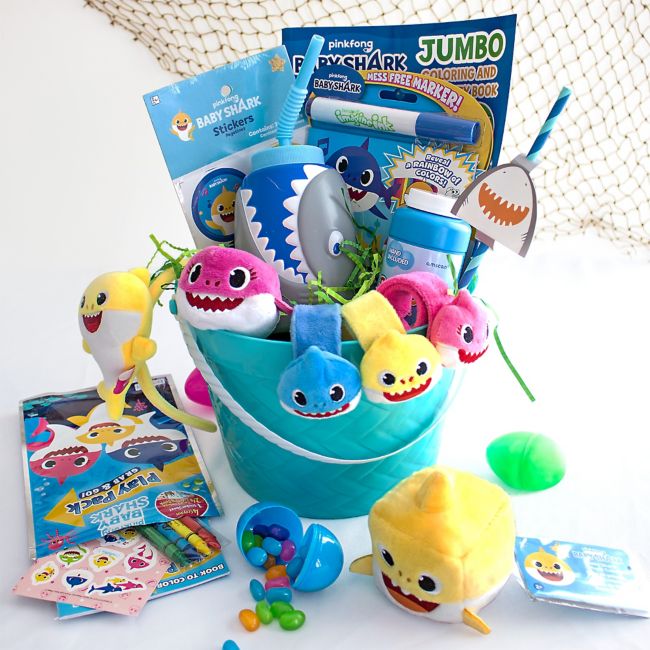 2. Build an Epic Easter Basket
Let's face it. Easter wouldn't be the same without an Easter basket! Switch things up this year and build a themed basket featuring your child's favorite characters. Select a basket that matches your theme and fill it with candy, but don't stop there. Add small toys and goodies like bubbles, cups, and stickers your little one can enjoy beyond the day.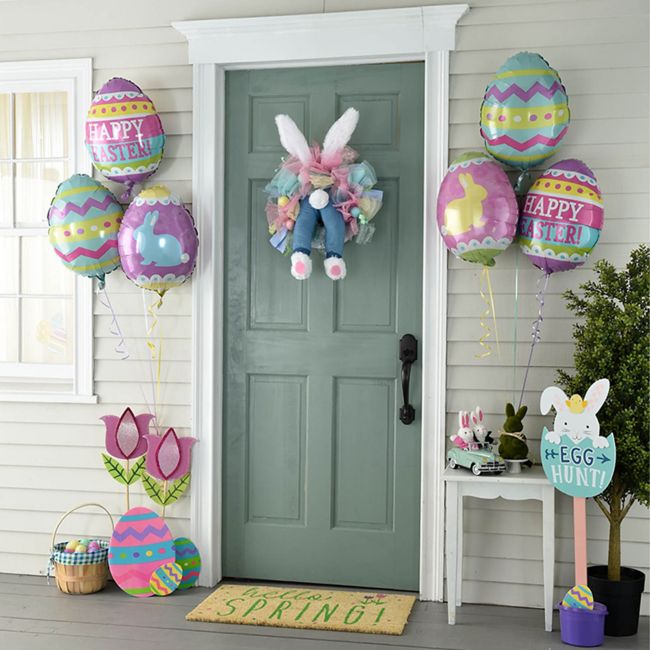 3. Decorate Your Home
Refresh your home with bunny-approved Easter decor. Guests may not be coming over but you can still dress your home in its Sunday best. Add a fresh spring look to your front porch with Easter wreaths, yard signs, and balloons. Get Easter cracking inside your home with table signs and wall décor.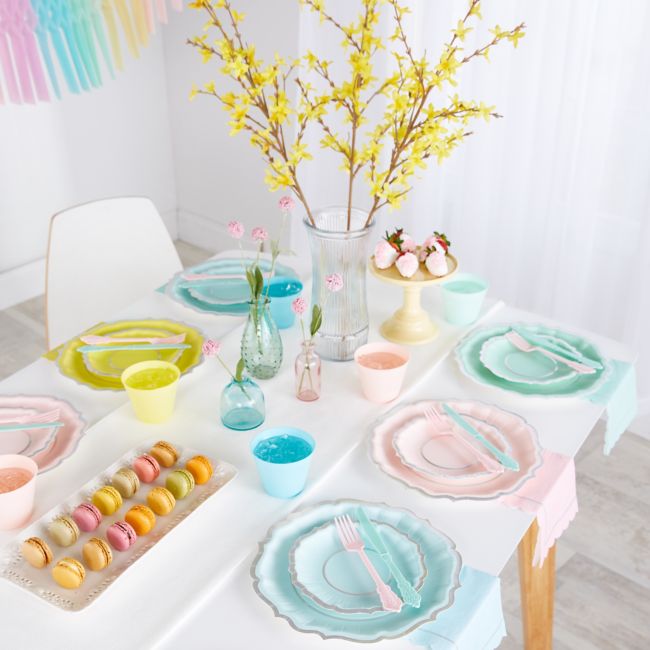 4. Set Up a Spring Tablescape
Gather around the table for an Easter brunch with pastel tableware. Create a fresh spring look with colorful plates, napkins, utensils, and cups to match. Add simple floral arrangements down the center to really make the table bloom. Have fun mixing and matching colors and patterns to create a special table setting your family will appreciate.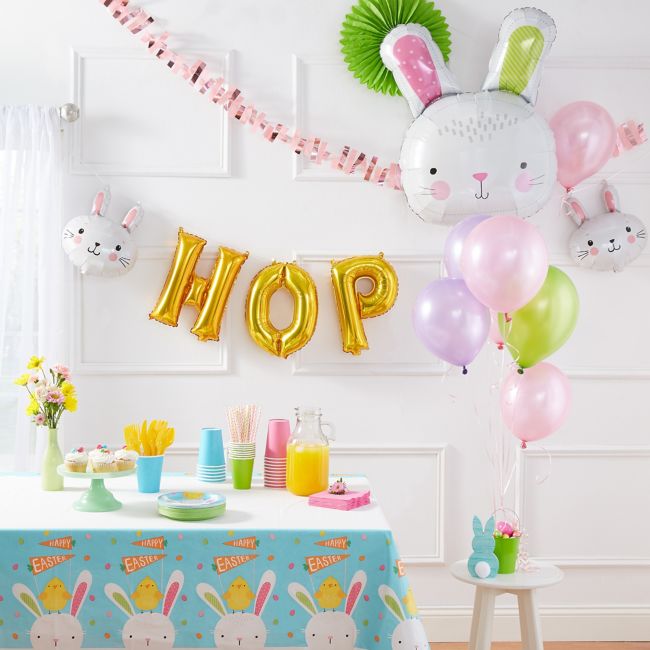 5. Lift Spirits with Easter Balloons
An easy way to bring cheer to your home this Easter is with balloons. Choose from balloons shaped like bunnies and eggs or keep it classic with pastel balloon bouquets. Scatter balloons throughout your home to instantly elevate the mood or attach them to a centerpiece. If you're feeling adventurous, create an Easter balloon decoration that you can use as a photo backdrop to capture family photos throughout the day. Click here to learn how to create balloon arches, garlands, and more.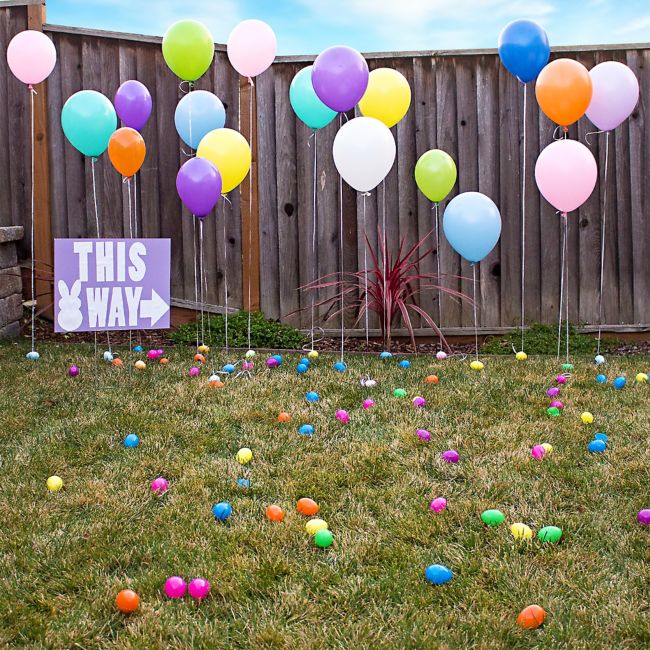 6. Hunt for Easter Eggs
You may be confined to your home but that doesn't mean you have to skip the egg hunt! Bring the hunters and gatherers together for a backyard Easter egg hunt. Kids will have a blast searching for candy-filled eggs and treats. Make the hunt extra special by adding balloons filled with clues for the scavenger hunt. Read our 12 Creative Easter Egg Hunt Ideas article for more ways to create your own backyard adventure.