Celebrate 50 years of love with friends and family. Celebrate true love with a golden gala! Those wedding vows still ring true a half century later, so toast them with memories old and new at a very special 50th Anniversary gathering. Roses and champagne will put love on everyone's minds, and the flicker of candlelight will warm your guests' hearts. Keep clicking for Golden Anniversary party ideas for place settings, favors and decorations for a romantic gathering perfect for friends and family!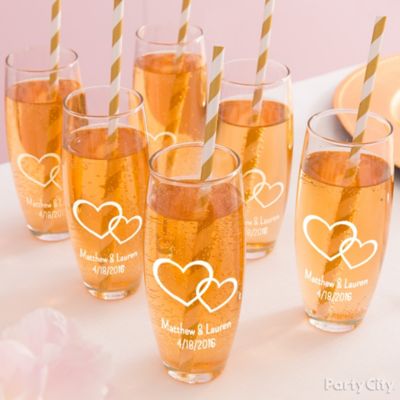 Idea 1: Add flair to your flutes!
Customize stemless champagne flutes with the couple's names and their anniversary date! After all the toasting is done, guests can take these special favors home with them. Just before you serve the bubbly, slip in on-trend gold striped paper straws for a chic touch to your timeless gathering.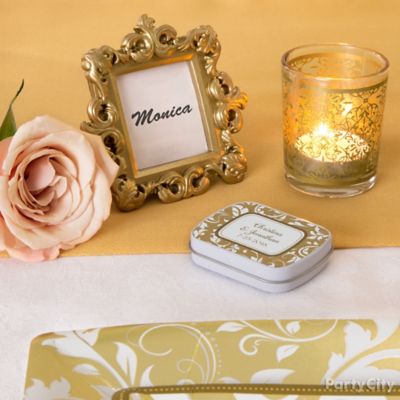 Idea 2: Send guests home with glimmering favors
Decorate the table with carefully selected, lovely looking favors that the guests can take home after the party. This ornate Baroque frame displays place cards for each table setting, and later guests can slip in a photo of the happy couple or a photo of their own. You can also customize mint tins with the couple's name and anniversary date to remind your guests of a love that lasts.
Idea 3: Create a shiny floating focal point!
Inflate two giant helium number balloons to spell out the reason for celebrating! These balloons really turn heads, and make for a perfect photo op for the couple and any other guests who want in on the fun!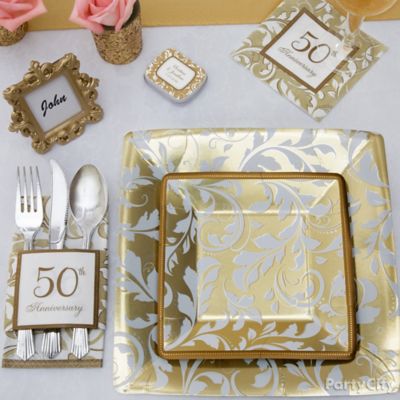 Idea 4: Simple ideas to make your table radiant
Skip the plain white plates and choose a design that will give your table a warm, golden glow. Create the look of a cutlery pack by folding anniversary napkins. Add a favor like mint tins, rose-filled glittered votives and a baroque frame place card to perfect this elegant place setting.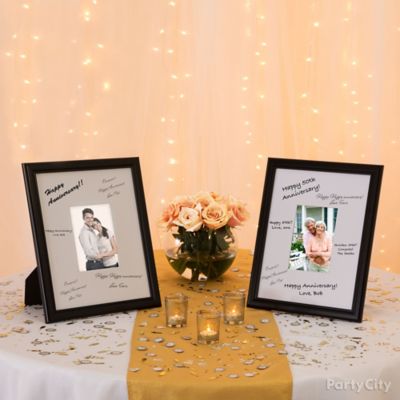 Idea 5: We still do!
Show the couple's journey through life by displaying two photo frames adjacent to one another. In the first frame, display a photo of the couple during their first years together, and a recent photo in the second frame. You can also encourage guests to write a note to the couple around their pictures. As a backdrop, hang white tulle over string lights for a fairy tale look: perfect to celebrate 50 years of "happily ever after!"