All you need is a few fun items from Party City to make these spooktacular treats and decorations for your home this Halloween. These 5 hacks are so simple and kids can help make most of them too.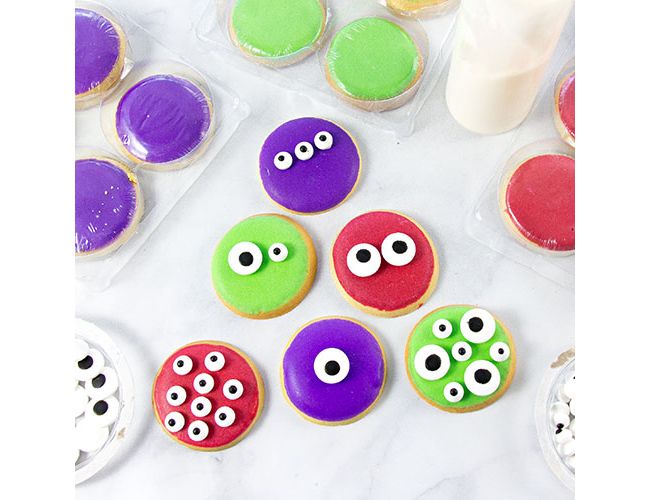 Monster Cookies
Supplies:
Cookies (available in-store)
Wilton Flat Candy Eyeballs
Wilton White Decorating Icing
Instructions:
Attach eyeballs to colored cookies using decorator icing.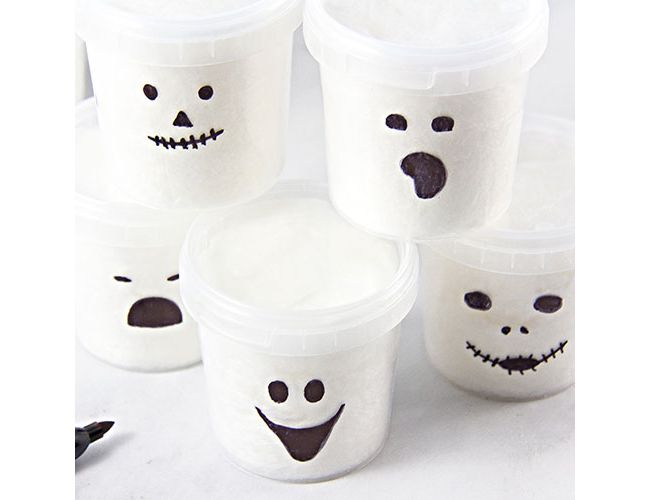 Cotton Candy Ghosts and Skeletons
Supplies:
Vanilla Cotton Candy 12pc
Permanent marker
Instructions:
Draw ghost and skeleton faces on the front of individual vanilla cotton candy tubs.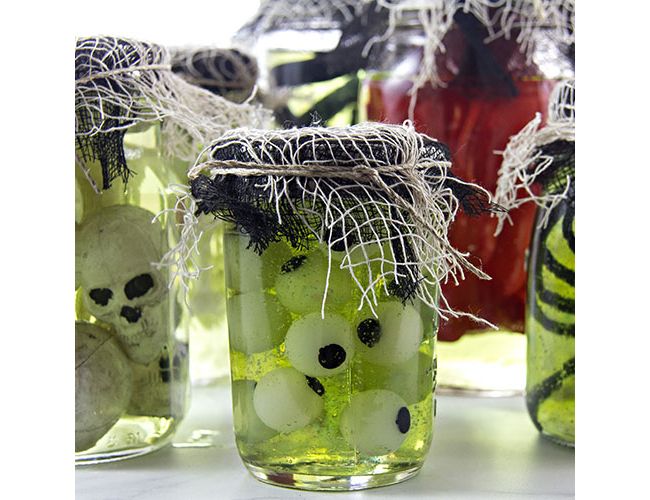 Specimen Jars
Supplies:
Mini Bones 18ct
Green & Black Snakes 28ct
Black Spiders 28ct
Squishy Eyeballs 12ct
Mini Skulls 18ct
Meat Market Props 12pc
Black Halloween Creepy Cloth
Jars
Green food dye
Hair gel
Beige netting
Cord
Instructions:
Place bones, snakes, spiders, squishy eyeballs, and body parts into jars.
For items that tend to float, mix 1/3 part hair gel with 2/3 parts water and a drop of green food dye into a jug. The hair gel will help keep smaller light items from floating to the top of the jar.
For everything else you can just add a drop of green food dye to water to fill your jars.
Cut pieces of cloth and netting and place them over the jar lids. Tie them in place with cord.
Halloween Lollipops
Supplies:
White Swirly Lollipops 24pc
Tissue Paper – green, black, orange, red, and white
Black Curling Ribbon
Permanent marker
Instructions:
Cut square pieces of tissue paper (doubled over). Fold it over the lollipop and tie in place with black curling ribbon.
For the goblin and Dracula lollipops cut a rectangular piece of black tissue paper to make a cape before tying.
Draw a face onto your lollipop using a permanent marker.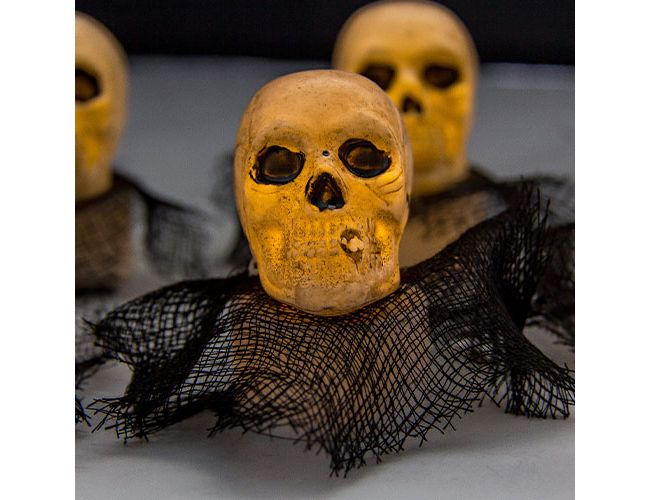 Skull Lights
Supplies:
Mini Skulls 18ct
White Tealight Flameless LED Candles 12ct
Black Halloween Creepy Cloth
Drill and drill bits
Instructions:
Drill a hole the size of the flame on the candle into the base of the skull.
Cut a small piece of creepy cloth and place it over the candle, and then put the skull on top.
Turn on your candle and watch your skull glow.