Life-Size Poseable Skeleton, 5ft
Life-Size Poseable Skeleton, 5ft
Hurry, while supplies last!
Product Details
Meet our life-size skeleton, Yorrik! This realistic-looking skeleton features 10 points of articulation and a rotatable head for maximum poseability. The joints are articulated with iron hinges to ensure the skeleton holds its pose, so get creative! Its durable plastic structure means you can use the skeleton indoors or outdoors for many Halloweens to come.
Life-Size Poseable Skeleton product details:
17in wide x 60in tall
10 articulated joints
Attached cord for hanging
Suitable for indoor or outdoor use
No assembly required
Materials
99% polyethylene, 1% iron
Frequently Bought Together
The Life of Yorrik the Skeleton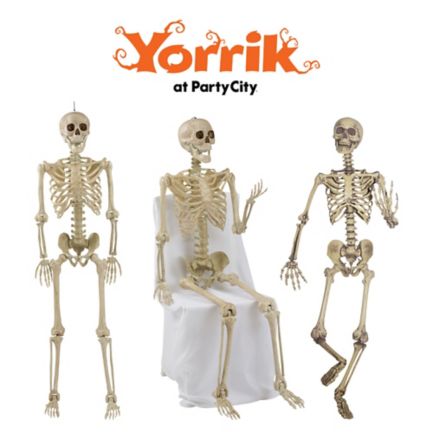 Yorrik is a five foot tall skeleton that's so realistic he looks like he just escaped from a science lab. Whether he's doing yardwork, reading on the porch, or relaxing in a graveyard, Yorrik loves to be outdoors in the Fall (except when he gets tangled in giant spiderwebs). October is Yorrik's favorite month because that's when his friends pay their annual visit to our earthly realm. Yorrik will happily pose for you in any way he can, and he takes his role as a classic Halloween symbol very seriously. Hang Yorrik up, use him in a scary Halloween scene, or cast him in a more humorous light — no matter what, he'll hold his pose without blinking an eye!
Additional Details
5ft tall
10 points of articulation: shoulders, elbows, hips, knees, and ankles
Head rotates 360 degrees
Attached cord for hanging
Suitable for indoor or outdoor use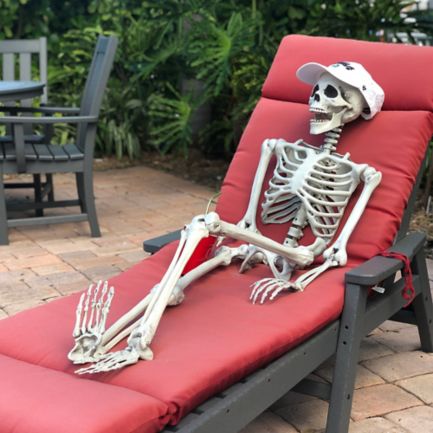 Skeleton Staycation
Yorrik beats the tourist crowds by reclining on his favorite lawn chair right in the front yard.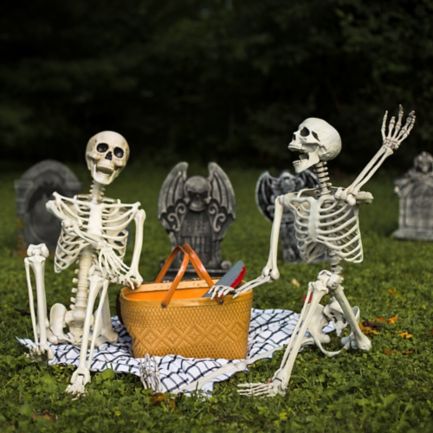 Cemetery Social
Yorrik likes to picnic in cemeteries, preferably one that's old and full of ghosts.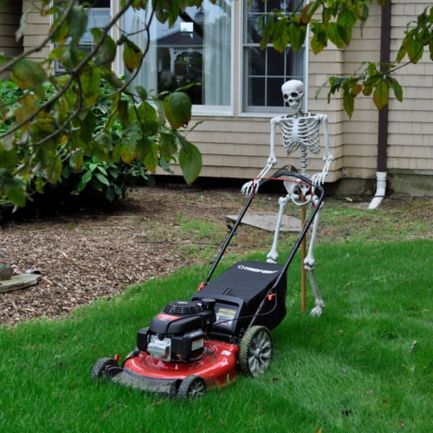 Yorrik's Yard Service
On the weekends, Yorrik likes to tidy up the yard. His favorite part is mowing the lawn!
Show us your look with #PartyCity on Instagram!
ADD YOUR PHOTO