4 Halloween Party Theme Ideas, From Frightful to Friendly
Whether it's for family fun or full-on fright, get everything you need to do Halloween right. Looking for not-so-scary ideas to celebrate Halloween with your young toddlers? Or are you an adult who's ready to put the scare back in scary? Either way, Party City has you covered with celebration solutions that support any kind of Halloween party.
Get all your party essentials, food ideas, and surprises to wow your guests. Party City is the ultimate source for the best costumes, porch and yard décor, party supplies, and trick-or-treating essentials. If it's scary that you want, get everything you need to make this Halloween the scariest yet.
A Frightening Haunted House
Prepare to scare your party guests this Halloween with a frightening haunted house! Get haunted house decorations to transform your home into a proper Halloween haunted house. Find scary props, tableware, and other supplies to create a ghostly setting for your guests.
Here's some *spirited* haunted house inspiration to get you on your way: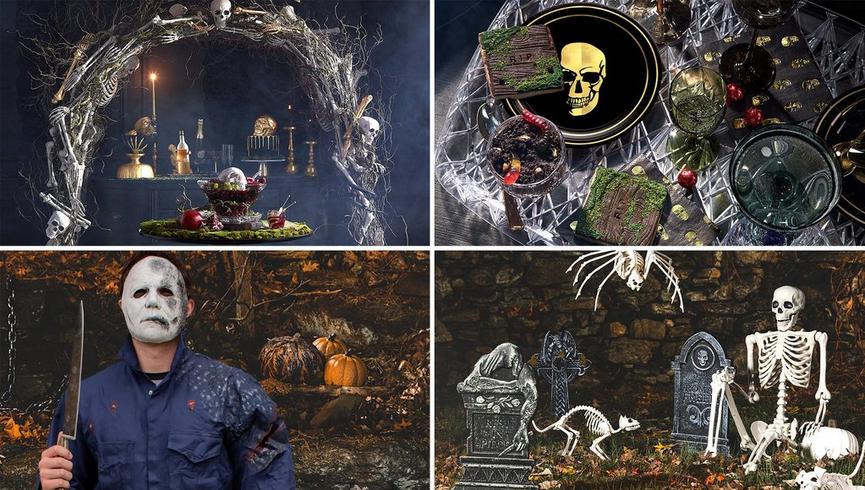 Frightful Halloween Party Essentials: Creepin' It Real
Fear is alive and well this Halloween. Decorate your haunted house and Halloween party with animatronics, yard signs, and tombstones that will give your party guests a bad case of the heebie-jeebies. Set your party guests up for a good old-fashioned scare with the latest and greatest Halloween décor that will make an unforgettable haunted house experience.
Mixology Station: Graveyard Glam
Don't forget to set up a spooky bar or mixology station that's the perfect mix of Halloween fun and fright. Entice ghosts and goblins alike with a bar that's nothing less than graveyard glam. Add tableware to your bar that gives it an air of supernatural mystery, like the Glam Boneyard collection, which features metallic gold skulls. Don't forget to provide your partygoers with the scariest Halloween-themed drinks you can mix up. Witches Brew and Vampire Kiss Cocktails are sure to raise spirits and make for a ghoulishly good time.
The Devil's in the Details
Of course, no haunted house party is complete without a horrific host! Get yourself a frightful costume to ensure your party guests don't feel at home, not even in their own skin! You might consider dressing as your favorite slasher, such as Friday the 13th villain Jason Voorhees, Halloween Ends' Michael Myers, Pennywise from Stephen King's It, or the infamous doll Chucky. Or maybe it's more your style to make your own monster look, like a Twisted Circus nightmare. Before you turn into a werewolf, or something worse, set the scene with some of the scariest décor you can get your claws on. Encourage your invitees to get into the spirit of All Hallows' Eve by dressing up as their favorite spooky character as a Halloween costume.
Spooktacular Fun
Gather your family and friends for a spooktacular Halloween party. Ditch the blood, guts, and gore and fill your party with friendly spooky season décor that everyone will love. Fill your party space with tableware, balloons, and other decorations that feature cute ghosts, smiley witches, happy jack-o'-lanterns, and other friendy monsters. With so many spooky friends around, your partygoers are sure to have a spooktacularly good time. Check out this kids-friendly Halloween home décor and accessories that will help you throw your best Halloween party yet.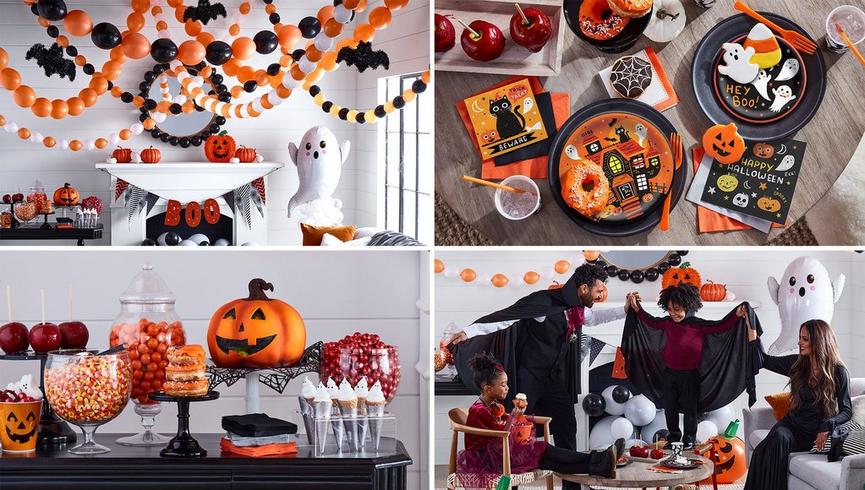 Put a Spell on Them
Traditional Halloween party elements will not only cast a spell (of fun!), they're versatile too. Cauldrons can be used to bob for apples or as photogenic treat and candy containers. Coordinated foil and latex balloons fill the room with an irresistible Halloween magic.
Make Halloween Party Time Game Time, Too
Introduce a new family tradition — a bewitching scavenger hunt where a skeleton or small pumpkin is hidden, and kids get clues to find it. Don't forget to stock up on party favors as prizes for all who participate.
Spiders and Bugs
Vampires eat insects and spiders crawl around the haunted house! Dracula needs company; why not other classic monsters? Find traditional costumes, like Frankenstein, witches, pumpkins, skeletons, and more, to keep Dracula company.
Monster Bash Mix and Match
Halloween is a cornerstone of the social calendar. From fun-loving families to young adults who want to express their creativity, Halloween offers an opportunity for self expression — for being unique, together! Party City has everything you need to mix it, match it, and make it yours this Halloween.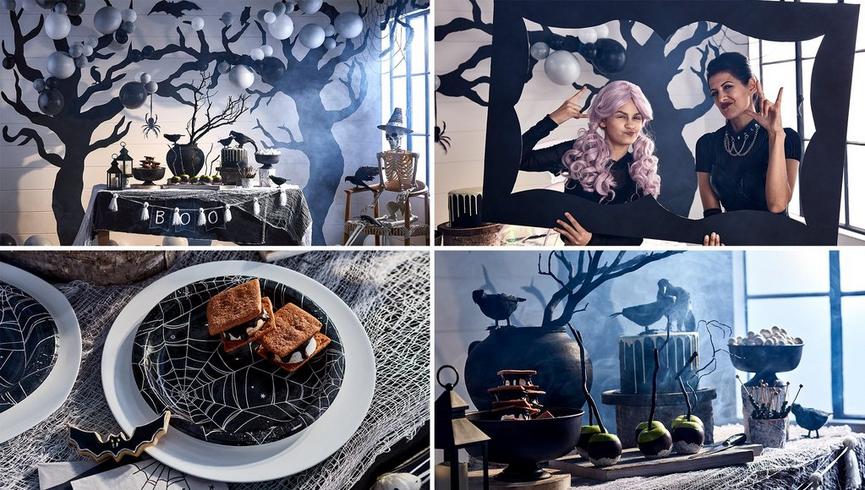 Black and White Décor
Go from the traditional bright orange Halloween party decor to a dark black background that supports any and all Halloween looks. Ensure your party includes the best table wear, spooky silhouettes, black and white balloons, and a fog machine to set the mood.
Mix It, Match It, Make It Yours
Explore all the ways your Halloween party, just like your family, can become scary or sweet. Fairies, punk rockers, cowboys, and skeletons too. Bones scattered throughout, spiderwebs and candy too!
Costume Parade
Every Halloween party needs a costume parade. Show off the variety of characters and creativity your guests display. Don't forget to hand out awards for special categories like most original, best duo, funniest, and more.
Your Favorite Characters Come To Life
Make this Halloween memorable for your family by dressing them up as their favorite group of characters. Bring the Halloween party to life when guests arrive as their favorite group of monsters or cast from a hit show. Party planners looking to throw a Halloween cosplay party can look to Party City to get small props for guests to mingle and make contact with fellow partygoers.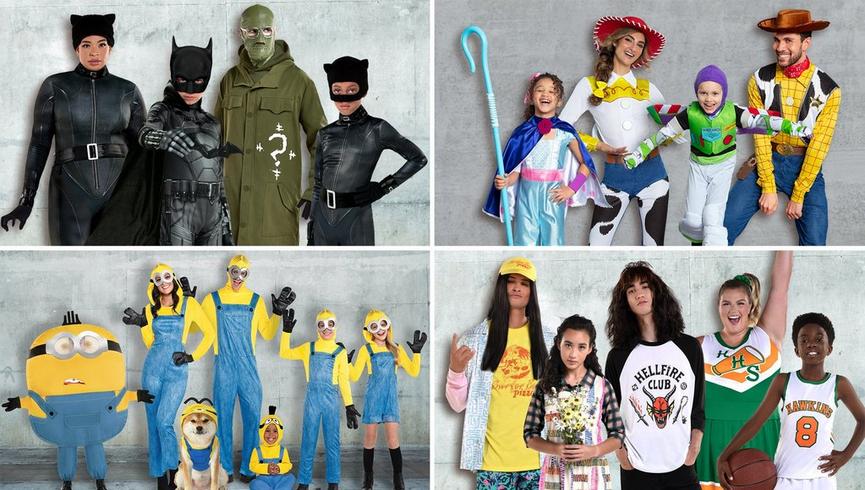 Books, Movies, & TV Characters
Get all the party supplies and décor for a home transformation and dive into your family's favorite fictional characters from literary classics, modern film, or even video game sagas that jump to life from their screens. Think outside of Halloween with costumes that can make an appearance later in the year too.
Set the Scene
Take your guests to a universe far, far away or convert your living room into Alniwick Castle. Whatever your Halloween #goals, Party City has all the party supplies you need to make them happen, like streamers, balloons, and décor to set up an iconic backdrop for a Halloween Party theme centered around a favorite character.
Fun as a Family
Party City has endless options for getting creative and some top-notch inspo for fun family costumes. Get the gear for a Ghostbusters gang or follow each other's lead as minions. And don't forget your four-legged friends: browse a huge selection of costumes for pets.
Other Great Halloween Party Ideas
Halloween parties can be extravagant, or they can be traditional. If you're looking for a traditional party kit, check out our DIY Black & Orange Boo Halloween Balloon Backdrop Kit, or our Spooky Halloween Balloon Backdrop Kit, which would be perfect for parties with young children. You can find all of Party City's latest Halloween party kits on our website. It's your turn to make sure your party guests have all the spooktacular fun they can handle!