After the caps fly high, it's time to celebrate! Graduation is a special milestone in one's life which calls for a special party. Explore plenty graduation decoration ideas and get inspired to throw the bash of the year that fits every part of the grad's personality and style. With simple and fun ways to deck out your home using letter balloons, paper fans and more, you'll be able to make the grad party an unforgettable event. Take a look at all graduation decorations and get ready to party!
Shop 2022 Graduation Balloons, Decorations & More Shop Now
Get down with downloadable Zoom backgrounds
Get your virtual grad on with a Zoom background for your 'gram-worthy grad poses and a bingo game to play with your Class of 2022 squad.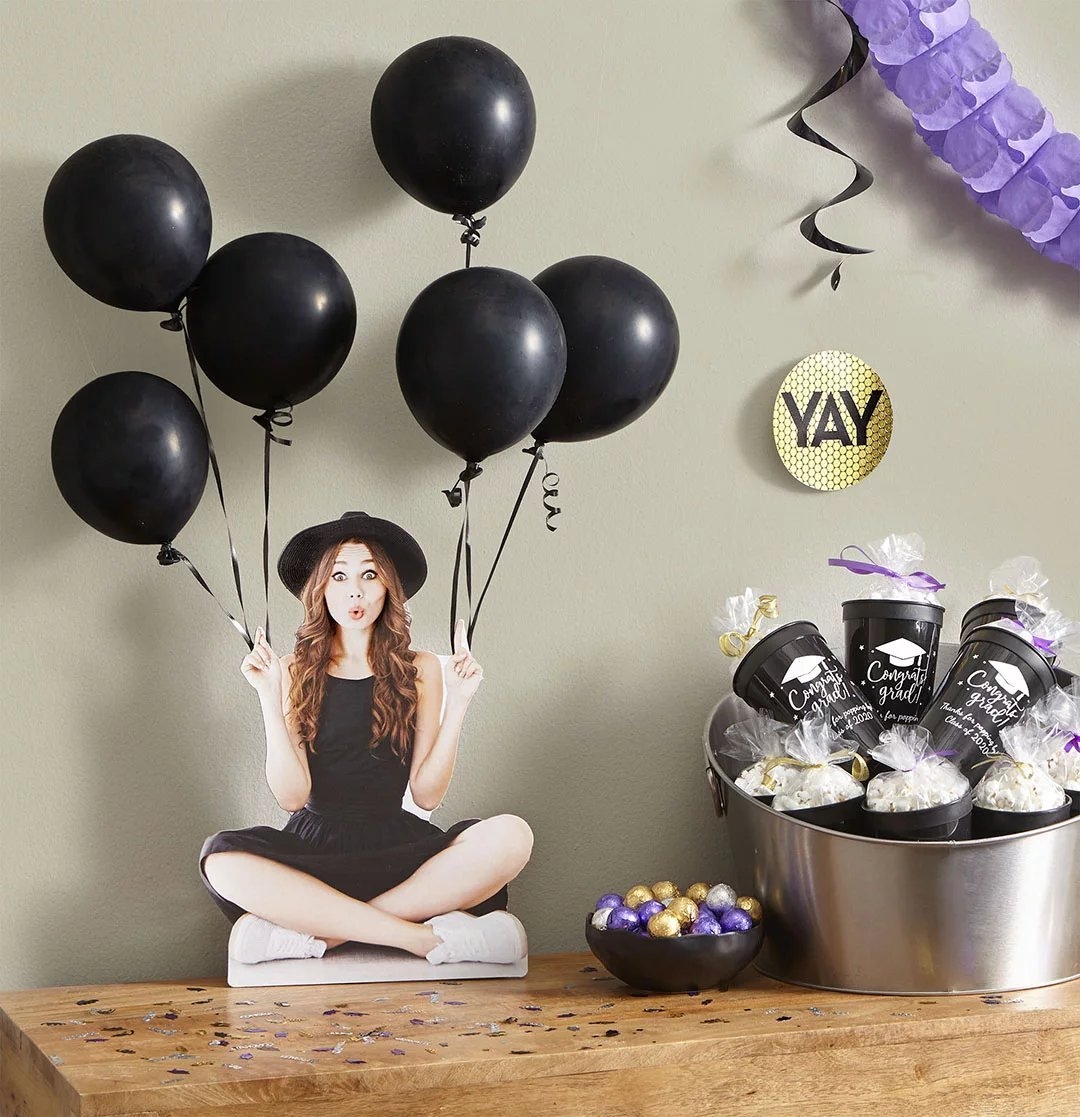 Large number balloons make a big statement
Graduation year is a big year for your scholar! Decorate the party in a big way with large number balloons. Attach these number balloons to a fringe backdrop using tape and border them with a balloon arch to create a backdrop that will make any photo-op pop. By tying the balloons to balloon weights you can let the numbers float freely anywhere in your home. Represent your scholar's graduating class by decorating your home with large number balloons!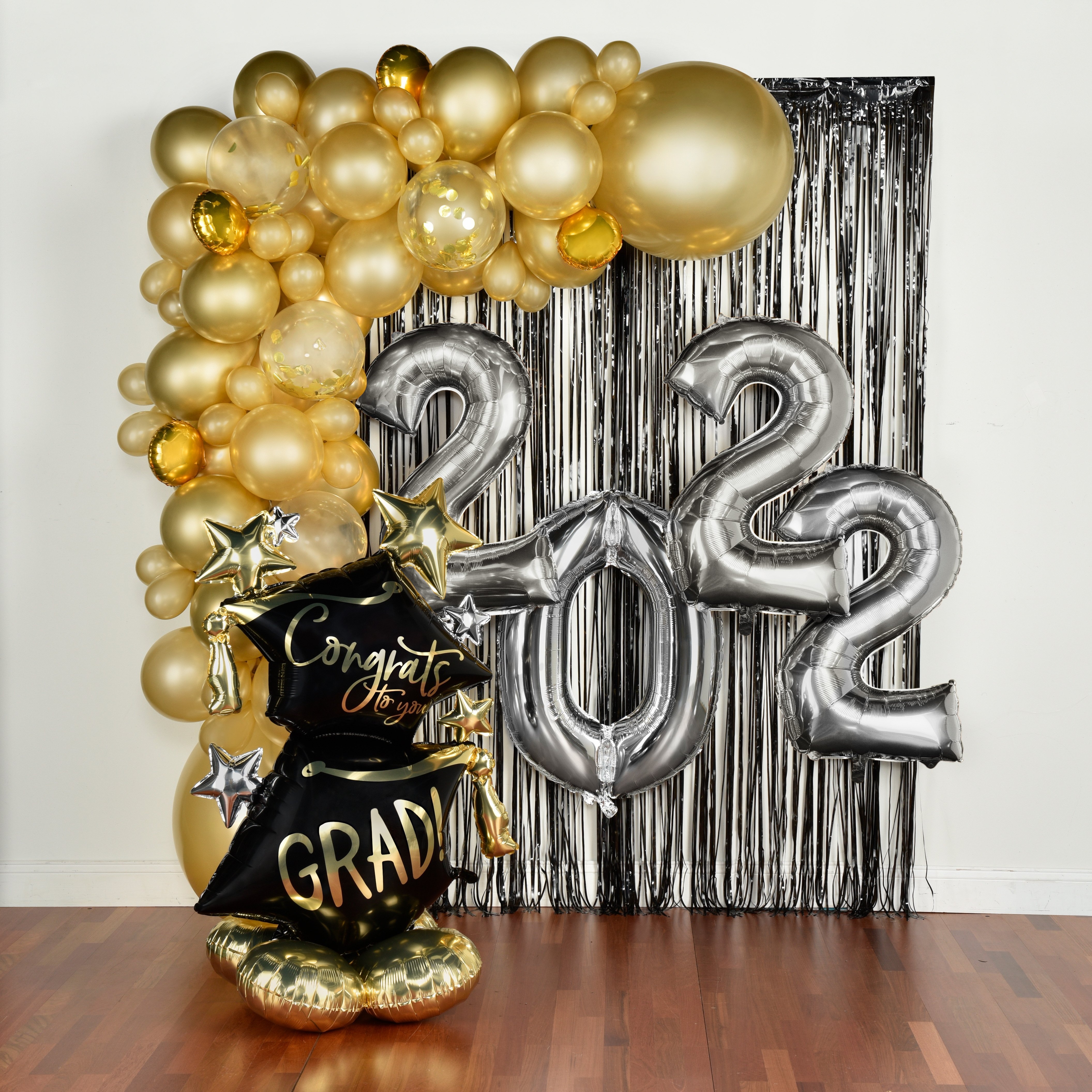 Send a message to the grads in letter balloons
Spell out any phrase to congratulate the graduates with letter balloons! Whether you want them to hang, float, or stick to a surface, the possibilities of words you can create are endless. String together letter balloons to spell out "You did it" and use it as a balloon garland to hang on the stair railing. A floating "Congrats" letter balloon display will add a festive touch to the grad party and can be easily created by tying the balloons to balloon weights. Tape letters and numbers on the wall to spell out "Class of 2022" to accentuate graduation-themed cutouts. Letter balloons will add a personalized touch to the rest of your graduation decorations!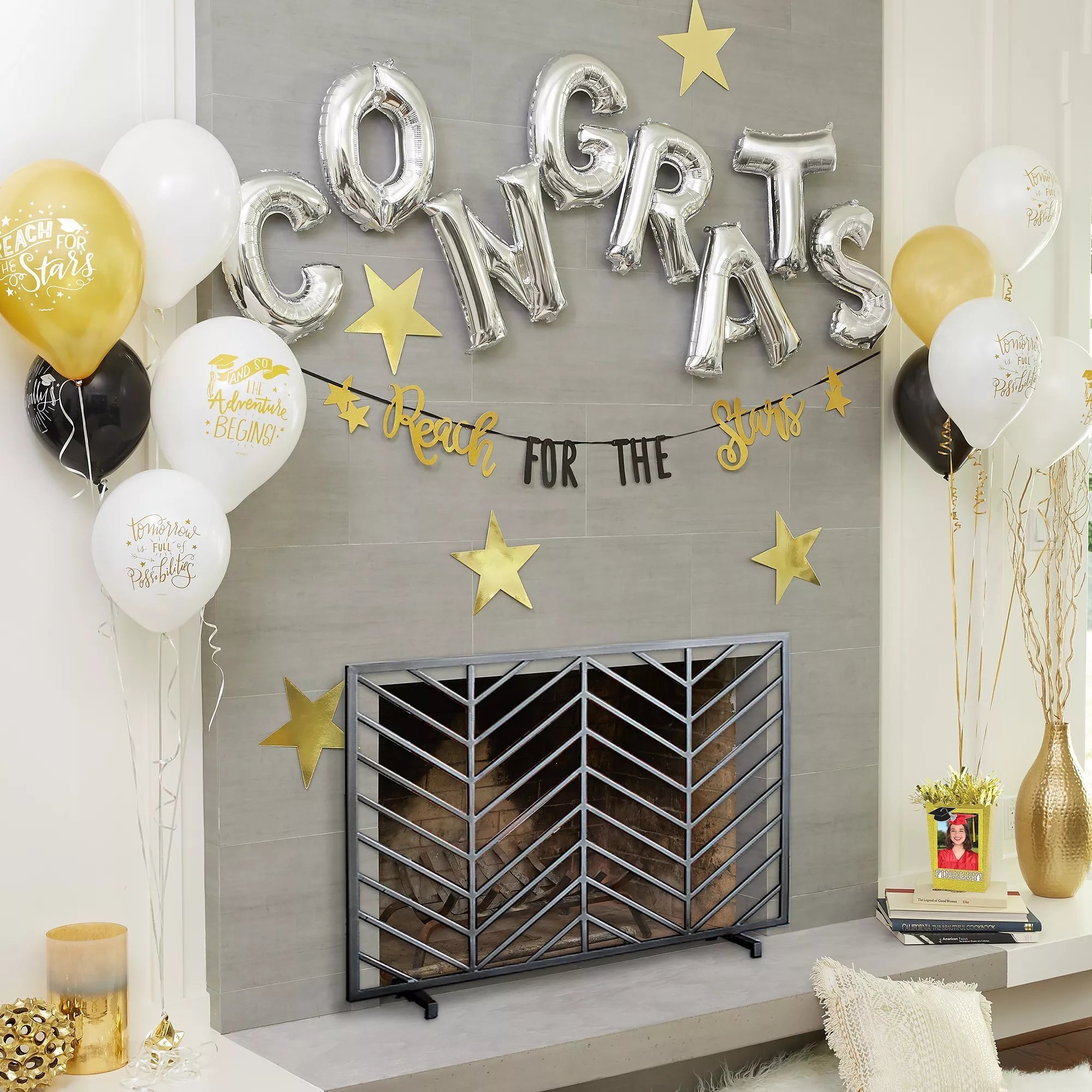 Centerpieces make your tabletops fancy
Want to make the tables at your graduation party look extra festive? Graduation centerpieces will do the job! Balloon centerpieces don't require helium and will add a decorative touch to all of the tables! Simply tie foil and latex grad-themed balloons together using ribbon to create a unique centerpiece for the grad party.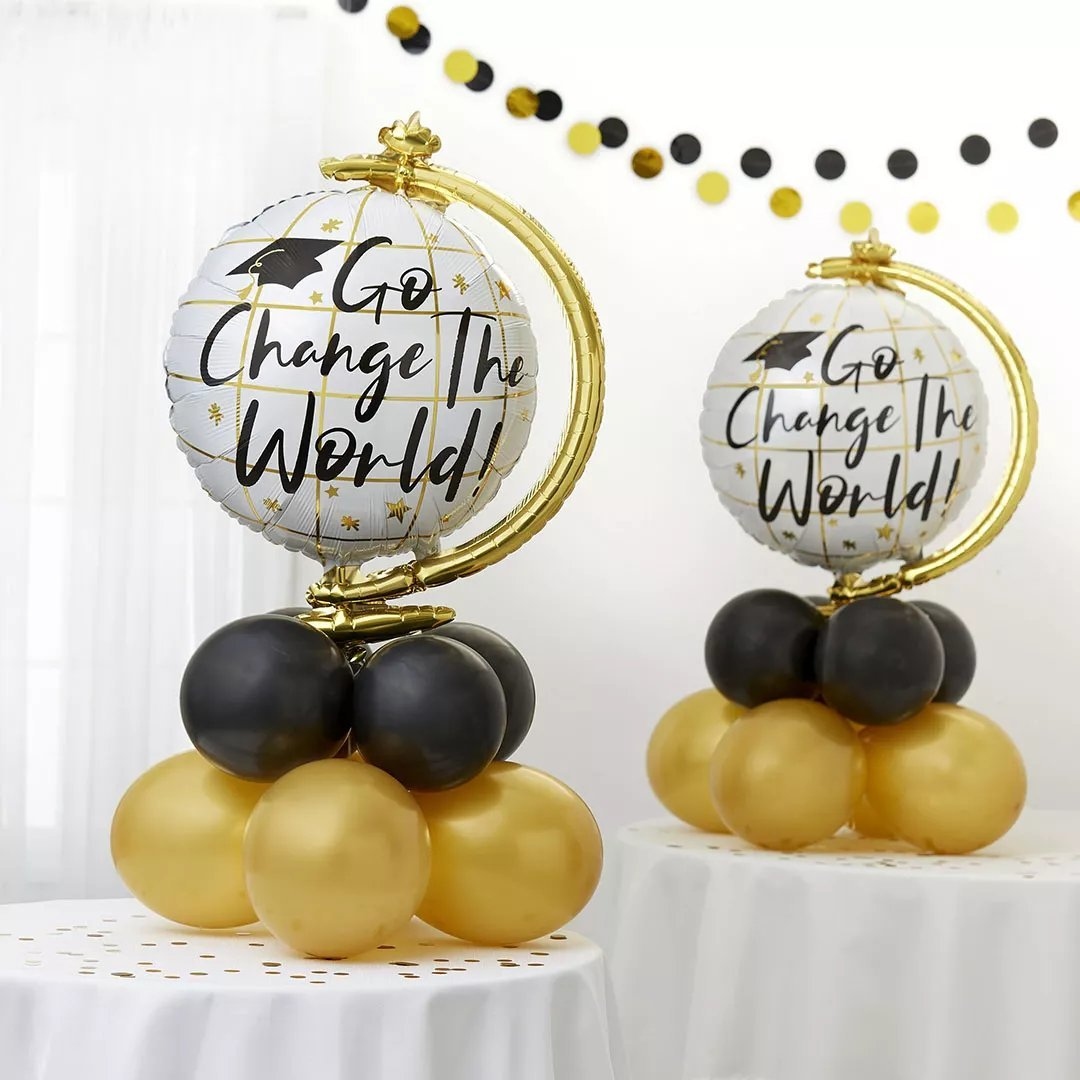 Multiple ways to decorate with paper fans
Paper fan decorations look great hanging from the ceiling but also make for a fun addition to a backdrop. Attach fishing wire to the paper fans and hang them from the ceiling using tape to add a stylish touch to the grad party. To decorate walls, simply attach the fishing line using tape, or tape the fans directly to the walls. Pair the paper fans with cutouts to create a photo booth backdrop and watch the graduates strike a pose!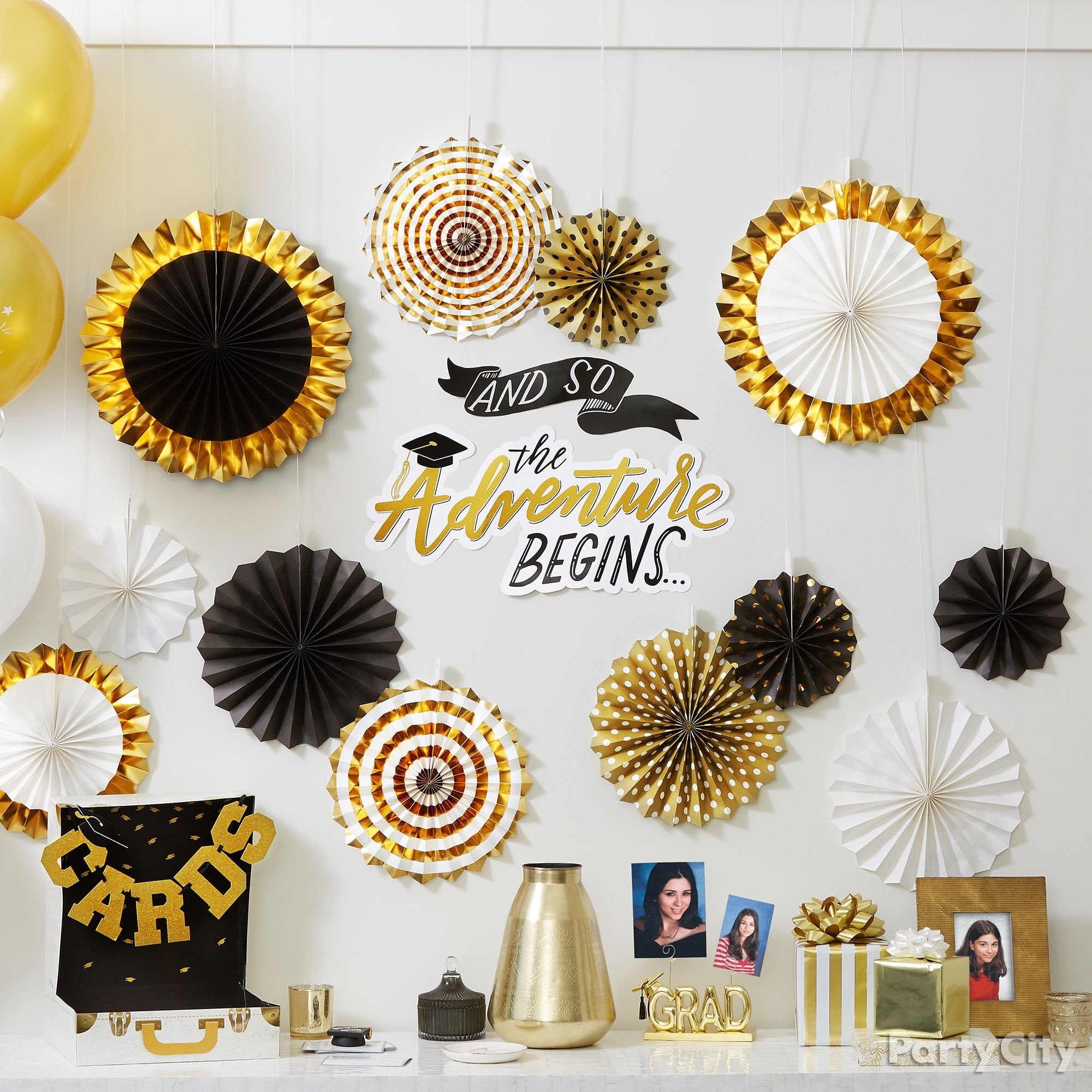 Yard signs say "the party is here!"
Decorate the front lawn with yard signs featuring graduation designs and headlines. Simply stick the yard stakes into the grass to let the graduates know where the party is. You can make the yard signs extra decorative by bunching some grad-themed balloons together and tying them to the stakes. Shop all graduation yard signs.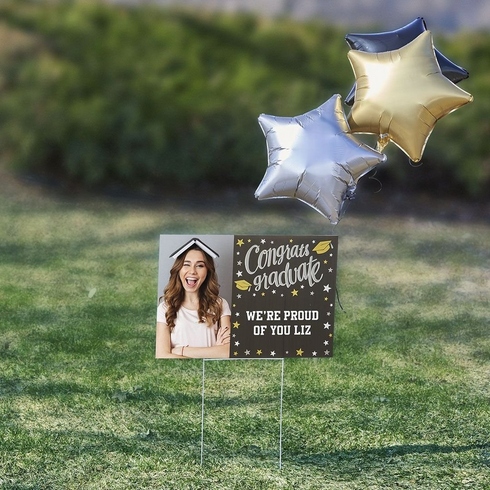 Use balloons to mark the entrance
The graduates will have a grand entrance to the party when you decorate the front pathway with colorful balloons. Create colorful balloon bouquets using foil or latex graduation balloons, tie them to balloon weights, and place the weights along the sides of the pathway. All the guests at your scholar's party will feel like stars when approaching the outdoor party!