Girls Light-Up Sparkle Witch Costume
Girls Light-Up Sparkle Witch Costume
Select Size:
Product Details
Let your little one shine with our Light-Up Sparkle Witch Costume for girls! Featuring a pink, purple and black dress with a tutu skirt, this witch costume is magically girly. Hidden lights gleam from under layers of pink and purple tulle and the hidden battery keeps the magic a mystery. Puff sleeves and a lace-up bodice complement the pointed witch hat. Complete her Light-Up Sparkle Witch Costume with the purple star wand, and she's ready for enchanted playtime!
Girls Light-Up Sparkle Witch Costume includes:
Spot clean only.
Costume #453
Product Warnings & Disclaimers
WARNING: CHOKING HAZARD - Small parts. Not for children under 3 years.
WARNING: Contains a button or coin cell battery. Hazardous if swallowed – see instructions.
Materials
Spot clean only.
Frequently Bought Together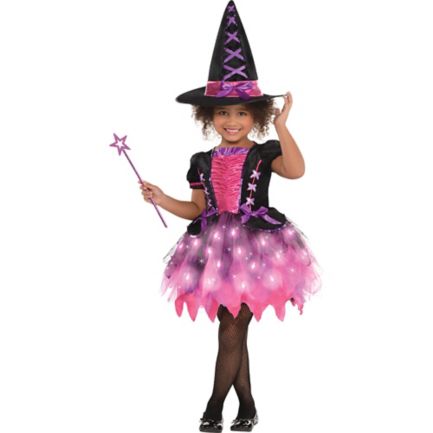 This light-up Sparkle Witch costume shines almost as bright as they do. The magical costume set includes a pink dress with a rushed bodice and an attached black cap-sleeved jacket that features pink and purple accents. Hidden lights gleam from under the voluminous skirt, which is made of layers of pink and purple tulle. Topping off the witch's outfit is a pointed hat, and the bedazzled star wand completes the look. This witch ensemble is perfect for Halloween, themed birthdays, or even enchanted playtime!

Additional Details
Polyester dress
Ruched bodice
Attached short-sleeved jacket
Cap sleeves
Sequin trim
Light-up tutu
Lace-up witch's hat
Rhinestone star wand
Spot clean only
Does not include shoes or tights
Shining Details
The tutu-style skirt is made of layers of pink and purple fabric with attached lights throughout that bring the look to life.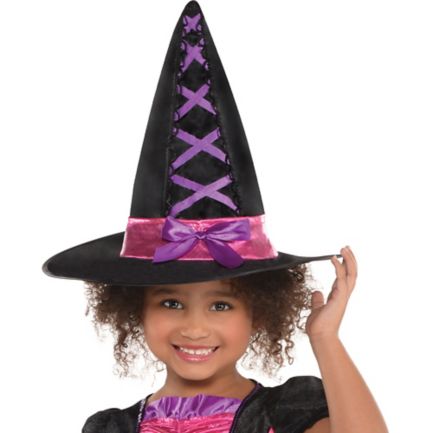 Cohesive Design
No enchanted look is complete without a tall and pointed witch's hat. The pink base and purple lace-up ribbon tie the whole look together.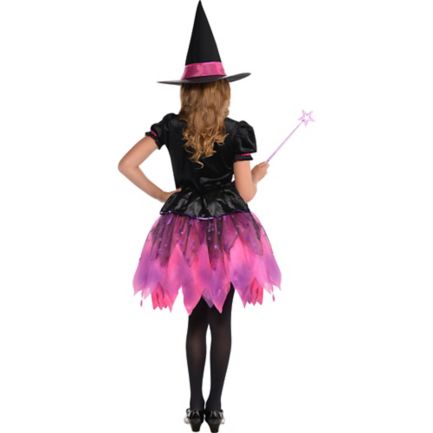 Bedazzled Wand
They'll be able to cast a few Halloween spells with the pink star wand, which is covered in rhinestones for that extra sparkle.
Show us your look with #PartyCity on Instagram!
ADD YOUR PHOTO