Ginger Leprechaun Beard
6in Synthetic Fiber Beard
Ginger Leprechaun Beard
Product Details
You're proud to be Irish and it shows — at least on St. Patrick's Day! This red Leprechaun Beard has a shaggy style that entirely covers your chin in all its glory. It'll add a wee bit of Irish to your St. Patrick's Day outfit.
Leprechaun Beard product details:
6in long
Synthetic fiber
Attached elastic
One size fits most teens and adults
Intended for adult use only.
Product Warnings & Disclaimers
Intended for adult use only.
Materials
Synthetic fiber
Frequently Bought Together
Discover the Spirit of St. Pat's
Each year on March 17, the world goes green for St. Patrick's Day. People wear green, choice beverages are turned green, and even famous landmarks, from New York to Tokyo, light up green in honor of this quintessentially Irish holiday. But you don't need to be Irish, or religious, to join in the St. Patrick's Day festivities. Paddy's Day, as it's affectionately called, is as much a celebration of life and the Irish spirit of optimism as it is a day to honor St. Patrick, the patron saint of the Emerald Isle. So on March 17, don your emerald finest, gather your friends and family, and raise a glass of green stuff to being alive and being together!
A Paddy's Day Toast
May you find your rainbow.
May you reach the end.
And see a patch o' shamrocks there,
And a pot o' gold therein!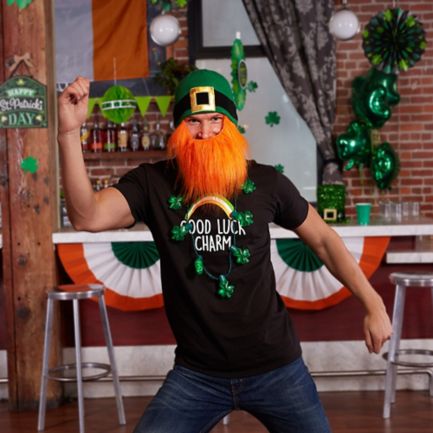 Leapin' Leprechauns!
The wisest sages through time haven't been able to penetrate the mystery of what leprechauns keep in their beards. Terrible talismans? Powerful potions? We may never know. All we can say is the leprechaun beard is a beautiful thing to behold. You can get your own leprechaun look, ginger beard and all, for St. Patrick's Day. But be warned! The leprechaun beard has the strange power to make the wearer spontaneously dance a jig, especially after green beverages have been consumed.
Additional Details
6in long
One size fits most teens and adults
Full face coverage
Secure by attached elastic strap
Made of synthetic fiber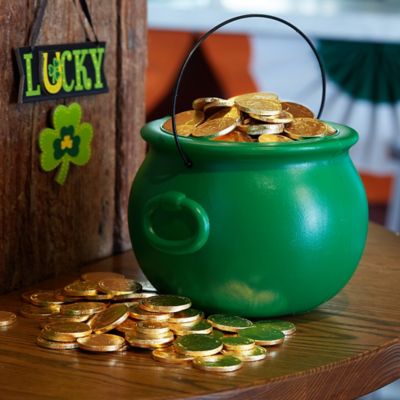 Decorative Gold
Irish folklore has it that leprechauns hide gold at the end of rainbows to ensure no human plunders their hard-won cheated treasure. A pot o' gold display is not only an attractive decoration, it brings a piece of Paddy's Day lore to life.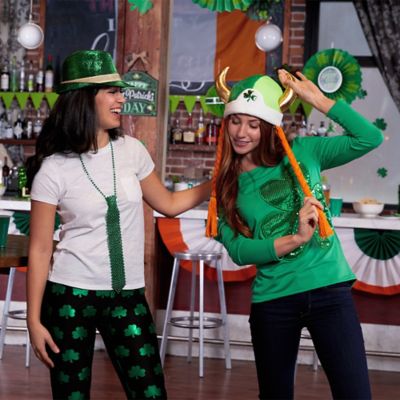 Green Galore
Stay pinch proof at the pub — wear green, and lots of it! Paddy's Day costumes tend to be on the sillier side, but stylish is ok too, as long as your mood stays silly. Pro tip: coordinate costume styles before pub jumping with a group.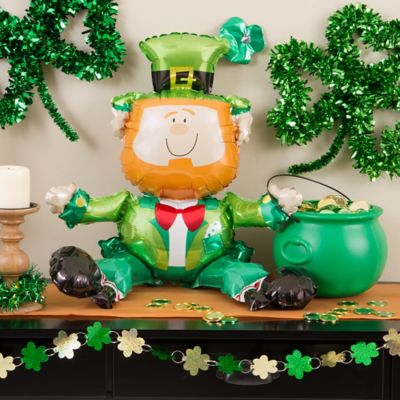 Paddy's Day Display
Whether you host a St. Pat's party or not, a decorative display looks great and may even bring your home a little luck of the Irish! It doesn't take much to create a fabulous display: a leprechaun, some shamrocks, and a pot o' gold is already going above and beyond.
Show us your look with #PartyCity on Instagram!
ADD YOUR PHOTO