Chucky Couples Costumes for Adults - Child's Play
Chucky Couples Costumes for Adults - Child's Play
Show us your look with #PartyCity on Instagram!
ADD YOUR PHOTO
Product Details
Children beware — these dolls don't play nice. This classic horror costume set includes matching overalls with striped long-sleeved shirts, just like Chucky's. You and your partner can step into the shoes of the deadly doll for Halloween parties, horror movie nights, and more. Check out the individual Chucky costumes for adults for more information and size charts.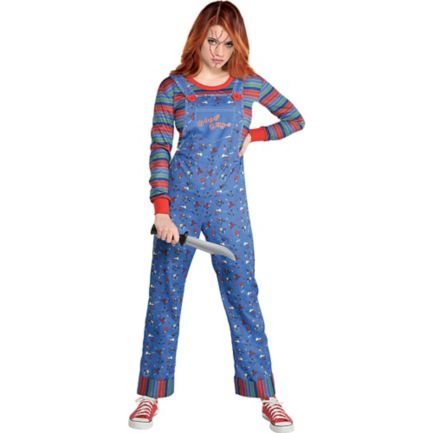 The long-sleeved jumpsuit features an attached striped undershirt, matching trim at the hem of each pant leg, and Chucky's iconic blue patterned overalls. The horror movie-inspired jumpsuit has bright red buttons and a large faux pocket on the front that give the look a childlike innocence, which is in stark contrast to the killer doll's true demeanor. Use special effects makeup (sold separately) to give yourself a few face scars, and you're sure to spook a few trick-or-treaters in this Chucky Halloween costume for adults.
Additional Details
One-piece polyester jumpsuit
Rear hook-and-loop closure
Attached long-sleeve striped undershirt
Hand wash cold with like colors; line dry
Does not include shoes or knife prop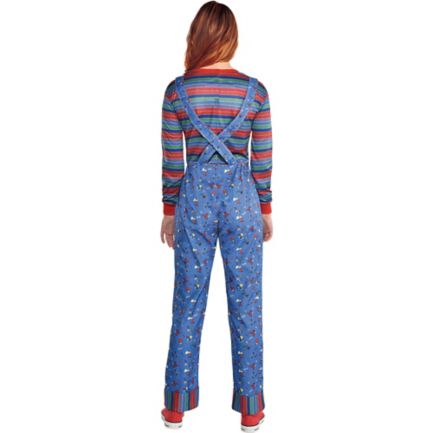 Warmth & Comfort
Full-length sleeves and pants give you the coverage you need to stay warm while out on the town.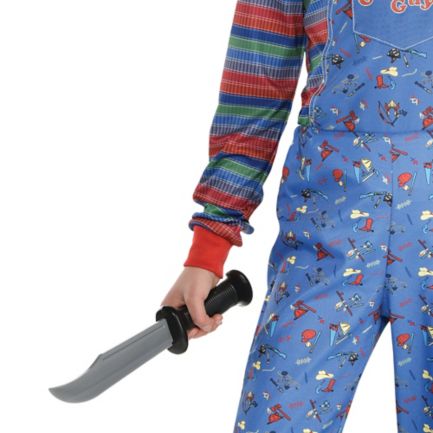 Accessorize
Don't forget a prop knife (sold separately) to nail the killer doll's look.
Add on the Details
Finish off the look by recreating Chucky's face scars with makeup so there's no mistaking which classic scary movie character you're dressed as.