Celebrate on December 25th
Home for the Holidays
Make meals safe and festive with
disposable plates, cups, and more.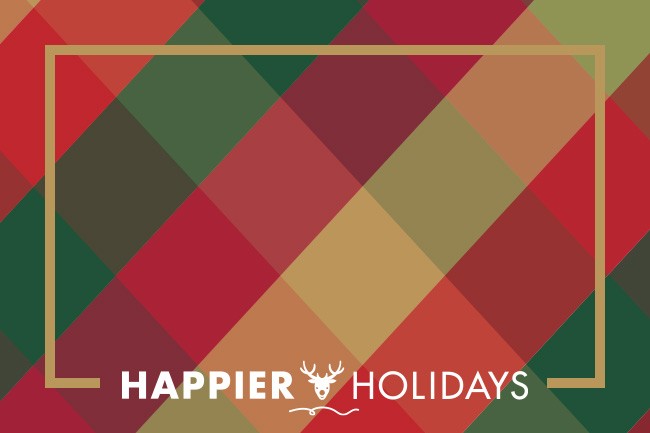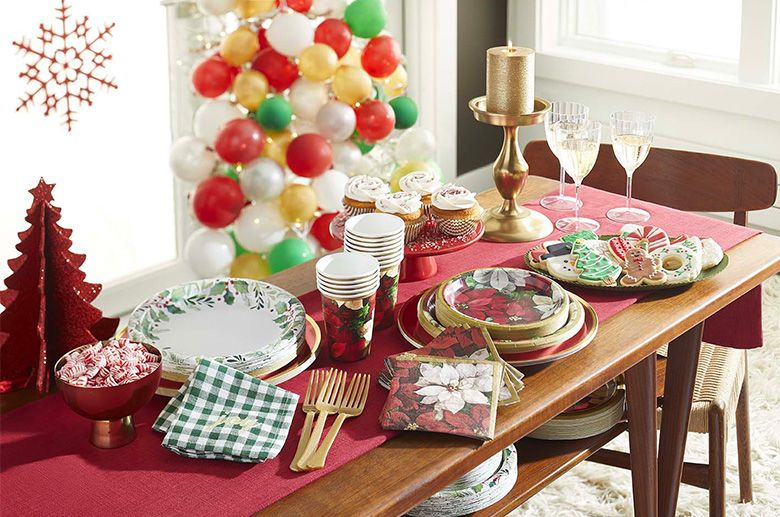 3D Tinsel Reindeer with Santa Hat

11 1/2in x 13 1/2in Tinsel & Fabric Decoration

2 for $10! Add to cart to receive discount. Cannot be combined with any additional offers.

3D Tinsel Gingerbread House

7 1/2in x 9in Tinsel Decoration

2 for $10! Add to cart to receive discount. Cannot be combined with any additional offers.
Celebrate the Holidays with Themed Christmas Party Supplies, Decor, Costumes & More
Christmas is coming; prepare for an amazing holiday celebration! Whether it's the first day of Christmas or the eighth day, and whether you're hosting a small family get-together or a big holiday party for all the gang, our themed Christmas party supplies help put everyone in the mood. Choose a traditional party theme, a fun snowman pattern for the kids, or mix and match our themed collections with solid color tableware for a custom look.
Are you looking for Christmas party supplies, but you're not sure how to get started? Festoon your walls, windows, and doorways with durable glitter snowflake decorations, hanging paper lanterns, gel cling Christmas trees, and cutout Santas. Drape your porch or garage with outdoor tinsel garlands and all-weather wreaths and bows. Holiday decorations and supplies are carefully selected to complement our ever-popular party kits, making it easy to spread the Christmas cheer!
For the Christmas traditionalist, we offer party supplies that harken back to Christmas past: hanging snowflakes, tinsel garlands and all-weather wreaths, big red velvet bows for the door, and gel cling decorations that stick to windows without leaving sticky residue. Whatever your budget and tastes, you'll find plenty of Christmas supplies worth hanging, showing, posting, and sharing, or wearing (if you delve into the outfits and holiday hats). We can even help you with wrapping presents and serving food thanks to supplies like gift boxes and bags, themed paper plates, stocking stuffers and more. Get excited – Party City is ready to make this Christmas the best one yet!
Below is a partial list of Christmas supplies, decorations, and costumes available at online and at your local Party City:
Christmas party decorations: 'Tis the season for Christmas decorations indoors and out, and friendly neighborhood competitions to embellish in a way that says "Christmas" the most. Here you'll find holiday decorations for the home, classroom, and office, and even a kit or two to spruce up your car.
Christmas tableware: Perfect for large parties, church gatherings, and school events, Christmas tableware offers matching lunch plates, dessert plates, napkins, table covers, and cups, as well as color-matching serving trays, pitchers, and serving bowls. Choose an elegant poinsettia, silver snowflake, or all-gold Christmas tableware theme for a truly magical table setting.
Christmas costumes: This category runs the gamut of holiday costumes and accessories. It covers everything from Santa and elf suits to Christmas tree costumes, novelty head boppers and glasses, and red and green striped leggings.
Santa costumes: If you're taking part in Santacon, you'll need the right costume to look the part. We stock a great selection of Santa outfits for men, women, and kids, available in a variety of styles.
Elf costumes: Here you'll find the right costumes and accessories for your Christmas elf character, from affordable outfits for kids to sexy elf costumes for women and parade outfits for the sprite who likes to be at the head of things.
Ugly Christmas sweaters: Find the perfect funny Christmas sweater and join the festivities. These snuggly ugly sweaters and Christmas accessories blend traditional holiday designs with contemporary humor.
The Grinch costumes: His heart is two sizes too small, and yet the costume fits perfectly? Maybe it's because most Grinch outfits are loose and comfortable jumpsuits covering him from neck to ankles in glorious green faux fur.
Family Christmas pajamas: The family that wears cheesy PJs together, stays together. Gather Mom, Dad, Junior, and little sister together in a group photo showing that holiday tackiness knows no age.
Christmas party themes: These themes are organized by color and pattern, starting with decorations galore and ending with tableware — Christmas plates, napkins, cups, and table covers — matching the holiday motif. Popular party themes include gingerbread, gold Christmas, and the Grinch.
Christmas stockings: You can hang our felt stockings by the fire if you want, but it's just as likely they'll find their way into a holiday gift packet for a friend, an office giveaway, or end up as part of a holiday party prize.